The Patriots have been dealing with some injuries in recent weeks, but not all of those players have been lost for the season. While the likes of Nate Solder and Dion Lewis won't be able to return, there have been several others who were forced out of action but will eventually be back.
Offensively that includes wide receiver Julian Edelman and offensive linemen Sebastian Vollmer and Marcus Cannon. On the defensive side of the ball linebacker Jamie Collins missed a couple of games with an illness but is expect to return at some point.
New England has missed all of these players to varying degrees, with the offensive line in particular being forced to work with rookies and players working out of position while the others mend.
Considering the team's overall situation, this week's Samsonite Make Your Case question asks: Which injured player (not on IR), would you most like to see return?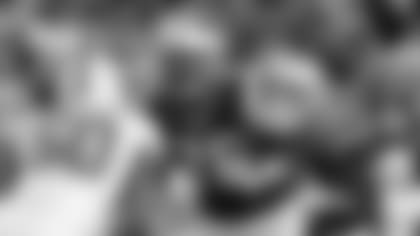 The offensive line has been gutting it out in recent weeks with several starters missing time with various injuries. Vollmer is the most talented player of the group and getting him back in the lineup would be a massive upgrade for the entire unit.
Vollmer suffered a concussion a few weeks ago and recently returned to practice to his return is close. That would allow others to return to positions they're more comfortable with, whether it's Cameron Fleming working at right tackle or Bryan Stork moving inside depending on the health of others.
Vollmer is athletic enough to handle speed rushers off the edge and has the size and strength to deal with more powerful rushers on the right side. Keeping Tom Brady healthy and, just as important, comfortable is key and Vollmer's return will go a long way toward making sure that's the case.
-AH PFW's Paul Perillo says ...
Understanding how the injuries have affected the team all over the roster, I feel the offense has more depth and therefore a better ability to deal with the adversity than the defense. The front seven is the strength on that side of the ball and Collins' illness has left a hole in the middle of the field.
Teams like the Giants were able to exploit that and the lack of depth at linebacker was noticeable throughout that game. No offense to players like Jonathan Freeny and Jerod Mayo, but they are not capable to doing all of the things Collins does for the defense.
Offensively, as long as Tom Brady and Rob Gronkowski remain healthy that unit will produce. But I'm not sure the same can be said on defense without one of its most talented players. Collins would look good next to Dont'a Hightower moving forward on a unit still trying to prove itself.
--PP
Now it's your turn to cast a vote in this week's Samsonite Make Your Case poll question.
[wysifield-embeddedpoll|eid="385456"|type="embeddedpoll"|view_mode="full"]