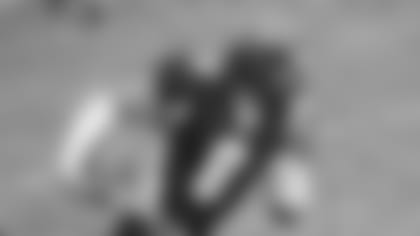 ]()Movement and depth were the stories of the second day of the draft for the defending Super Bowl champs as the Patriots selected Fresno State safety James Sanders, UNLV linebacker Ryan Claridge, USC quarterback Matt Cassel and William Penn tight end Andy Stokes Sunday while also making three trades that netted the team two extra picks in the 2006 draft.
With its first pick of the day, the 32nd selection in the fourth round (133 overall), New England went back to the recently familiar Fresno State roster for the 5-10, 207-pound Sanders. In his career with the Bulldogs Sanders started 32 of 40 games played while compiling 238 tackles, two fumble recoveries, two forced fumbles, seven interceptions, seven sacks, 18 passes defensed and 24 tackles for a loss.
Sanders is regarded as a physical defender with skill in coverage and as a hitter and was described by Head Coach Pat Hill's staff as the best defensive back to ever wear a Fresno State uniform. Obviously Hill's scouting report on a player carries significant weight with Bill Belichick as Hill was an assistant on Belichick's staff with the Cleveland Browns and saw Fresno State offensive lineman get the call from New England in the first round of the draft on Saturday.
Sanders visited New England this spring and thought there was a good chance he might get the call from the defending champs come draft weekend.
"I had a good amount of contact [with the Patriots]," Sanders said via conference call Sunday afternoon. "They contacted my agent a few times and I went out there on a visit and I had a great time. I met all the coaches and we had a real good visit, so in the back of my mind I had a pretty good idea that there was a good possibility I could become a Patriot."
As a mid-round pick at defensive back he knows his first order of business is proving himself on special teams.
"I enjoy special teams and that is one of the things I can't wait to do as soon as I get there," Sanders said. "I want to come out there and hopefully make an impact on special teams and at practice I am going to work as hard as anyone in that phase of the game."
After the Sanders pick the Patriots were slotted to pick ninth in the fifth round (145) but sent that pick along with a sixth-round choice (206) to the Detroit Lions in exchange for a 2006 fifth-round choice.
New England remained focused on the defensive side of the ball with its compensatory fifth-round selection (170) selecting the 6-2, 254-pound Claridge. The UNLV linebacker has experience both inside and outside in 3-4 and 4-3 fronts, a degree of flexibility that makes him a possibility for a number of roles in Eric Mangini's defense. In five seasons with the Rebels (Claridge missed 2002 with sports hernia) he started 39 of 45 games played recording 290 tackles, 10 forced fumbles, two fumble recoveries, two interceptions, 10 passes defensed, 18.5 sacks and 36 tackles for a loss.
Claridge had a shoulder injury that limited his workouts this spring but proclaims himself ready to go at rookie mini camp at Gillette Stadium later this week.
"I just like to play football," Claridge said shortly after hearing his named called by New England. "That is the bottom line. If someone says you need to play outside, I will play outside. If someone says you need to play inside, I will play inside. It doesn't matter. I just want to play."
According to his brother Travis, a former USC standout offensive lineman and 2000 second-round pick of the Atlanta Falcons, a career with the Patriots has been in the cards all along.
"He told me two years ago that I would be [in New England]," Claridge said. "That is what he told me. He said, 'if you ever have a chance of getting drafted, you will go to New England'. That is all he told me."
After the fifth-round pick the Patriots made a pair of deals in the sixth round. New England sent the 195th selection and a seventh-round choice (246) to Green Bay for the first pick in the sixth round (175). Belichick and company then immediately sent that selection to the Oakland Raiders for a seventh-round pick (230) and a 2006 fifth-round choice.
Surprisingly, New England used that 230th pick, the 32nd pick in the second round to select the 6-4, 222-pound Cassel out of USC. The backup quarterback and baseball pitcher has little football game film to show for his college career but impressed scouts at USC's pro day with a solid workout that included strong, accurate throws in all his drills. Despite finishing out his career as a backup to Heisman Trophy winner Matt Leinart, Cassel had contact with Patriots quarterbacks coach Josh McDaniels and scout Matt Russell during the months leading up to the draft.
After backing up Leinart and former USC Heisman winner and current Bengals quarterback Carson Palmer, Cassel will now try to earn a job filling the same role behind Tom Brady.
"It has been a long process," Cassel said. "I knew I was a second-day guy. Going into this thing I was hoping to be a late-round draft pick and, fortunately for me, it has worked out. I am very excited about it. I am thrilled to be a Patriot and I am thrilled to be a part of the organization."
"He's a guy that well felt like has some talent who just really hasn't gotten a chance," Belichick said. "He's a real good athlete so we'll see what he can do and give him some opportunities."
With the final pick of the day, the 255th compensatory selection, the Patriots had the honor of making the 6-4, 253-pound Stokes the 2005 Mr. Irrelevant. A former high school quarterback who played junior college football prior to joining William Penn, Stokes' strengths include his strong route running, decent quickness and superb hands.
While Stokes is happy to go along with the hype that comes with his slot as the 30th annual Mr. Irrelevant, he's taking a much more businesslike approach to his first steps toward a pro career. Belichick called him the all-time small school pick that he's had, coming out of "Bill Penn."
"I'm excited for that," Stokes said of the Mr. Irrelevant honor that includes a trip to California and parade in June. "I'm more excited to play football though."
When Belichick met with the media Sunday evening he seemed pleased with the work the franchise was able to get done over selection weekend. The team will work through the night and early into the week to sign a pool of undrafted free agents and then will conduct a rookie mini camp later this week at Gillette Stadium.
"We're looking forward to bringing the guys in this weekend and seeing them in person, seeing them live, getting them out on the field and getting them in our system as well as trying to sign a few free agents here after the draft," Belichick said. "We'll start putting it together and seeing how it fits out there on the field instead of just on the boards and on paper and all that.
"It's been a long couple of days. It seems like it's been an extraordinarily long draft but hopefully a productive one."