As Matthew Slater and his wife Shahrzad watched and read about the death and destruction unfolding in Haiti and up the East Coast in the wake of Hurricane Matthew, they felt they needed to do something. In just about two weeks, Matthew and Shahrzad turned around a fundraiser to benefit the victims of the storm through Samaritan's Purse, an organization on the ground providing aid to those impacted.
Despite the short turnaround, friends, family, fans and teammates showed their support for the Matthew vs. Matthew fundraiser on Tuesday at Splittsville/Howl at the Moon at Patriot Place, and they turned out big for the Slaters. The event raised more than $70,000.
Hurricane Matthew killed more than 1,000 people, destroyed homes and left communities devastated, and Matthew said they "felt moved" to do something.
"My wife and I believe the platform we have the NFL is a brief one, and we want to try and take advantage of it while we can, as best we can," Matthew said. "We figured this is a great opportunity for us to try and give back to people who really need it."
Despite it being the team's weekly day off, the Patriots did not hesitate to come out and help raise money for a disaster relief. Players came out in droves to support the cause, including Julian Edelman, Chris Long, Devin McCourty, Rob Ninkovich, Duron Harmon, Logan Ryan, Eric Rowe, Marcus Cannon, Jordan Richards, David Andrews, Ryan Allen and Joe Cardona. 
Chris Long said as soon as Matthew told the team about his plan, they were on board.
"What Matt does in the community is amazing, and just the scope of not just helping people in Boston and New England, but also people affected by tragic situations hundreds of miles away," Chris said. "It just speaks to his character."
Julian Edelman echoed Chris's sentiments later in the night during a Q&A panel featuring Matthew, Julian, Devin McCourty, Duron Harmon and Rob Ninkovich.
"I don't know if you know Matthew Slater, but he's an unbelievable man in general. I've learned so much from, just in life skills," Julian said. "You can ask any of these guys up here, if you want to talk to anyone about anything, that's Matthew Slater."
"I paid him to say all of that," Matthew joked.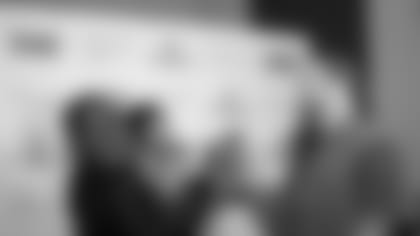 The panel was moderated by WBZ TV's Steve Burton and it provided some laughs and insight into the Patriots locker room. Julian was asked whether he goes into the huddle and tells Tom Brady to throw him the "daggone ball."
His answer: "We have a nonverbal communication thing. It's almost like a marriage … so I have one of these looks. I'll give him the look."
Rob was asked who you need to watch out for in the locker room, and he was quick to point a finger at Chris Long.
"That guy, he'll go to many lengths to get someone. On the bus ride home the other day, I just look over and I just see his and he's Google searching Dev. He's looking for pictures, and I'm like 'What are you looking for?' He just say, 'A messed up picture.' Alright, cool ... He's always thinking of something. Chris will get you."
Devin jumped in, too. "Have you ever seen 'Stepbrothers?' That's [Rob] and Chris."
They also covered the strong Rutgers presence on the Patriots roster, Tom's competitive nature and Devin's biggest hit in the NFL. After the Q&A, those at the event were welcomed to unlimited bowling, food and for a small donation, they could take pictures in a photo booth with Patriots players. For more pictures from the event, check out the photo gallery below.  
FUN GALLERY
Patriots special teams captain Matthew Slater held a fundraiser on Tuesday, Oct. 25 at Splitsville at Patriot Place to benefit victims affected by Hurricane Matthew. Several Patriots players, past and present, attended the charity event.