ARLINGTON, Tex. - Musings, observations and the occasional insight from a somewhat low-key second night of the NFL Draft at AT&T Stadium...
He has earned his reputation as a tough, north-south runner, but as the latter stages of the second round unwound here Friday night, LSU running back Derrius Guice's draft stock was headed strictly south. Once projected to be a potential top 20 pick, and the second running back to come off the board, Guice instead fell all the way to Washington at No. 59, a precipitous slide that   made him just the seventh rusher to be selected.
Guice reportedly scared off a lot of teams due to off-field issues this offseason, after weeks ago bolding warning NFL teams: "If you don't draft me, I'm going to give your defense hell.''
Turns out the league dished out a little hell of its own to the SEC's 2016 leading rusher, with Guice barely squeaking into the second round. After sitting through the entire first round in the green room last night without the results he was looking for, Guice was a no-show at the draft Friday night.
It was probably the right decision, given that his name continued to go uncalled. But Guice's unexpected slide became the top story of the night as the NFL's pick-fest continued.
"He's a first-round talent," NFL Network analyst Mike Mayock said of Guice on air shortly before the player's selection. "He had several issues getting to different buildings and meeting with teams. He missed some flights. They didn't like his attitude..… He fired his agent. It was a tumultuous offseason for this young man.
"He did not put his best foot forward. Now today I've had several text messages from general managers telling me there's another investigation out there that could be potentially highly embarrassing to the kid and maybe to the team that selects him. That's why he's sliding now."
The NFL Network also reported that teams were describing Guice as "high maintenance'' and "immature,'' with off-field incidents at LSU that have not been reported in the media.
Guice in March was embroiled in a controversy regarding whether representatives of an unnamed NFL team asked him inappropriate questions at the league's scouting combine in Indianapolis. In a radio interview, Guice claimed at the combine he was asked if he "liked men,'' and if his mother was a prostitute? The league investigated and found no evidence of any such questions being posed to Guice. According to an ESPN report Friday night, Guice admitted to one team's officials that he wasn't asked those questions, leaving his credibility severely damaged in the eyes of some personnel evaluators.
But Washington finally stopped his free-fall, perhaps remembering the 2017 draft included Florida State running back Dalvin Cook, a runner with obvious first-round talent who fell to the second round (No. 41 overall) due to off-field issues in college. Cook was one of the league's leading rookies last year in Minnesota before a knee injury ended his season in early October.
Guice's relentless running style should make for a nice fit in Washington, but he enters with the league having produced more questions than answers for the time being.
After a busy night five-spot of a night on the quarterback picking front in the first round, the second round went off without a passer being selected. The drought didn't end until Pittsburgh traded up with Seattle to No. 76 to take Oklahoma State's Mason Rudolph.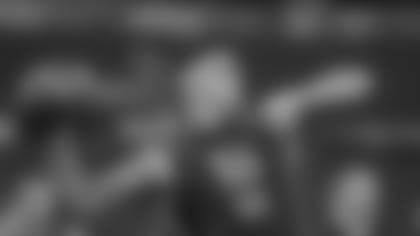 Rudolph becomes just the latest hope to someday succeed Ben Roethlisberger, a role that the likes of Landry Jones and Josh Dobbs apparently will not be up to in the Steel City.
Rudolph is at least a big body in the Big Ben mold, and his selection means the AFC North is kind of new quarterback central in the NFL at the moment. With Cleveland taking Baker Mayfield first overall, and Baltimore spending the No. 32 pick on Lamar Jackson Thursday night, only Cincinnati has stayed out of the young quarterback market so far.
Staying true to a trend in this year's draft, each of the six quarterbacks who have been drafted so far went to teams that traded up to be in position to select them. 
That consistent clapping we heard Friday night was likely originating from new Packers defensive coordinator Mike Pettine, whose defense the past two evenings has added a pair of superb young cornerbacks: Louisville's Jaire Alexander in the first round, and Iowa's Josh Jackson in the second round, at No. 45.
Both Alexander and Jackson carried first-round grades in the eyes of many teams, and their addition could dramatically help Pettine play the tight style of coverage he favors in the secondary.
Man, the Eagles are on an epic roll. Philadelphia didn't make a selection in the first round, trading out with Baltimore at No. 32. But when the Super Bowl champs finally got around to picking, they traded up to No. 49, taking promising South Dakota State tight end Dallas Goedert.
The move had at least the potential to be a cold-blooded one, given that there was widespread speculation that the host Cowboys were poised to select Goedert at No. 50, helping replace the retiring Jason Witten, who reportedly will join ESPN's Monday Night Football as its lead analyst. If it's true, and there was pushback that Dallas was really interested in University of Texas offensive tackle Connor Williams all along, what a sick burn. Taking a player away from the Cowboys in their own stadium, no less.
Those Eagles are feeling it these days. And clearly they love them some Dakota kids. North and South.
So the Browns are clearly going for a certain mentality under new general manager John Dorsey. One that identifies players who have been rewarded for perseverance. Quarterback Baker Mayfield and guard/tackle Austin Corbett of Nevada - the first pick of the second round, 33rd overall - were both collegiate walk-ons. Georgia running back Nick Chubb, picked third in the second round, had to fight his way back onto the field from that devastating knee injury suffered in 2015.
They're all Browns now, and overcoming adversity comes with the gig in Cleveland. Let's not forget the Browns went 1-31 the past two seasons, setting the modern-day two-year record for NFL futility.
Loved Mayock's instant analysis when the Giants took mean and nasty UTEP guard Will Hernandez with the 34th pick, the second of the second round: "He just doesn't like people.''
I can relate to that. But I'll tell you who's going to love Hernandez, and that's both quarterback Eli Manning and New York's rookie star running back, Saquon Barkley.
Hernandez is a bulldozer of a blocker, and it's pretty obvious they're running the ball in G-Men-land this season. New York general manager Dave Gettleman does have a soft spot for the big guys he calls "hog mollies.''  
Baltimore's need on the offensive line was the impetus, but it's good to see the Ravens show an appreciation for their history with the drafting of Oklahoma's Orlando Brown Jr., whose father once starred for the team.
Brown, an offensive tackle just like his dad, went to Baltimore in the third round, with the 83rd overall pick. He once was thought to be a potential first-round prospect, but bombed at the NFL Scouting Combine, turning in really poor work in his drills. The Ravens somewhat ignored those numbers and focused on his strong play that he put on tape with the Sooners.
And in a related note, can I just say for the record I'm happy that with Brown joining the league, referee Jeff Triplette this offseason announced his retirement.
Just a thought, but with Texans drafting Stanford safety Justin Reid in the third round, it makes for an interesting pairing in Houston. Reid is the younger brother of free agent 49ers safety Eric Reid, who remains unsigned amid speculation that his stance in terms of kneeling for the national anthem in protest has hurt his career.
Texans owner Bob McNair, of course, has been outspoken in his opposition to players who protested during the anthem, and having Reid's brother on Houston's roster makes for quite the juxtaposition. 
Nothing against the first-time draft effort put forth by the Dallas area thus far, because it has been very solid in that everything's bigger in Texas sort of way. But truth be told, the intensity and enthusiasm displayed during the Philadelphia experience at last year's wildly successful draft fairly well blows Dallas away.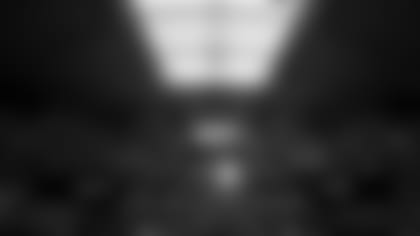 About 20,000 fans attended Thursday night's first round in the massive AT&T Stadium, and that's impressive until you consider that left the building about four-fifths empty, with roughly 80,000 seats or standing room spaces going unused. There were an estimated 100,000 fans on hand in total inside and outside the building combined, but the outside 80,000 added little to the events going on inside the massive venue.
By comparison, a crowd of about 70,000 showed up for the first round in Philadelphia, and you heard every one of them all night long. I'd even rate Chicago's first draft hosting duties in 2015 as a tad superior experience than Dallas.
Jason Witten versus Bruce Arians? What an easy call if we're talking recently retired NFL figures turned TV network color analysts. Witten is reportedly headed from the Cowboys to the Monday Night Football booth (although Jerry Jones said Witten's final decision has yet to be made), and Arians, the former five-year Cardinals head coach, has agreed to join CBS as an NFL analyst.
Arians will be a grand slam, I predict, with his colorful and straight-shooting style playing well to fans hungry to hear honesty and an unvarnished version of what he sees unfold on the field. Arians' only problem will be if he can sufficiently clean up his R-rated version of the English language for network television.
Witten? Well, let's say I'll be surprised if he's willing to be critical of players and coaches he was just so recently a part of. I hope I'm wrong and he'll take a page from Tony Romo's book and find his own engaging and enlightening style on camera. But I'm going to have to see and hear it to believe it.
In the meantime, I'll take as much of Arians and his Bruce-isms as you can spare.
Perhaps we should call them the Stealers. Put me down for beyond stunned that Pittsburgh somehow pilfered a third-round pick from Oakland in exchange for the perpetually underachieving receiver Martavis Bryant. Good luck with that one, Raiders. Bryant has barely scratched the surface of his NFL potential, and his 50 receptions for 603 yards and three touchdowns last season weren't really worth the trouble that comes with him.
Bryant said it's "clean slate'' time in Oakland, but it's more like last chance time if he's honest with himself. Bryant is in a contract year with the Raiders, so maybe we'll see his best for longer than a game or three, as was the case in his enigmatic tenure with the Steelers.
If you're scoring at home - and I'm acutely aware only I am in this case - here's the bottom line when it comes to how my fourth and final mock draft of the first round fared:
Five direct hits matching the right player to the right team, including four of the first eight selections (Baker Mayfield to the Browns, Bradley Chubb to the Broncos, Quenton Nelson to the Colts, Roquan Smith to the Bears and Leighton Vander Esch to the Cowboys).
Two players to the correct team, but in the wrong slot, due to trades (Josh Allen to the Bills, Jaire Alexander to the Packers).
One player in the correct slot, but to the wrong team, due to a trade (Via Vita at No. 12).
27 of the 32 players who wound up in the first round were in my first round (all but Harold Landry, Will Hernandez, James Daniels, Derrius Guice and Isaiah Oliver).
Lastly, you want to hear my near misses? Sure you do. I count four: Sam Darnold to the No. 2 Giants instead of the No. 3 Jets; Frank Ragnow to the No. 21 Bengals, not the No. 20 Lions; Rashaan Evans to No. 23 Patriots, not the No. 22 Titans (via trade); and D.J. Moore to the No. 24 Panthers, rather than fellow receiver Calvin Ridley.