Patriots running back Stevan Ridley appeared on NFL Network's NFL AM and talked about a variety of topics including the reported signing of CB Darrelle Revis, the loss of Aqib Talib, and his outlook for the 2014 season. The following is a transcript of the interview which took place on Thursday, March 14, 2014.
On how much better cornerback Darrelle Revis makes the Patriots:
"I think he does what [Aqib] Talib did for us. Talib is an awesome player and to let him go for the betterment of him and his family, he had a big offer on the table. He had to take it. But coach [Bill] Belichick always comes through, he always has a backup plan and to pick up Darrelle Revis, that was one of the only corners I heard about coming up as a kid and watching football. He's been around a long time and he knows what he's doing. I think he can lock down one side of the field for us and do everything that we need him to do as a player. So to come in on a one-year deal, he's going to have to earn it but I think he's done that year after year. We're going to be OK."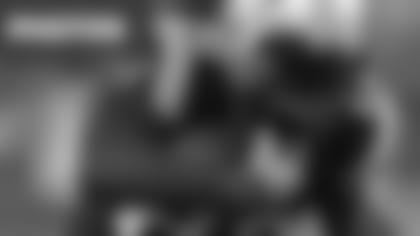 ](/node/47251) BEST OF STEVAN RIDLEY
Check out a selection of the best images of Patriots RB Stevan Ridley from the 2013 NFL Season. VIEW
 

On if he expects a rematch of the AFC Championship Game between the Patriots and the Broncos with all of the free agent moves Denver has made so far:
"I can't get too far ahead of myself. It's going to take some work to get there but of course Denver is making major moves; they've signed some big names and made some great additions to their team, with Talib first. But for us, we're going to have to play to get there. Once we get there, we know what we're matched up against. They had a spectacular defense at the end of the year last year and they didn't make any mistakes by picking up a few free agents to add to their dominance that helped them get to the Super Bowl."
On if he can be an every-down running back for the Patriots if LeGarrette Blount does not return to the team:
"I can. It's going to take some work. It's just the opportunities have to present themselves and when they do present themselves I have to take advantage of them. I think that's where I made the mistake last year; it was slipping away because I was in position to go in and do something special last year and I have nobody else to blame but myself. But I think that all goes into motivation for me. With Blount, I think that he was an awesome addition; honestly, from the bottom of my heart I hope he stays there because both of us together along with Shane Vereen and Brandon Bolden, it's a close backfield but it's a solid backfield. We get along great, the running game is where we kind of want it as a team but everything can be improved, starting with myself."
On what he learned from last season:
"Got to hold on to the football. Bottom line. Last year I was a starter; I was a starter at the beginning of the year and coach didn't sit me down for any other reason beside I put the ball on the ground a few times. So for me, it's contract time…I know what I have to do in front of me so it's just the growing pains of going through the league. Nobody tries to make mistakes but they happen. It's how you bounce back."
On how much he thinks about that when he's playing:
"It's on my mind every play and I have to be aware of that because in the game, when you get running, things are going well, you're rolling, you tend to take your mind off the small things and you're holding the football. So you have to as a pro make sure you're doing the small things in the grand scheme of everything that you're going through in the course of a game. Without the football returning to our huddle, I'm not doing my job as a running back."
On what is it that allows the Patriots to be so successful:
"Our coaching staff. Let's be serious about it because they've done it year after year. It's different players in key roles but the Belichick system works. It's no individuals there. We have a great leader in our quarterback, we have a great leader on defense in [Vince] Wilfork, [Jerod] Mayo and [Aqib] Talib [when] he was there in a very key role last year. But we have veterans in key positions to show the younger guys like myself coming up behind how to win and how to be successful. Going on my fourth year, I've been to three AFC Championships and one Super Bowl – how can you argue with that? So you just have to come in and like coach Bill [Belichick] always tells us do your job. Don't worry about the rest and everything that is going on; just do what we're supposed to do as an individual and it makes our team complete. That's what helps us be as successful as we are."
Stevan Ridley Bio and Stats