Mop-up duty is a term that's usually reserved for backup quarterbacks. But over the last two weeks, rookie center Bryan Stork has seen fourth-quarter action in a couple of Patriots victories that certainly could be called mop-up duty for the backup offensive lineman.
A fourth-round pick who won the Rimington Award as the best center in college football for a Florida State team that won the national title last fall, Stork missed precious training camp action this summer to an unknown injury. As such any reps he gets are with an eye on making up for that missed time this summer.
Given the Patriots overall offensive line struggles in recent weeks – which has led to a rushing attack that's averaging a mere 3.5 yards per carry and a passing game that's seen Tom Brady sacked, beaten and battered – there seems to be a growing groundswell of support for Stork moving into the starting lineup at center. That would likely allow Dan Connolly to slide to guard and push a struggling Jordan Devey to the bench.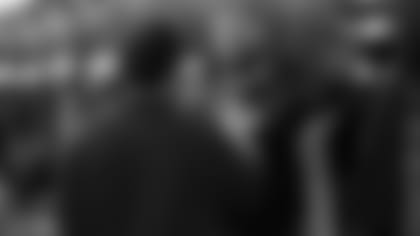 "I'm ready for whatever they tell me to do," said Stork, a man of very few words.
Though the rookie will never be accused of talking too much – a trait that likely will endear him to the coaching staff in New England – Stork said he enjoyed his 11 snaps in Minnesota and then another 15 last week at home against Oakland.
"It's been fun. I'm just trying to improve and keep getting better at it," said the intense, bearded young lineman.
Stork made it clear that his veteran teammates – including Connolly and Ryan Wendell – have been very helpful in guiding him through his acclimation into the NFL and the Patriots offense.
"Oh yeah. If I have any questions, I can ask them," Stork said before going on to explain he's still building a relationship with the guys he lines up next to on the field. "Just working with each other. Just learning how to work with each other."
Given all the struggles on offense through three weeks and the search for answers to solve the problems, it's hard to imagine that inserting a mid-round rookie center into the starting lineup would be the cure-all. But it might be a step in the right direction and given Stork's increasing mop-up reps of late, might be a change that's on the horizon.
Regardless of his role, Stork will take it in stride.
"Whenever I'm in there I just try to get better."