Rob Gronkowski made his name on the football field with touchdown catches, game-changing plays and, of course, the Gronk spike. As great as Gronk was on the field, he is just as great away from it.
His signature laugh, his willingness to give back to those around him and his jokes, it was never a dull moment in Patriots Nation with Gronk. We're taking a look back at some of Gronk's shining moments as a Patriot -- off the field.
This is a recent moment, but it is a memorable and adorable one. Before the Super Bowl LIII celebrations began, Tom Brady's daughter, Vivian, greeted her dad's teammate with a precious nickname. It melted Patriots Nation's collective heart.
Throughout his years in New England, Gronk spent hours and hours visiting and entertaining kids at Boston Children's Hospital, but one moment stands above the rest. In 2013, just days after a season-ending knee injury, Gronk rolled in on a wheelchair unannounced with Stevan Ridley. To top it all off, he was dressed as an elf.
There's nothing better than two retired Boston sports legends. Gronk threw out the first pitch at a Red Sox game in 2016, and David Ortiz was behind home plate. It is a picture perfect New England sports moment.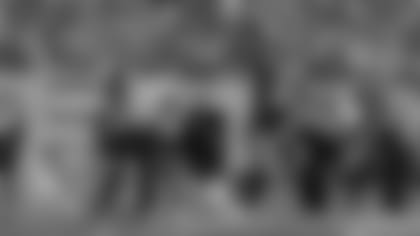 Then there was the last time he was on the pitcher's mound at Fenway Park after Super Bowl LI. Tom Brady's Super Bowl jersey was just returned after being stolen, but not for long. Tom held up the jersey to show it off to the crowd, and Gronk snatched it out of his hands. Hilarity ensued.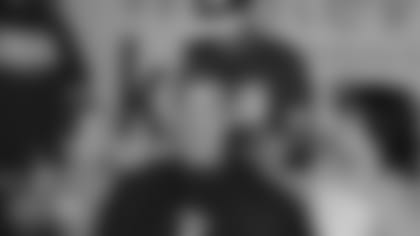 Every year, Gronk goes bald for a cause, and the annual Buzz Off is always one of our favorite moments. Watching Gronk get his head shaved in the name of pediatric cancer research is a special Gronk tradition.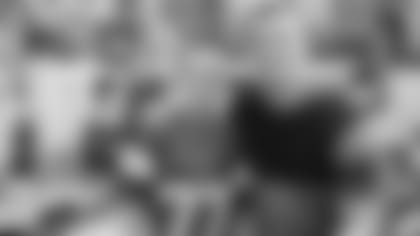 Gronk always makes time for kids, and this is exemplified with a very special Make A Wish event in 2017. Ryan Feeney of Melrose, Mass., wanted his backyard to be transformed into a replica of Gillette Stadium. It was a surprise for him, and it didn't end there.
Gronk walked through the glass sliding doors of Ryan's house, making it an even more perfect day. Ryan and his friends played on his field with Gronk, and Gronk even signed Ryan's prosthetic leg. Of Gronk's many days spent giving back, this one stands out.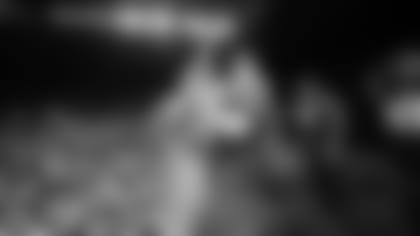 After Super Bowl LI, the Patriots took all five trophies to Providence, and per Gronk's style, he went all in. He grabbed all five trophies in his arms on stage, and with one slight movement, the Lombardi trophies almost went tumbling -- resulting in this hilarious picture.
Don't worry. He didn't drop them.
When Lauren Meizo was in the hospital for months on end, waiting for a heart transplant, she wanted one special visit -- from Gronk. After posting a plea on social media, Gronk surprised Lauren and visited her in her hospital room. It is a story that took off from a viral video, but it brought to very special people together.
This became one of Gronk's most gif-able moments. #SnowDaysOff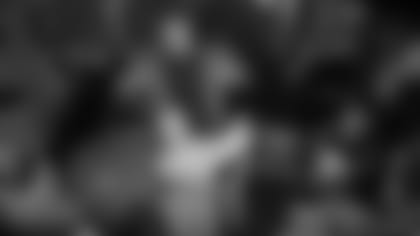 What do you get when you cross Gronk and Frankestein? Gronkenstein, of course.
When the Patriots Foundation hosted its annual Halloween party for local pediatric patients, Gronk showed up fully decked out. The monster not as much terrifying as he was hilarious.
Gronkenstein isn't the only role he is willing to take on. Back when he first joined Instagram, he momentarily joined the Miami Police Department in a funny video.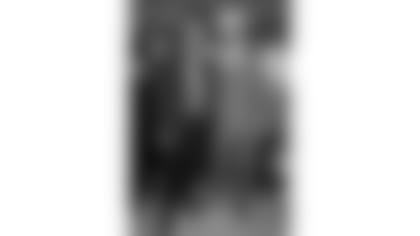 Let us not forget Gronk's style. The iconic plaid suit made its debut at the 2015 Kentucky Derby, and we have yet to let it pass. Little did he know, three years later, he would have a stake in a horse named after him.
John, Paul, Ringo, George, and Gronk. Yes, Gronk even rocked on stage with a Beatle. In 2016, Gronk joined Paul McCartney and Bob Weird of The Grateful Dead on stage at Fenway Park. He strummed along on air guitar to "Helter Skelter." Truly epic.
Patriots fans are lucky to have seen three "Parade Gronks," but from the Super Bowl XLIX parade, we have hanging out of a duck boat with a Minion hat on as peak Parade Gronk.
When Gronk was on the field, he could take on any opponent that came his way. Apparently that includes a tiger shark. Gronk scared (and thrilled) Patriots fans with an appearance on "Shark Week," where he helped to tag a shark. It was truly incredible to watch.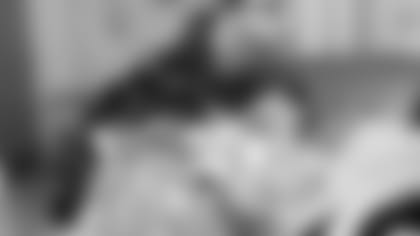 While there are countless Gronk moments, photos and interactions that Patriots fans will remember as they reflect on his career, this final one encapsulates the essence of what it means to be Gronk. Dressed in pajamas, visiting Boston Chlidren's Hospital and making people smile like only he can.
Gronk's highlight reel is chock full of unforgettable moments, but it is the ones off the field, like this one, that made him even more special to so many throughout New England.