When Ryan Feeney, 7, got home from his grandparent's house on Friday morning, he thought it was a normal day. As he and his brother Jack walked up their driveway in Melrose, Mass., they started to realize it wasn't a typical, late summer morning. 
After a year of waiting, Ryan's wish was fulfilled by Make-A-Wish Massachusetts and Rhode Island; his backyard had transformed overnight into a replica of the Gillette Stadium field. With the completion of Ryan's field, Make-A-Wish Massachusetts and Rhode Island granted its 8,000 wish, and it turns out, the field wasn't the only surprise in store for Ryan and his family. 
They thought the day couldn't get any better. Then Rob Gronkowski walked through their door. 
Without hesitation, Ryan ran over and gave Gronk a hug.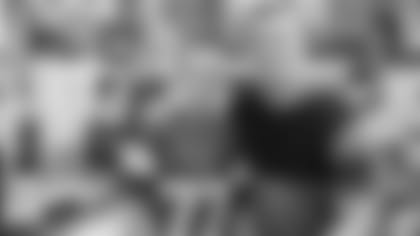 "It's super special to me. I love giving back especially to kids in need. He ran up to me right when I walked out in the backyard and gave me a big hug," Gronk said. "When a kid comes up to you and gives you a big hug, you know it means something special to them." 
Ryan was diagnosed with neurofibromatosis, a genetic disorder that causes tumors to grow on nerves throughout the body, when he was born, and because of this, he had a lower-leg amputation when he was just 2 years old. In spite of the challenges he has been dealt, Ryan is a fighter with a larger-than-life personality, his parents Shawn and Jill said. 
So when Ryan was stunned into silence initially after the reveal, they knew he was excited. 
"It's emotional, exciting, nerve wracking. Ryan has been through a lot, but he's a little rhino," Shawn said. "He just keeps charging."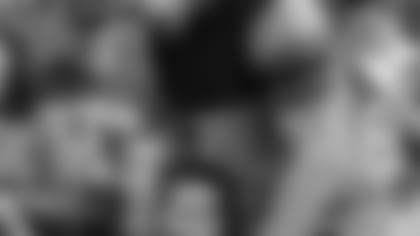 "He was definitely stunned. He's a trooper. He's got a lot of appointments right now, and he's been a trooper throughout it," Jill said. "It's nice to have this field in the backyard for him to come home and play with us. We are a football family so it will be used for many years here with the two boys and all their friends."
Though Gronk was certainly the first Patriots player to visit the Feeney's home, he wasn't the first to influence Ryan. 
At a doctor's appointment, Ryan noticed Nate Solder was waiting with his son, Hudson. In typical Ryan fashion, according to Shawn, he walked right up to Nate and started talking to him. Seeing the Patriot and his family going through a similar experience to his own stuck with Ryan, and when asked what number jersey he wanted, he said No. 77 to take after Nate. 
With his No. 77 jersey on, Ryan took the field -- his field -- for the first time. It only took a few minutes into the grand opening of Feeney Field for Ryan, Jack, their friends, the Melrose High School football team and Gronk to break it in one play at a time. With Gronk at quarterback, he tossed Ryan a touchdown pass and, of course, taught him how to perfect the Gronk spike.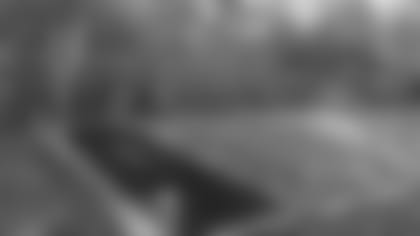 "He got the spike down," Gronk said. 
Ryan said it was "awesome" to meet and play football with Gronk, and his favorite player even signed his prosthetic leg. Though Ryan's wish for his own field was granted, it was only made sweeter to be able share it with his friends and family, and having Gronk join the fun made the day a dream come true. 
Shawn said seeing his son play with his favorite player, after all Ryan has endured, was an emotional and exciting moment for the family. 
"I had no idea the big fella would be coming to see 87 show up is even more special," Shawn said. "To see Gronk spiking the football in our backyard is something Ryan won't ever forget."
Check out more photos from Ryan's big day in the gallery below.  
Make-A-Wish Massachusetts and Rhode Island's 8,000th granted wish made Ryan Feeney's dreams come true with his own backyard football field and a special appearance from Patriots tight end Rob Gronkowski.