Perhaps no player on the Patriots roster had the potential to be negatively impacted by the arrest of Aaron Hernandez than Tim Tebow. The Patriots third-string quarterback hosted Hernandez on his college recruiting trip at Florida and roomed with him on the road during their days together as Gators.
So, a day after hearing how some of the team's 2012 captains reacted to the news of Hernandez' involvement in the shooting of Odin Lloyd, Tebow offered his thoughts on what had to be a painful situation.
"It's just heartbreaking and sad and all my thoughts and prayers go out to all the families that were involved," Tebow said. "I understand why you have to ask all the questions, that's part of doing your job. Part of mine is listening to instruction and we've been told not to talk about it."
After a few follow-ups that were politely handled by Tebow, attention turned more toward the football field. Bill Belichick officially opened training camp with an early-morning press conference and not only didn't close the door on how Tebow would be used but he held it wide open.
"I think that we'll use Tim wherever we feel like he's best for the team and I know that's what he's committed to doing as well, whatever that is," said Belichick, adding that Tebow has a "great work ethic."
If the coach was dead set on keeping him exclusively at quarterback, that response would seem strange. Clearly, Belichick is open to using Tebow at other spots, and during practice we caught a glimpse of some possibilities.
He took part in a one-on-one tackling drill that matched receivers and defenders. The drill appeared geared toward tackling technique but it was interesting to see Tebow catching a pass from Tom Brady at one point and then trying to elude the defenders.
"It was a lot of fun to get out here and really start practice," Tebow said. "I felt good about the practice today."
As to his presence in the aforementioned drill, Tebow added: "I just do what I'm told and work as hard as I possibly can to do the best job I can with whatever I'm asked to do," although he did indicate that thus far his work has been confined to the quarterback's room.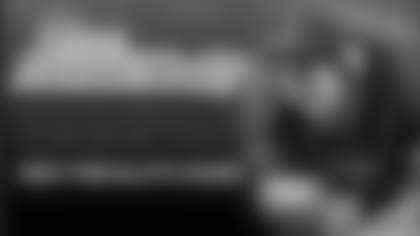 ](/fan-zone/patriots-football-weekly.html) Indeed the bulk of his time was spent at quarterback on a rainy Friday in Foxborough. He did not throw the ball effectively and was picked off twice – once by Nate Ebner when forcing one down the middle and again when his errant screen pass was nabbed by Chandler Jones on a fine athletic play by the defensive end.
Tebow said he felt like his decision making was sound and that he is enjoying working with Brady.
"He's one of the best of all time. You get to watch him, you get to sit in the meetings with him, talk to him, come out here and train together. You pick up a lot of good things, a lot of good traits," he said. "I feel like we have a great relationship. I felt like we've had a good relationship over the last few years playing against each other, talking here and there, but I feel like it will obviously grow being on the same team."
Tebow was forced to endure some questions from his past as well. First, he was grilled about his former college coach, Urban Meyer, who has been under intense scrutiny lately due to Hernandez' arrest and after having several disciplinary problems with his current Ohio State players.
"I feel like Coach Meyer is a great man, one of the best I've had the privilege of being around," Tebow stated emphatically. "He is someone that not only tries to win football games; he's someone who tries to invest in young men's lives and help young men grow. He cares very deeply about that. That's one of the reasons I'm so close to him and so proud of him."
Also, with several member of the New York media on hand, he dealt with a few questions pertaining to his previous team – the Jets. One asked if he was more comfortable in an environment where he's told not to speak as much, and whether he felt the 2012 season was a wasted year.
"It's nice to be advised on things and to feel like I have it structured," Tebow replied. "I'm going to do what they ask me to do; I feel like that goes with everybody on the team. We really are buying into what they are asking us to do.
"I feel like in every situation, it is a learning opportunity in life, not only football. There are ups. There are downs. There are learning opportunities. There is praise and there is criticism, and you have to learn to handle everything."
All in all it was quite a first day for Tebow. He heard chants of his name from adoring fans, dealt with the aftermath of a difficult situation regarding Hernandez and then more than seven minutes of questions covering all that and more.
"It's this year and we just had the first team practice with the New England Patriots," Tebow said. "I feel like it went pretty well and I was excited about it."
Present and accounted for
It's been quite an offseason for cornerback Alfonzo Dennard, and not much of it has been positive. He avoided the potential for having to miss any football when a judge sentenced him to 30 days in jail beginning in March of 2014 following an arrest for assaulting a police officer just prior to the 2012 draft.
A couple months later, Dennard was back in Lincoln, Neb., and was arrested again, this time for suspicion of driving under the influence. As camp opened on Friday, Dennard spoke of the latest incident for the first time, although he didn't offer much information.
"I'm not going to talk about that right now," Dennard said after practice. "I'm focused on football right now."
Dennard appeared in court in Lincoln Wednesday, at which time a judge delayed a hearing to decide whether his probation from the first arrest had been violated. The hearing will take place Aug. 27, but Dennard said he is focused on the start of camp.
"I'm just worried about the present right now," he said. "And the present right now is just being on the field and trying to help my team win."
Patriots head coach Bill Belichick wrote a letter on Dennard's behalf in advance of the sentencing for the first incident. When asked if he felt that he had let his coach down following the second arrest, Dennard said, "I'm still on the team right now, so that's what I'm worried about right now."
Dennard enjoyed a solid rookie season, finishing as the starter at right cornerback, a spot he projects to fill this season if eligible. It was worth noting, however, that Kyle Arrington manned the spot opposite Aqib Talib to open camp, perhaps as an indication the team is preparing for life without Dennard at some point.
In the meantime, Dennard says he's happy to be back in uniform.
"Just being around the guys," he said. "They bring a lot of focus into my heart. Just try to stay humble and go out here and have as much fun as I can."
Buy – Aaron Dobson – The rookie wideout enjoyed a solid start to training camp. He joined Danny Amendola with the first group throughout the day and made several catches, including some in tight quarters. The mere fact that the rookie was on the field and catching passes from Tom Brady was a good sign to open things.
Sell – Alfonzo Dennard – The second-year cornerback has had a tough offseason off the field and as camp opened he found himself working with the second group. To make matters worse, he was beaten for a pair of big plays – once by Kamar Aiken and the other by Danny Amendola.
Play of the day – On the second big play allowed by Dennard, Amendola got loose near the left sideline before slipping in the wet conditions. As Amendola was falling to the ground, he reached up to snare Tom Brady's pass and secured it in front of Dennard.
Seven Patriots did not take part in the team's first official practice of training camp. Wide receivers Julian Edelman (PUP/foot), Mark Harrison (NFI, foot) and Kenbrell Thompkins (unknown), offensive lineman Nick McDonald (PUP/unknown), defensive lineman Cory Grissom (unknown), tight end Rob Gronkowski (PUP, back) and defensive tackle Armond Armstead (NFI/illness) did not participate. Thompkins began practice in short and a T-shirt but later donned his white No. 85 jersey and did some conditioning work but didn't appear to take any reps. Edelman, Harrison and McDonald all joined Thompkins on the field while Gronkowski, Grissom and Armstead were not seen. Also, safety Devin McCourty donned a red, non-contact jersey following offseason shoulder surgery but he took part fully in the practice. …The Patriots made a minor roster move a day before camp opened by releasing undrafted rookie center Matt Stankiewitch and replacing him with fifth-year veteran offensive lineman Tyronne Green. The 27-year-old Green has been with the Patriots briefly in May but was released. He started 13 games at left guard for the Chargers in 2012. … The Patriots will be back at it tomorrow at 9 a.m. for their second practice open to the public. The team once again will not be in pads as the collective bargaining agreement mandates the first two days of camp be non-contact.