Twenty years ago, the Boston Celtics were still hanging championship banners from the rafters at the old Garden. The Red Sox were heading toward a season in which they would be one strike away. The regular season was a mere formality to the Bruins, who simply made the playoffs year after year after year.
The Patriots? They were wallowing in obscurity.
But over the course of the 1985 season, they made it a "Fab Four" on the New England sports scene, becoming the first and only team in NFL history to emerge from a wild card berth and get to the Super Bowl by winning three games on the road. By doing so, the team claimed the first American Football Conference championship in franchise history, and put pro football on the map in New England.
"It was exciting to be the first Patriots team in the Super Bowl and to experience everything that went along with it," said Steve Grogan. "Even now, I'll watch the week leading up to the Super Bowl, see the guys being interviewed and think back to that week in New Orleans. It was all pretty special.With the success the franchise is enjoying nowadays, it's even more special to think that we were the first to go."
"The whole scene that year, with returning to the airport in Providence and being greeted by the crowds, especially after the Miami playoff game, was absolutely incredible," said Grogan, who now owns and operates Grogan Marciano Sporting Goods in Mansfield. "That was the first time I actually felt this area embraced pro football. It was a special time and a special team."
"The Celtics were good, the Red Sox were always the Red Sox around here, and the Bruins were good as well," said Curry College athletic director and football coach Steve Nelson, a linebacker who was in the midst of his third Pro Bowl season in 1985. "Back then, we were kind of the fourth team in the city and the region. But that was the year of 'Squish the Fish' and 'Berry the Bears.' It was remarkable to see. It was a great example of the Boston and New England fans and the way they could rise to the occasion and support us. I was overwhelmed by it all."
"It was always a Red Sox town and the Celtics and Bruins were very popular," said NFL Senior Director of Youth Football Cedric Jones, a wide receiver-special teamer on the team. "Without a doubt, that year was a turning point for the New England Patriots."
"That year was something unlike anything I'd ever experienced," said Patriots football development and promotions director Andre Tippett, who enjoyed his second consecutive (of five straight) Pro Bowl appearance as a linebacker with that '85 team. "I'd been to the Rose Bowl with Iowa and there were people running on the field to celebrate, but this was something I'd never seen.
"You'd come back to the airport in Rhode Island during our playoff run and people were actually fearing for our lives. Not in a bad way. It was just there were so many people on the tarmac. It was crazy. It was almost like the Beatles that one season. Those moments were special." Hard to believe they occurred two decades ago. The hair is graying.
"It's interesting, but it still doesn't seem like 20 years," said Jones.
"Lawrence McGrew and Steve Moore have passed, I saw Mosi Tatupu's son, Lofa (a second-round draft pick of the Seattle Seahawks), who used to hang around my kids, at the rookie symposium, but the interesting thing is it doesn't seem like 20 years to me."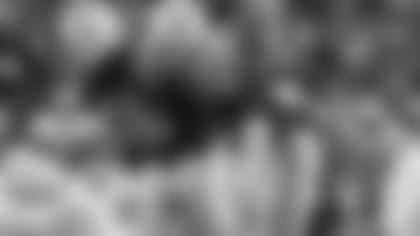 "The memories are so vivid, it doesn't seem like it was all that long ago," Grogan agreed. "I've forgotten a lot. Not that year though." Who could forget a season during which, Tippett says, "you felt a little magic in the air.
"We were all of the mind that if you took care of one game at a time and played hard, anything was possible. I'm not going to tell you we knew we were going to go to the Super Bowl because I don't know that you ever know that, but as the season went along you got the feeling that something special was happening."
Very little was happening at the outset of that 1985 season. The Patriots had failed to make the playoffs the previous season, had undergone a head coaching change in the process and hadn't won a postseason game since the year of JFK's assassination, more than 20 years earlier.
So the mere thought that New England's professional football team would be headed for the Super Bowl at the end of the 1985 season? Well, that was the most revolutionary idea involving a band of Patriots since Paul Revere got on his horse and took a midnight ride through the New England countryside.
In 1985, the Patriots kicked off their first full season under Raymond Berry, who had replaced the fired Ron Meyer as head coach at the midpoint of a 9-7 campaign the year before, by losing three of their first five games, including back-to-back decisions to the Los Angeles Raiders at home and the Cleveland Browns on the road.
That's when Tippett took things into his own hands and, while his efforts are not reflected on his list of a franchise-record 100 career sacks, his post-game performance that day may very well have been his greatest hit. Following a 24-20 Patriots loss to the Browns on Oct. 6, stunned teammates watched as Tippett went about the task of rearranging the furniture in the visitors' locker room at Cleveland Stadium.
Twenty years later, Tippett admits to taking his frustration out on "a couple of lockers and some other things" in Cleveland.
"It wasn't planned. It was pent-up anxiety," Tippett explained. "Who likes to lose? I wasn't trying to show anybody up, but we'd just gotten our butts kicked and nobody fought. We'd just been beaten offensively, defensively and on special teams, and the Browns were giving it to us on the sidelines.We'd not only lost the game, we'd lost the fight. Something needed to be said.We had so many leaders on that team, but something needed to be put out front.We needed to look at ourselves in the mirror a little harder."
The mirror would never look the same.
A separated shoulder inflicted on Tony Eason by Bills rookie defensive end Bruce Smith promoted Grogan to the No. 1 quarterback late in the second half of the Patriots' Week Six game with the Buffalo Bills at Sullivan Stadium (as it was still called then). The team immediately got on a roll, erasing a 3-0 deficit on a 16-yard, third-quarter pass from Grogan to Irving Fryar, winning that game, 14-3, and ripping off five more in a row to improve to 8-3.
"I felt I was on the verge of being out the door," said Grogan. "I hadn't played since early in 1984. I was sitting on the bench sort of waiting to be traded or cut loose and things worked out extremely well.
"I was fortunate to have a coach who respected the fact that I would go out there and work my tail off. [Coach] Raymond [Berry] was secure enough in his position - and he'd been around when Johnny Unitas called his own plays with the Baltimore Colts - so that he turned things over to me and let me call my plays. I was comfortable with that and the feedback I got in the huddle. Also, that was the first time I felt we had the type of defense where we could stop people and didn't have to score 30 points to win. I could be a little more conservative."
If Tippett had done the heavy lifting in Cleveland, it was left for Grogan to pick up the slack after Eason got sacked.
"Steve gave us a huge lift," said Jones. "He came in, called his own plays and just had a knack for the game. He was a tremendous leader who had a swagger. You need that. You see it today. Tom Brady's got it."
"Andre did his thing, then Grogan provided a spark and we got on a roll," Nelson said. "In the end, we were able to play our best football when you want to be playing it.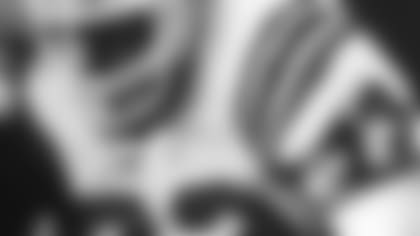 "We were a very diverse club in terms of age. We had a mix of older guys like myself, John Hannah, Grogan and Peter Brock, and younger guys like Andre and Donnie Blackmon, who were in their prime playing years and really stepped up that year. It was a very mature team that was able to overcome things."
The win streak was snapped when Grogan went down, fracturing his tibia and spraining a ligament in his left leg in the second quarter of a 16-13 overtime loss to the New York Jets at the Meadowlands Nov. 24.
"It was all going too good for me," said Grogan.
Even without Grogan, the good times for the Patriots rolled, as Eason came back and they won three of their final four regular-season games, the exception being their then annual loss to the Miami Dolphins at the Orange Bowl (their 18th straight defeat in South Florida), 30-27, in a Monday night game on Dec. 16.
Six days later, the Patriots rode their rushing game in a must-win regular season finale against Cincinnati at Sullivan Stadium. The offense pounded out 281 yards on the ground on their way to a 34-23 victory. An AFC wild-card berth and a matchup with the Jets was secured when Robert Weathers broke free through the right side of the line on a fourth-and-one play for a 42-yard touchdown run after the two-minute warning. New England finished the season 11-5 and claimed the AFC's final wild card berth over Denver because of the "common opponents" tiebreaker.
The 1985 Patriots truly had weathered the storm. "We came away from that Miami game feeling if we played them again, we'd beat them," said Nelson. "We had a short week, then beat Cincinnati to get in the playoffs. From there, we just took off."
Destiny - and the Dolphins - awaited.
With nothing but road playoff games ahead, the 1985 team was about to etch their names in league and franchise history.
The Patriots' magical mystery postseason tour began with a 26-14 victory over the Jets in the Meadowlands. It marked the franchise's first playoff win since Babe Parilli and Gino Cappelletti figured in all of the team's points in a 26-8 romp over Jack Kemp, Cookie Gilchrist and the Bills at Buffalo's War Memorial Stadium. That win sent the 1963 club into the American Football League Championship Game where it was summarily dismissed by the San Diego Chargers, 51-10.
This time, the central figures were placekicker Tony Franklin (four field goals, ranging from 20 to 41 yards), defensive end Garin Veris (three sacks of Ken O'Brien for 35 yards) and linebacker Johnny Rembert (a 15-yard fumble return for a third-quarter touchdown).
Next, the Patriots ushered in a new calendar year with a 27-20 win over an old nemesis, the Los Angeles Raiders. The ever-popular Tatupu forced a fumble by kick returner Sammy Seals (one of six L.A. turnovers in the game) that Jim Bowman recovered in the end zone for what proved to be the winning touchdown.
While "Mosi's Mooses," Tatupu's legion of fans, celebrated back home, years of frustration spewed from the visitors' sideline at the Los Angeles Coliseum as Pat Sullivan, the Patriots' general manager and son of team founder Billy, drew the attention - and ultimately the wrath - of Raiders Howie Long and Matt Millen. Upholding the Raiders' "bad boy" image, Millen opened a gash over the GM's left eye with one rather wellplaced swing of his helmet following the game.
With bloody brow, but still unbowed, Sullivan stood defiantly in the Patriots' locker room, proclaiming that his organization was righting more than a decade of wrongs that included referee Ben Dreith's game-swaying roughing-the-passer call against Ray Hamilton in a 1976 playoff game and Jack Tatum's hit on Darryl Stingley in a 1978 pre-season game that paralyzed the wide receiver.
"Let me tell you something," said Sullivan. "We're just getting back for Jack Tatum and all the other crap that this football team has put on our football team for 12 years. This is the greatest moment in our lives."
Throngs of fans at T.F. Green Airport in Warwick, R.I. waited to greet the team at 3:15 a.m. as it returned from what Channel 4 newsman Dick Flavin proclaimed the "greatest Patriot victory since 1776."
Further history was only a week away.
"All we'd heard was 'the jinx ... the jinx ... the jinx ...,' how we were oh-and-whatever and couldn't win in Miami," said Jones. "After the L.A. game, a few Raiders players, including Michael Haynes and Lester Hayes, said something to the effect of, 'We just handed Miami a trip to the Super Bowl.'We went down there fed up with it all."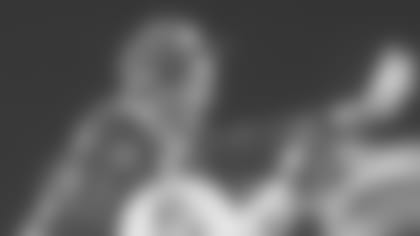 The Miami clash was the greatest moment in Patriots history to that point in time. An 18-game losing streak was laid to rest and an AFC championship won by a relentless ground attack with fresh-legged backs running behind a line led by Hall of Fame left guard John Hannah. The Patriots produced 255 yards, including 105 from James, 81 from Weathers and another 61 from Tony Collins. The defense was dominant as the Patriots forced six more turnovers, recovering four Miami fumbles and intercepting two Dan Marino passes.
The final score? Patriots 31, Dolphins 14.
"Squish the Fish," indeed.
"Even now, you see those shirts on eBay," Tippett said. "I had a guy come up to me recently who wanted me to sign one."
Tippett and Co. had made their mark, all right.
"As I recall, we went down there for three or four days to get acclimated," said Tippett. "We ran into some of the Dolphins when we were out and on game day you could see the same thing. You could see it in their eyes. They weren't ready and they didn't want to play the Patriots. We were like a dog sensing fear in the mailman."
A special delivery was forthcoming. Another triumphant return home to T.F. Green Airport awaited these conquering Patriots.
"Other years, we'd go down to Miami and get outplayed and outcoached," said Jones. "Not this time. I think in having played for and knowing [Dolphins head coach] Don Shula that Raymond had something going for him and he used that to our advantage.We were ready to play."
"We had a great game plan," said Nelson. "They couldn't stop our running game. We controlled the clock and tempo. Defensively, we matched up. I think Raymond Clayborn played the game of his life against [receivers] Mark Clayton and Mark Duper. The outcome was never in doubt."
In a dramatic case of role reversal, the Patriots were on the receiving end of a super-sized beating in Super Bowl XX as the Bears buried them. Despite that, there is no shortage of positive memories for members of a 1985 Patriots team that was the first in franchise history to go to the Super Bowl.
"Only one team can be the first, and we were it," said Nelson. "That will go with me to my grave."
"No one can ever take away the fact that we were the first," said Tippett. "Today's Patriots have made history in their way. We made history in ours."