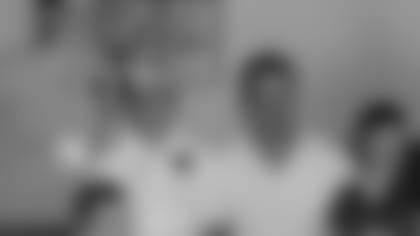 ]()FOXBOROUGH, Mass. -- Patriots quarterback Tom Brady made a lot of people smile Tuesday morning when he welcomed four children to Gillette Stadium as part of the Make-A-Wish Foundation of Massachusetts' wish-granting program, which serves children with life-threatening medical conditions. The four children, ranging in age from five to 16-years old, had all requested to meet Brady, and came to the stadium together for the group wish.
The four wish children in attendance were Michael Lanosa, 5, from Lowell; Mark Feehily, 7, from West Roxbury; Claire Abisalih, 16, from Merrimack; and Jack Wise, 10, who traveled all the way from Brady's home state of California for the experience.
Brady spent 45 minutes talking with the group before signing autographs and posing for photographs with all of the wish children and their families. As he went around the circle, 5-year-old Michael proudly sang a song he had been practicing just for Brady - "I've Got the World on a String" by Frank Sinatra. The Wish children also brought Brady a variety of gifts, including a sign they made for him and a yellow Livestrong bracelet that symbolized hope for recovery.
Shortly after the visit, Brady left to catch a flight for a speaking engagement he was scheduled to make in Las Vegas. His departure was delayed when the private jet that was scheduled to pick him up in Norwood, Mass. skidded off the end of the airport's runway upon its arrival. Brady was not on the plane. No injuries were reported.