The Patriots made three more veterans available for video conferences on Wednesday, as the team continues to ease their was into a very different training camp schedule. Most notable was veteran guard Joe Thuney, making his first appearance with the media since being tagged with the Franchise Tag at the start of the new league year.
The four-year veteran and stalwart left guard said he went into the offseason with an open mind.
"I didn't really know what to expect," said Thuney. "Played out my rookie contract, then heading into free agency back in March, it was a new experience for me. Got the call, got the Franchise Tag and, like I said, the Patriots are such a great organization, I'm happy I just can keep playing football and keep doing what I love to do."
Thuney downplayed any dissatisfaction with being assigned the tag, which comes with a hefty price tag but no long-term certainty.
"No, I love being here," said Thuney. "I love the Patriots organization, my teammates and everyone. I'm glad to be here and I'm pumped for the season."
Thuney wore a wide smile for most of his press conference, trying to contain his excitement to be back in the mix doing what he loves most.
"I love being around the guys, I think we got a great locker room," said Thuney. "You're stuck in quarantine for several months and everyone's separate, you're just doing Zoom meetings. It's good to see everyone again. It's like the first day of school coming back, trying to orient yourself."
As for a potential long-term deal with New England, Thuney was more concerned with navigating the new-look training camp.
"I"m just focused on this training camp," said Thuney. "Trying to get better day in and day out and control the things I can control. Right now, that's just trying to get better a little bit today and a little bit tomorrow."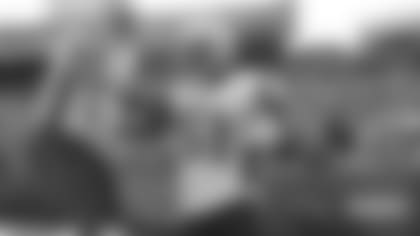 Stepping up
Ja'Whaun Bentley is the last holdover at linebacker from the 2019 season and is projected to elevate into a significant leadership role in 2020. Bentley, a three-year captain at Purdue, seemed up to the challenge but without trying to force himself into anything.
"We have a lot of great talent," Bentley observed. "Obviously, you respect the choice Hightower made, you have no choice but to do that. Nonetheless, we come in here, we gotta work. Guys gotta figure out their roles and we gotta keep pushing forward.
"You have to step into whatever role fits you best. I'm a big advocate for not forcing a leadership role, leadership finds you and you react with that."
Bentley is surrounded by a group of young players at inside linebacker, including sixth-round pick Cassh Mailua and undrafted rookie Scoota Harris, along with 2019 practice squadder Terez Hall, and he's doing his best to pay forward what other veterans did for him in his first two seasons.
"My two years I've also had vets help me out, what kind of person would I be if I didn't help them out as well," said Bentley. "Helping those guys out any way I can. It's definitely a great thing for me to do and continue doing. We have a lot of smart rookies too, so that's always a plus."
Linebacker isn't the only position to see some turnover, as the trade of Duron Harmon to Detroit and Patrick Chung's decision to opt out of the season has altered the Pats back end for the first time since the start of the 2014 season. Like Bentley, cornerback Jonathan Jones was ready to step into more of a leadership role.
"We definitely lost a lot of veteran leadership, but we still guy like Devin who's been here, Jason a leader but hasn't been here that long who's an older guy, Steph [Gilmore], myself," pointed out Jones. "It's definitely pushing me more into a role to facilitate some learning for the younger guys and be that role model."
Though Jones has played some safety in the past, he said it's too early to know if he'll have any part in replacing what the Patriots will be missing from Harmon and Chung this season.
"I think right now we're just getting installs in," said Jones. "Getting everybody acclimated, getting the younger guys in, helping them learn the system and getting everybody ready to go. We haven't really gotten into specific roles yet but I'm willing and ready to play any position, but we just haven't gotten to that point. We're just kind of getting in and learning the basics now."
New-look facility and training camp
The Patriots implemented a number of changes to their facility to accommodate for the coronavirus protocols and the players confirmed that it's different but that they're making the best of things.
"This is day two for us being here, we're still feeling our way around," said Bentley to ESPN's Mike Reiss when asked how he felt being back to football. "But you do feel safe, you do feel that there's a conscious effort made to make sure we feel as safe as possible. The stadium and things like that has changed in more ways that one, that's definitely a positive thing."
"As far as being in the facility, being in meetings and things like, they've gone to great lengths to make sure we're safe in those regards," said Jonathan Jones.
Along with the adjustments to the facilities, the training camp schedule has been dramatically altered but the approach for Thuney will remain the same at its core.
"We had no on-the-field OTAs or anything this year and camp is obviously different," said Thuney. "I think we just have to take the meeting times we have in the facility and really absorb as much as we can, then go out there on the practice field and execute it. Mistakes are obviously made, it's very early, so just try to learn from that and keep improving a little bit each day. That formula stays the same but it is different so we just have to take advantage of the time we have."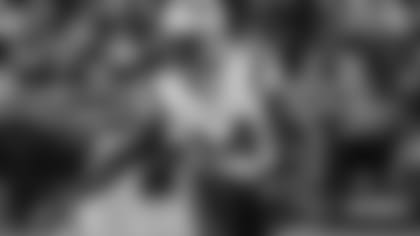 Sanu off PUP
According to a report from Field Yates, Mohamed Sanu is off of the PUP list, leaving just Sony Michel and Brandon King as those still on it. It was a brief stay for Sanu, who appeared to be fully recovered from offseason ankle surgery in the multitude of training videos he posted on social media. The Patriots will be looking for big things from Sanu in his second season with the team, as the offense undergoes a significant transition at quarterback.
Sound Bites
Ja'Whaun Bentley on studying old football film
"I would consider myself, I'm a little football junkie when it comes to things like that. I've been watching football long before I was even playing college football. Those old school players -- the great linebackers and the linebackers that people really don't know about, really didn't pay attention to, who didn't have the spotlight and didn't have their highlights playing. I watched those guys too. Just taking bits and piece of their game. Maybe guys were good in pass coverage, I would take something from that and learn. Also you just try to piece things together to find what works for you. Find different styles that make you the best player that you can be. That's what I lived by and it's what I continue to do."