The Patriots wrapped up their preparations for the Pittsburgh Steelers on Friday with another fully-attended practice, press conferences with Bill Belichick and new captain-elect Elandon Roberts, along with locker room availability.
Here's today's notebook as the team counts down the final 48 hours until they raise another banner and open the season on Sunday.
Roster Moves
Per a report from Jim McBride of the Boston Globe, the team released center Russell Bodine and re-signed James Ferentz. Bodine was acquired from Buffalo via trade last weekend, costing a sixth-round pick. Ferentz, now in his fourth NFL season, appeared in 2 games in 2018 and was with the Patriots in training camp.
Bodine was expected to back up center Ted Karras and perhaps push him for the starting job. Now, Karras is even more firmly entrenched as the starter, while Ferentz will provide depth at the interior offensive line spots.
Practice & Injury Report
The Patriots had another perfect day of attendance as practice was held on the lower field in shorts and shells. James Ferentz looked like he was back in his old #66.
QUESTIONABLE
TE Matt LaCosse, Ankle (LP)
S Obi Melifonwu, Ankle (LP)
WR Demaryius Thomas, Hamstring (LP)
For the Steelers, starting safety Sean Davis is listed as Doubtful, which could be a significant blow for a defense that has often struggled to stop Tom Brady down the field.
Belichick Presser Points
Bill Belichick's Friday press conferences are a fan favorite as the "hay is in the barn" and after a long summer of preparation, real football is quickly approaching
"We're winding down here and I think everybody's excited to get going here Sunday night. Obviously, a great football team with the Steelers. A team we know well, and that played very well against us last year so we're going to have a big challenge ahead of us," Belichick said. "But we're excited to get going, excited to get started, and we'll see how it goes. The process has started, we've had plenty of time so we'll see what happens Sunday night. Looking forward to it."
One of the most anticipated aspects of this Patriots team is their potential on defense. The second level features multiple versatile linebackers who can play in a variety of spots. Coach Belichick was asked about what it takes to play both inside and outside as a linebacker.
"It helps to have length, especially when you're playing on the end of the line, and power to set the edge. Instinctively, it's more of a challenge. Seeing the game from on the line of scrimmage and seeing the game from off the line of scrimmage, it's kind of like two different games. It's not the same. Some players are very good off the line, some players are very good on the line, but it's hard for players to do both. So it takes a lot of work and it takes an instinctive player to be able to do that."
This summer the team welcomed two former players back into the coaching fold as Jerod Mayo is now coaching the linebackers and Troy Brown was seen helping out with the receivers. Did the coach see a future in coaching while Brown was a player?
"Troy was a very smart player, as we all know. Troy played certainly a lot of offense; he was our best offensive player when I got here. But he was also a dynamic punt returner that won a lot of games for us, gave us a lot of field position with his punt returns. But he played other positions in the kicking game as well – field goal block, kickoff coverage, kickoff return.
"When you put all that together and then put that on the other side of teaching somebody else how to do it – good communication skills, good personality – Troy's a very team-oriented person. It doesn't surprise me that he's good. He was good and helped players that played his position later on in his career."
Locker Room Sound Bites: Julian Edelman
After spending most of the summer rehabbing a broken thumb, Julian Edelman spoke in the locker room about being "ready to get after it." He knew what to expect from the Steelers.
"The one thing you can count on is they're going to come here, playing hard, playing fast, and being an explosive team - the things that the Pittsburgh Steelers are known for. First game of the year is usually the toughest to get started and going, because there's not really much film or anything of the team. There's always something new that you have to be alert for. That first opening day kind of experience that you always expect."
It's hard not to see a lot of the qualities Edelman had as a rookie in undrafted free agent Gunner Olszewski. Like Edelman, Gunner made the Patriots at a new position and has one speed – a million miles-per-hour. So far, Edelman likes what he's seen from the rookie.
"I love Gunner, he's got a great attitude," Edelman said. "He comes in, he works hard. We're excited to have him. I'm excited for his first game."
Will Olszewski dress for the opener? Because of his return skills he could, since outside of Edelman, the Patriots don't really have anyone else. Letting Olszewski return punts would take some pressure off of Edelman, but the veteran wasn't ready to give up the job as easily as Wes Welker was in 2009.
"I love returning punts," Edelman said. "If the coach asks me to return a punt, I'll return a punt. If the coach has Gunner back there, I'll be excited for him… but I like returning punts."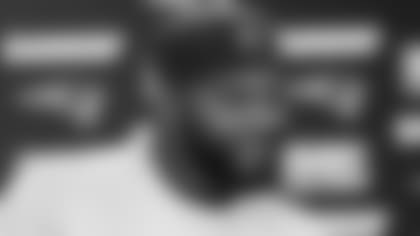 Elandon Roberts Presser Points
Elandon Roberts held a press conference to discuss his election as a captain for the 2019 season. The move came as a bit of a surprise to some outside the organization, but Bill Belichick was not surprised given how Roberts has established himself inside the locker room.
"[H]e's probably one of the most unselfish players that we have on our team. He'll do whatever he can to help the team in any way. He's also one of the toughest and most physical players on the team as well. He really is a tempo setter, an impact hitter, but his intelligence and his awareness and how hard he studies the game – football is very important to him, and that's reflected in the way he approaches it and the way he plays it. I'm sure the players voted for him because of his toughness, his unselfishness, his dependability, his willingness to do whatever it takes to help the team win. You can't ask for anything more than that."
The new father Roberts, whose first daughter was just born August 22nd, was grateful and humbled to be voted a captain.
"It was very humbling. Definitely an honor," said Roberts.
But it was talking about his new baby that brought a smile to his face.
"It was some excitement, man. Just a lot of blessings. My team knew about it, the coaching staff knew about it. They were right behind me, excited for me. That's the most important thing, when your family is excited and then you come to work and all your teammates and coaching staff are excited for you. Once again that was a great experience."
Roberts should be a key member of the Patriots defense as they try to shut down a Steelers ground game that ran for 158 yards on them last season. A free agent next offseason, Roberts is primed to excel in his usual role of run-stopping inside linebacker, bringing a physical presence that he's brought since he first came into the league.
Now that he's a captain, Roberts knows there's still much to be done.
"From my rookie year to now, it's a lot of growing. There's a lot that you can do to still grow."