I liked Stevan Ridley.  Still like him, too.  He's in New York now, as a member of the J-E-T-S, but I can't blame him in the least bit for taking his talents in a southerly direction.
I can blame him however, for the apparent rush-to-judgment he's had on his still-to-be-determined future with his new team.  Ridley signed a one-year contract last week with the Patriots' rivals, apparently feeling like he has an opportunity to play somewhere within the mix of Chris Ivory and Bilal Powell, who are already there...and healthy.  Never mind the fact Ridley is coming off of a season where he rushed for a mere 340 yards, largely due to his ACL and MCL injury suffered against Buffalo last season that has him re-habbing his right knee.
Confidence is everything, apparently.  So much so, that Ridley decided to show off that confidence with a brand new - and very large - tattoo on his right arm depicting the logo of those New York Jets.
Ouch.  Where has all of the love gone, Stevan?  What happened to the nice things you had to say about the Super Bowl championship team you left?  Where you once rushed for 1263 yards and scored 12 touchdowns in 2012...and developed into the epitome of what it means to be a Patriot, by simply doing the job you were asked to do?
Maybe the constant criticism of his seemingly not being able to hold onto the football stung him one-too-many times?  Perhaps realizing the timing of his injury with his free agent status, and with LeGarrette Blount, James White and Jonas Gray under contract, maybe that rattled his senses senseless? So much so, he decided to show his allegiance toward his new employer with a gaudy, brand new and highly-visible tattoo.
Dude.  It's a one-year deal.  Hope it works out for you.  Also hope you've saved up for the tattoo-removal service you'll need if it doesn't.
Kids these days, they do the darndest things, don't they?
Jets' swag a Ryan legacy left behind
Ridley's new tat brings to mind another recent bit of "brag and swag" gone awry in New York.  You'll recall, perhaps, that former Jets' coach Rex Ryan also had a tattoo attached to his right arm a couple of years ago?  The "artwork" depicted his wife - wearing nothing more than a Mark Sanchez jersey.
How'd that work out for everyone concerned, especially with Ryan now in Buffalo?  I suppose there's always the chance the Bills could arrange a trade for Sanchez, assign him the number six, and he could color the jersey blue...but I digress.
Ryan's bold gesture of support (what else could it be?) at the time seems to have left a trail of swag behind him in New York.  One thing the Jets have always been...is boastful.  They don't back down, they don't run from challenges, and they don't really seem to like the Patriots.
And that's ok.  The enmity is what makes the rivalry great.
Sheldon Richardson is a great case-in-point.  Richardson is becoming one of the NFL's standout players at defensive tackle, if he isn't there already.  And beginning his 3rd year in the league, he clearly sees the need for someone in the Jets' locker room to step up, open mouth, and point a foot in the general direction of the pie hole.
"We strongly feel like we're going to be the top defense in the league, and top team in the league, not just defense," Richardson said to the team's website, newyorkjets.com.  "I strongly feel like this is going to be a great season for us."
Why shouldn't Richardson feel this way?  After all, new general manager Mike Maccagnon brought in Darrelle Revis and Antonio Cromartie to re-tool the secondary, and receiver Brandon Marshall to give Geno Smith (or whoever) a larger and more talented target to throw to.
The Patriots (along with improved teams in Buffalo and Miami) may have a direct bearing on whether or not the Jets can make the climb into contender status, much less being the top team in the league.  But hey, when you're 4-12, you can dream about the possibilities.
Or, you can get tattooed.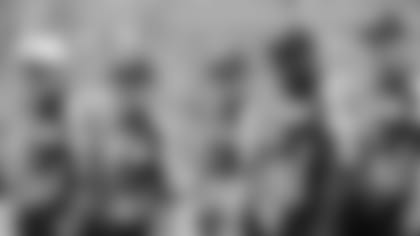 Hair today, gone tomorrow?
Two things I'm thinking this week - besides the sudden urge to get inked up - have to do with hair.
The NFL took the bold step this past week in naming the first full-time female official to next season's crews, with Sarah Thomas earning the promotion after 19 years in the college and prep ranks.  Thomas was the first female official to work a major college bowl game, and has worked several NFL camps in her career.
But it's tough to spot her doing her job on a football field in video and photos...not just because she's more than capable of holding her own compared to the male officials she works with, but also because her hair is tucked underneath her referee's hat.  I guess that's a good thing, as the focus should be on her ability as an official - and not on her gender.
Arizona Cardinals' head coach Bruce Arians was asked recently if a female coach on an NFL sideline could be next.  He told ESPN.com "the minute they can prove they can make a player better, they'll be hired."  It's already happened on an NBA sideline (Becky Hammon in San Antonio), is it only a matter of time before pro football follows suit?
And Pittsburgh Steelers' four-time 1st team all-Pro safety Troy Polamalu has decided to fro in the towel after 12 seasons.  Is he one of the best ever to have played his position?  Maybe, and ultimately that determination will follow in about five years as his personal Countdown Clock to Canton begins.
Polamalu connected with fans largely due to his energetic style of play...but his omnipresent hairdo also had a lot to do with his notoriety.  The long, bushy locks flowing out from behind his helmet made him recognizable to just about everyone, and earned him a nice chunk of change as a television shampoo spokesman.
But will his expected bust-to-be in Canton, Ohio also display those familiar follicles?  It's hard to imagine any representation of Pittsburgh's #43 without them.
Inquiring minds need to know.  That would be unbeweavable as a potential combing attraction, wouldn't it?  His locks would forever be enshrined from hair to eternity.
Sorry.  I'll cut this short. No need to get lathered up.
*John Rooke is an author and award-winning broadcaster, and has been the Patriots' stadium voice for 22 years.  Currently serving in several media capacities - which include hosting "Patriots Playbook" on Patriots.com Radio - Rooke has broadcast college football and basketball for the past 26 years and is a member of the Rhode Island Radio Hall of Fame. *
Follow him on Twitter - @JRbroadcaster