An open letter to the savior/sole-reason-for-survival/starting quarterback for the defending Super Bowl Champion New England Patriots, Tom Brady:
Really, Tom.  Thanks, but that's enough.
I think we all understand you have a need for a little R&R away from the grind of the past football season.  I'm sure we can all share your feelings for wanting to spend time with your kids and your lovely wife.  And I'm pretty sure most of us can see that you have a nice knack for letting the world know what you're up to through social media...because you know, well, you're a pretty popular guy and everyone seems to want to know what you're up to at all hours of the day and night.  Which is pretty cool of you, actually.
But I have three words for you – Too.  Much.  Information.
If you could slow down your off-season just a bit, please?  I mean, don't you deserve some down time after dodging all of those guys who wanted to take your head off last season?  Don't you deserve to give your spinning head a little sanity after flummoxing the Baltimore Ravens with those "he's eligible, now he's not eligible" formations and play calls?  Those were pretty funny, by the way.  Don't know if you noticed, but the Ravens went and had those plays stricken from the rule book a week ago.  What kill-joys.
https://www.facebook.com/video.php?v=889540911087060&set=vb.214003275307497
But what happened to the R&R?  Doesn't it stand for "Rest and Relaxation," as opposed to "Rock and Roll?"  It's fantastic that you appear to be a doting father and husband, and it's wonderful you seem to spend some real quality time with your kids at places like the beach.  But when our star quarterback gets himself buried under a pseudo-avalanche of sand by his kids, and opposing players comparatively can't get close enough to come up with so much as a whiff of your cologne...well, let's just say your cute photo is probably going to end up on a Jets' bulletin board, under their "To Do" list for next season.  You know, we need to "bury" Tom Brady next year?  Metaphors are fun, but let's not give the opposition any more bulletin board material, ok?
Back to that R&R for a sec.  Doesn't it mean to Rest?  And Relax?  Not Run and Ruin the pants my buddy soiled when he watched that video of you jumping off of a 40-foot cliff.  I suppose I can see a need for some spice in your life after spending so many weeks dodging human missiles in the backfield, but cliff diving?  Some vacation.  The reason it's still so cold in New England even though the calendar says its springtime is because you literally froze everyone with that stunt.  Ha!  It was cool.  But seriously, way uncool.  I'm still looking for a defibrillator, just in case I need one for my buddy the next time he visits.  He wants to send you his cleaning bill.
And I can only imagine that high-energy, finely-tuned athletes such as you are constantly need a challenge...even in the off-season?   Make haste or make waste, right?  Don't ever let those athletic skills grab a breather.  Why else would you see the need for a pick-up game of basketball in the Bahamas with perhaps the greatest player ever – Michael Jordan – when you have so much sun, sand and scenery surrounding you on those islands?  I noticed you teamed up WITH Jordan, and not so much against him, from what I could tell.  Smart move.  Winners need to stick together.  Oh, and be sure to tell MJ salads are ok, too.
So, thanks for the adventures Tom.  Thanks for sharing a little of your active agenda, some of your travels and some of your apparent "need for speed."  Thanks for the off-season agita I'll be trying to digest for the next 2-3 months, too.  Hope you arrive back in Foxboro in one piece, ready to start that "Drive for Five."
If either one of us is still alive.
We've talked about it here, and you've undoubtedly heard about it in a lot of places...how the AFC East has somehow caught up with the Patriots in this so-far brief off-season?
Hogwash, says former Patriots' safety Rodney Harrison.  Especially when it comes to the New York Jets.
"The Jets are, all of a sudden, on a high thinking they're going to win a championship," Harrison said on NBC Sports Radio, where he regularly hosts and appears on programs during the calendar year.  "You're not going to win a championship; you're not even going to make the playoffs, because you don't have a quarterback.  If you go into the season and you're expecting Geno Smith to improve, it's not going to happen.  He might get a little better, but when times get tough, when adversity hits, guess what he's going to do?  He's going to fold just like the last couple years."
Whoa.  Tell us how you really feel, Rodney.  Harrison's comments were quickly picked up by ESPN, NFL.com and other mainstream media, and he wasn't finished with his assessment of the Jets.  Or, of Smith.
"I don't believe in Geno Smith.  I think this is a huge mistake.  Hopefully in this draft, they try to address this quarterback situation, because if they go into the season with Geno Smith they might win five or six games."
Maybe Harrison forgot about Ryan Fitzpatrick?  Or maybe he didn't.  And as for the Jets' signing of Darrelle Revis?  "Bill (Belichick), he's not going to sell the farm for Darrelle Revis, because as good as Darrelle is, you know in a year or two maybe Darrelle is not going to be quite the same player he was this past season for the New England Patriots."
Now, if the Patriots could find another defensive back out there willing to lay that kind of smack down on the opposition?  Perhaps at least one of their off-season issues would be solved.
Wrestlemania Meets the NFL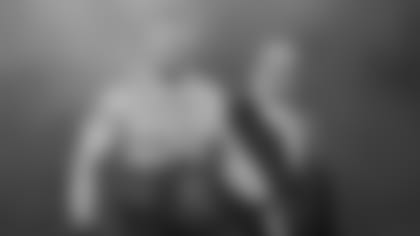 While a case could be made for the Patriots' first couple – Tom and Gisele – being somewhat comparable in power and stature to the WWE's ruling family hierarchy of Triple H and wife Stephanie McMahon, it seems there is an actual connection between the Patriots and the dynastic institution of sports entertainment known as World Wrestling Entertainment.
No, not because both are actually located in New England (the WWE is based in Stamford, CT) and not because both are still somewhat dominant in their respective endeavors.  WEEI.com's Christopher Price pointed out this past week that WWE superstar Brock Lesnar once tangled on the mat with former Patriot offensive lineman Stephen Neal when the two competed in college.  Lesnar wrestled for the University of Minnesota, Neal for Cal-State Bakersfield, and the two met in the 1999 NCAA championships.
Maybe it comes as a surprise to you and maybe it doesn't...but Neal won his heavyweight match against Lesnar in '99 for the NCAA championship.  "He was just this big, strong, powerful man the wrestling world hadn't seen," Neal said back in 2008.  "He was so big and strong, you didn't want to make a mistake against him."
If you follow the WWE, you know that's still the case today.  After winning his wrestling title, Neal went on to sign with New England and was a part of three Super Bowl title teams.  Lesnar, who won the NCAA heavyweight wrestling crown in 2000 after his runner-up finish to Neal, didn't have much of a football career.  A tryout with the Minnesota Vikings ended with his being cut at the end of the 2004 pre-season.  But he did become accomplished in the octagon as a UFC fighter, as well as in the squared-ring with the WWE.  And at least until this past Sunday night at Wrestlemania 31, he had been the reigning WWE champion for the past year.
I won't ruin all of it for you, in case you don't know what happened.  Let's just say "the show must go on" for Lesnar, as it will for the Patriots...whether you win, lose or change the script.
*John Rooke is an author and award-winning broadcaster, and has been the Patriots' stadium voice for 22 years.  Currently serving in several media capacities – which include hosting "Patriots Playbook" on Patriots.com Radio – Rooke has broadcast college football and basketball for the past 26 years and is a member of the Rhode Island Radio Hall of Fame.  *
Follow him on Twitter - @JRbroadcaster