It's a question that every team in the NFL considers at some point, but it's a question that doesn't get asked every year. Last year, four teams applied the Franchise Tag to keep players on their roster, and the year before just eight players received the tag.
How soon we forget - in 2012, a record 21 players received the tag from their respective teams.
Just what is a "Franchise Tag?" If you're wondering, it's a one-year, guaranteed contract offer that effectively prevents a player from reaching free agency. Players who are eligible for free agency may have the tag applied, binding him to his team for the year, and each team has only one of these designations each year to give out. This means, of course, that players who receive the "tag" are usually players of high skill and importance overall.
It's a designation that no one takes lightly. Often times, the players who receive the tag are upset...perhaps because they see a chance for true free agency and a potential big-money deal slip away. Others, not so much...usually because they understand a deal under the tag will be for no less than the average of the top five salaries at his position for the previous year. It's good money, and for the team, it can be a good deal. The team gets to hold onto a valuable commodity that can help build for the future.
The Patriots used their franchise tag on Stephen Gostkowski for this year, the 3rd time they've used the designation on their kicker (see Adam Vinatieri in 2002, 2005). As per the "tag" rules, Gostkowski will receive a little more than a $1 million raise over what he made last year...which is a nice boost. And since he's presently one of the top kickers in the NFL in points scored and accuracy, he's probably worth it.
If you're still with me here, there are actually two different kinds of tags that can be applied. The franchise tag can either be exclusive or non-exclusive, and there is also the transition tag. A non-exclusive designation allows a player to negotiate with other teams, but the original team has a right to match the terms of any offer...and if they don't, they may receive two first-round draft picks as compensation for losing the player.
A transition tag? Well, if a team chooses this designation, the player must be offered a minimum of the average of the top 10 salaries of the prior season at his position or 120 percent of the player's prior year's salary, whichever is greater. A transition player designation gives the team a first-refusal right to match within seven days an offer sheet given to the player by another club after his contract expires. If the original club matches, it retains the player. If it does not match, it receives no compensation.
Rules, schmooles. But this is what the franchise tag means. It can help teams, and it isn't exactly the worst thing in the world to happen to a player if he's hit with it. But to use it, or not? Fiscally speaking, there are risks, sure. But there's also a risk in allowing a player reach the open market. The Patriots decided not to tag CB Aqib Talib a year ago, and it ended up working out pretty well for them in the end...mainly because Darrelle Revis was released by Tampa Bay.
It's a question teams don't take lightly. It can affect draft plans, it can affect roster moves. Whether to tag, or not to tag...may be the biggest decision a team makes in the off-season.
Hey Big Spender, spend a little dime on me!**
Free agency in the NFL officially opens next week, with the end of the 2014 fiscal season and the start to the 2015 year. Happy New Year for the league begins March 10th.
What this means for the Patriots is anyone's guess at this point, although a big splash in free agency might not be an expected step in New England after the haul a year ago...bringing in names like Revis, Browner and LaFell. You could make the argument that the biggest free agent signing a year ago was re-signing receiver Julian Edelman, considering what his performance meant to the team this past year.
While it's more likely the team will work diligently at some cap-friendly contract restructuring this season, don't completely rule out new players for the roster in 2015 coming from other teams. Players in the trenches on both sides of the ball should be strong considerations.
If players like Jerod Mayo and Sealver Siliga (a restricted free agent) are to return, new deals will need to be done. Same for Darrelle Revis as we've explained previously...provided there's an agreement between parties. And, deeming your own unrestricted free agents as worthy to return will be a big part of the plan. Dan Connolly has to rank just behind the potential return of safety Devin McCourty (the team holds exclusive negotiating rights with him until March 10th), with in-season pickups Alan Branch, Jonathan Casillas and Akeem Ayers also worthy of consideration. Each player can make a case for having success in "doing his job" during the run to the Super Bowl.
In an effort to keep up with the Joneses, er, Patriots...it wouldn't be a surprise to see the New York Jets or the Buffalo Bills stepping up to make a roster splash with a big pick-up or two. As for New England, it's just a hunch, but this team may be more interested in bringing back some of the names above, rather than considering new names for 2015.
They'll need to spend a few dimes on their own free agents in order to keep a Super Bowl championship team together, as best they can.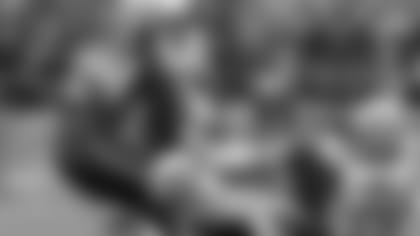 Beast Mode speaks, after all**
In case you missed it, Seattle chatterbox running back Marshawn Lynch actually does know how to speak to the media like a professional football player should. Who knew he could speak Turkish, however?
Lynch appeared on Turkish television for a 30-minute sit down interview last week, as part of promoting American Football Without Borders...a non-profit group attempting to expand outside of the USA. Lynch was in Turkey with Carolina running back DeAngelo Williams and Cleveland tight end Gary Barnidge.
Among the items brought up in the interview was the fateful pass play on the goal line by Russell Wilson, picked off by the Patriots' Malcolm Butler...and sending the Pats on their way to a 4th Super Bowl title.
"I had no problem with the decision of the play calling," Lynch said in the interview, spoken in English, which was transcribed by NFL.com. "I think it was more of a, how do I say this? When you look at me, and you let me run that ball in, I am the face of the nation," he said. "You know, MVP of the Super Bowl, that's pretty much the face of the nation at that point of time.
"I don't know what went into that call," Lynch continued. "I mean, maybe it was a good thing that I didn't get the ball. I mean, you know, it cost us the Super Bowl. I have full confidence in my teammates to execute that plan because we've done it so many more times. But would I love to (have) had the ball there? Yeah, I would have."
The face of the nation? But he won't do us the courtesy of lending his voice to the very same nation? As the great philosopher Forrest Gump once said, "stupid is as stupid does."
John Rooke is an author and award-winning broadcaster, and has been the Patriots' stadium voice for 22 years. Currently serving in several media capacities - which include hosting "Patriots Playbook" on Patriots.com Radio - Rooke has broadcast college football and basketball for the past 26 years and is a member of the Rhode Island Radio Hall of Fame.