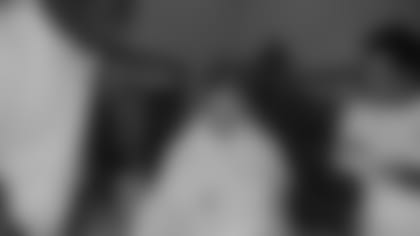 ]()CHARLESTOWN, Mass. - New England Patriots tight end Benjamin Watson and his wife Kirsten's foundation "One More" teamed up with the Boston Housing Authority to give 84 families the opportunity to shop for gifts free of charge for their children Monday night at the Knights of Columbus in an event titled "The Big Benefit Christmas Toy Giveaway."
The giveaway relieved some holiday stress for parents by giving them the chance to select gifts such as books, clothes, movies, sports gear and toys to give to their children.
Each of the 84 families was given a roll of wrapping paper and an envelope full of tickets they could use to select what gifts best suited their children.
Prior to the shopping spree, the families were treated to a sermon by Watson's father Pastor Ken Watson.
"It is special because every kid likes to wake up Christmas morning and open presents," said Benjamin Watson. "This event wasn't just about gifts, but also to celebrate the true meaning of Christmas which is the birth of Jesus Christ. We want people to get gifts, but also to have a better understanding of Christmas."
April Reynoso, a single mother of four children living in Boston, was one of the parents at the event and was escorted around the shopping area by the Watsons. Reynoso said the event was one she will always remember.
"This was very special," said Reynoso. "It is a struggle right now with how the economy is and this helps a lot. This will help bring happiness to my kids. For a Patriot to do this, I give him props. Benjamin was just like a normal person. I thought he might be more business-like, but he wasn't. He and his wife Kirsten were very helpful and pleasant."
The "One More" foundation was created by the Watsons to help communities and assist people and organizations in need. Along with the shopping spree, "One More" has hosted a number of events including a food giveaway, football clinic and a Patriots ticket raffle.