Training camp is a sacred time for Patriots fans. They come from all over to get a chance to see the Patriots practice before the season officially begins, and this year, the team stepped up its game in welcoming those fans.
Patriots training camp has a whole new look, and whether you make an annual trip to Foxborough for camp or are coming for the first time, it is guaranteed to be fun to explore.
For those who want see how they would fare on the field, there are a number of activities to test your football skills. There is the "Quarterback Challenge" station, where folks can show off their aim (or lack thereof) by throwing footballs through tires. There is also an obstacle course that tests footwork and a kicking station to do your best Stephen Gostkowski impression.
The Hall at Patriot Place presented by Raytheon has an exhibit called Road to LI, which features game-worn gear and other pieces of history from along the road to the Super Bowl. It is a great chance to relive the glory of last season.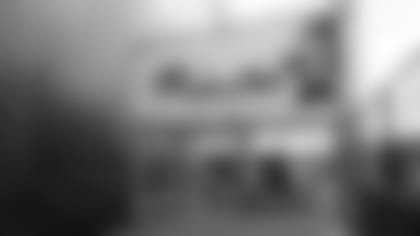 The activity stations and Road to LI exhibit are located at field level, but there is more to do before you even enter camp. There is a photo opportunity with the Patriots block letters, cornhole and Fowling, bowling but with a football instead of bowling ball. Food trucks and vendors line the walkway, and fans can see how they compare to their favorite players.
The "Size Me Up" exhibit allows fans to go hand to hand with some of their favorite players with a mold of their handprint on a football to compare. With handprints from the likes of Trey Flowers, Chris Hogan and Dont'a Hightower, it is a fun way to see just how big the guys truly are. 
Each day, camp opens up with a performance by the cheerleaders, a touchdown dance-off, Patriots trivia and even alumni interviews, so you'll want to make sure you get there early. With photo opportunities abound, be sure to use share your photos on social media with #PatsCamp. We can't wait to see how you enjoy Patriots training camp.