By New England standards, it's been a relatively warm, snowless winter thus far. There was one significant snowfall the week before Thanksgiving, a few flurries on Christmas Eve, but not much more than that.
However, temperatures began plummeting this week, with highs only in the 20s, and while it's still beach weather out in Southern California, the Patriots practiced in snow-globe conditions on Thursday and more 20-degree temps on Friday.
"Yeah, finally got some snow going," running back Rex Burkhead grinned. "It's that time of year. We're looking forward to it."
That frigid forecast is expected to continue throughout the weekend when the Patriots host the Los Angeles Chargers in the Divisional Playoff here at Gillette Stadium Sunday afternoon. The Patriots almost always practice outside, regardless of weather conditions, so, players in this part of the country are certainly used to the extremes.
Might that be to their advantage over the Chargers when they fly into town?
"I don't know, but it's cold," observed wide receiver Julian Edelman. "You'd have to ask them that."
"I don't know about an advantage," remarked wide receiver Chris Hogan, "but I think it definitely helps us to be able to practice in these sort of elements on a day-to-day basis."
Edelman took umbrage when a reporter suggested the Chargers might be "soft" because they come from a warm-weather climate.
"If you watch them play football, they don't look soft at all," Edelman responded. "This is a really good football team. They've already been on the road, played on the East Coast [against Baltimore last weekend], and won.
"I see a [Chargers defense] that gets after the quarterback, covers well, and mixes things up. It's going to be the best defense we've played thus far… definitely going to be a challenge. We have to take advantage of these next couple days, 48 hours, to prepare the best we possibly can."
"Explosive. They've got a lot of playmakers, create a lot of turnovers, they're fast," Hogan agreed. "We've been working hard throughout the week… It'll be a great challenge for us. We're excited about going out Sunday and trying to play our best football."
Players followed the lead of their head coach, Bill Belichick, who earlier Friday scoffed at the idea that weather will be an advantage for New England on Sunday.
"Our preparation is what's going to help us," emphasized rookie running back Sony Michel. "The team that comes out there ready to play on Sunday is going to be the team with the results they want, no matter the conditions. Whoever executes the best is going to be the team that's the happiest."
"I'm just more worried about what coverage they run, their personnel, their defenders, all that stuff," added Edelman.
What about the Patriots' sizeable advantage over L.A. when it comes to playoff experience? Again, players didn't put much stock in the notion.
"You can have all the experience in the world and come out and not play well," Hogan pointed out. "You could have a guy who's played in one playoff game before and plays the best football he ever has.   
"It comes down to playing good football. This is the playoffs, it's a one-game season. That's what our focus is: playing the best football we have all year, putting everything we have in this game, because winner moves on and loser doesn't."
"Execute," declared Burkhead. "That's what it comes down to – executing our game plan. They've got a great front, great linebackers, great secondary. So, their overall balance on defense is exceptional. We're going to have to play physical from the get-go."
The Patriots were willing to concede, though, that playing at home, in front of their own fans, would give them some sort of boost once the game kicks off Sunday.
"Oh yeah, playing at home, it's a great environment," said Hogan. "We're excited to be playing here in front of the home crowd. Gotta love that."
"It's exciting to be able to play in front of our fans," Michel acknowledged, "but, like I said, it's all about who's going to execute the best. There's really no advantages."  
"That's why you play," Edelman concluded. "We're going to need [the fans]. We need Foxborough going nuts."
Anderson's window of opportunity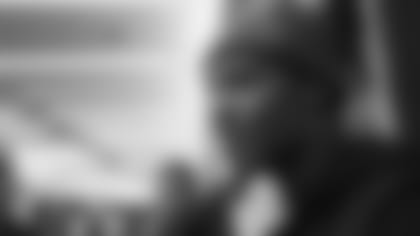 As healthy as they've been late in the season, the Patriots haven't needed to make many roster transactions lately. That changed earlier this week, however, when tight end Jacob Hollister was placed on injured reserve with a lingering hamstring problem.
To fill his spot on the 53-man roster, New England promoted practice squad tight end Stephen Anderson, a third-year NFL pro who's been with the Patriots since early September.
"My dad used to use the term, when I was younger, Swiss Army knife: Can do a little bit of everything," Anderson smiled when asked to describe his style of play. It remains to be seen if he'll be active for the Divisional Playoff against Los Angeles, but Anderson insists he'll be able to do whatever's asked of him if called upon.
"Absolutely, absolutely. I've been learning throughout the season and gaining confidence, improving my technique and skills. I think if I get the shot, then I'll be ready."