There's a first time for everything and Tom Brady certainly accomplished just about everything an NFL player can over his storied career. No one could've realized it at the time, when a sixth-round draft pick made his first appearance in an NFL regular season game in Week 13 of the 2000 season that it was just the beginning of what would become the greatest and most accomplished career in the league's history.
From that first regular-season snap in 2000, Brady waited until Week 3 of the following season to get his first start, a job he would not relinquish for over 20 years, watching numerous records fall in the process. Pinpoint touchdown throws, impossible end-of-game comebacks and even punts and successful quarterback sneaks became commonplace over the course of Brady's career.
Here are the 12 of Tom Brady's most notable firsts in his career.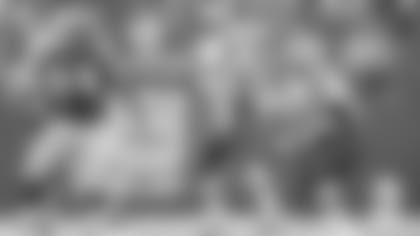 1. First snap – 2000 Week 13 at Lions
Brady's first NFL appearance came during a blowout loss to the Lions in the 2000 season, as the Patriots sat at 3-9 on the season. Brady entered the game for New England's final possession, completing 1-of-3 passes for six yards and then punting the ball away. It's was an unremarkable start to a most remarkable career but everyone has to start somewhere.
2. First Start - 2001 Week 3 vs. Colts
By now we all know the story, Drew Bledsoe was injured in Week 2 against the Jets, opening the door for Brady to take over for the next two decades. He'd get his first start the following week and it was a perfect first game to kick off his starting career, as Brady would face Peyton Manning in the first round of one of the most storied rivalries of the 2000s. Two pick-sixes would help Brady and the Pats get an impressive win, as New England posted 44 points and Brady didn't even throw his first touchdown pass in the game.
3. First Win – 2001 Week 3 vs. Colts
Brady would also get the first QB win of his career in that first start against the Colts as the firsts began to fall quickly by the wayside after he took command of the team. This win was more about the defense and special teams, but against one of the most heralded young quarterbacks in the game, Brady showed early signs of helping his team post wins against a favored opponent. The Colts were favored by 11.5 points and lost 44-13.
4. First Touchdown Throw – 2001 Week 5 vs. Chargers
Two weeks later, Brady would get touchdown passes number one (to Terry Glenn) and two (to Jermaine Wiggins) while throwing for a whopping 364 yards against the Chargers in an overtime win. For his career, Brady threw 649 total touchdown passes, including 541 with the Patriots.
5. First 4th Quarter Comeback/First OT Win – 2001 vs. Chargers
The overtime win over the Chargers was a coming-out party in more ways than one for Brady, as his clutch play at the end of the game showed he could be at his best with the game on the line. Brady led scoring drives on each of New England's final three possessions, including a 60-yard touchdown drive with time running out to tie the game. Then in overtime, he led a 51-yard game-winning field goal drive. 4th-quarter comebacks and overtime wins were commonplace in Brady's career and he got both of those firsts in the same game.
6. First QB Sneak – 2001 Week 8 at Falcons
There wasn't much fanfare when Brady converted a 3rd-and-1 late in the first quarter against the Falcons with a quarterback sneak, but it was the start of an incredibly successful element of Brady repertoire over the course of his career. During his Patriots career, Brady had 158 quarterback sneaks, far surpassing every other quarterback over the 2001-2020 time frame.
7. First Reception – 2001 Week 15 vs. Dolphins
Now we're having some fun as Charlie Weis broke out the trickeration against Miami in Week 15 as New England was looking to close out their first divisional title in three years. With the game tied at zero and the first quarter winding down, Kevin Faulk took a direct snap as Brady sprinted out of the backfield on a wheel route up the sideline. Faulk lobbed in perfectly to the uncovered quarterback for a 23-yard gain on a 3rd-and-1. Brady caught three passes for 65 yards in his career.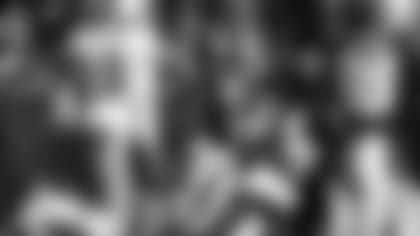 8. First 400-yard passing game – 2002 Week 3 vs. Chiefs
After winning his first Super Bowl during the 2001 season, Brady took over as the returning starter in 2002 and in Week 3 he showed just how explosive he could be, throwing for 410 yards and four touchdowns in an overtime win over the Chiefs. Brady had 14 games with over 400 passing yards in his career, but entered a long void after this first time, not breaking 400 again until the 2011 opener. More on that one later...
9. First (Regular Season) Touchdown Rush – 2002 Week 15 at Titans
It seems hard to believe that it took almost two full seasons before Brady rushed for a touchdown in the regular season, but he finally got his first against the Titans in a 24-7 loss on Monday Night Football. This was one of the more interesting quarterback sneaks, as Brady went under center and immediately ran a QB sneak up the middle to split the defense for a 10-yard score. Of course, the real first came against the Raiders in the Snow Bowl, New England's only touchdown score of that game.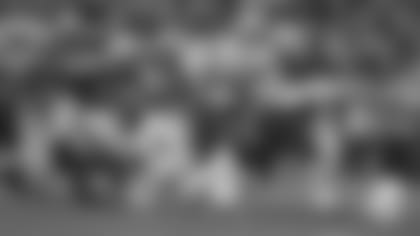 10. First Punt – 2003 Week 14 vs. Dolphins
This one was a 12-0 defensive struggle and with the game winding down the Patriots once again had some fun and had Brady punt the ball himself. It was a beauty that landed at the one-yard line, setting up a final safety that sealed the game for New England. Brady had two regular season punts and one post-season punt during his career, with his playoff punt against the Broncos in 2011 rolling for a whopping 48 yards.
11. First 6 passing TD game – 2007 Week 7 at MIA (perfect passing game)
This was the height of the 2007 Patriots as they laid the hurt on the Dolphins in Miami, winning 49-28 with Brady having the first six-touchdown-pass game of his career. Two of those touchdowns were incredible bombs to Randy Moss as the first and only 16-0 team in NFL history showed just how dominant they could be.
12 First 500-yard passing game – 2011 Week 1 at MIA
This was one of our Top 12 Brady moments, as Brady shredded the Dolphins defense in Week 1 of the 2011 season for 517 passing yards, the first 500-yard game of his career. Wes Welker's 99-yard touchdown late in the fourth quarter played a big part in getting Brady the most productive passing day of his career (in a win). He'd later throw for 505 against the Eagles in Super Bowl 52.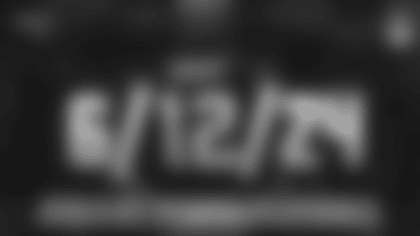 Win Tickets to Tom Brady's Induction
Enter the 2024 Hall of Fame Induction Sweepstakes for a chance to win tickets to Tom Brady's induction on June 12 at Gillette Stadium