The Senior Bowl is under way this week in Mobile, Alabama, putting some of this year's best draft prospects on display for all the see and study. In recent history the Patriots haven't been able to send a full contingent of coaches to the week of practices and Saturday game, but this year the Senior Bowl will have their full attention, with even Bill Belichick in attendance.
With the Patriots team needs and parameters in mind, here's a list of 15 prospects to keep an eye on.
Jordan Love, QB, Utah State: No matter what happens with Tom Brady, the Patriots will be in the market for a quarterback in the draft, but with a good performance in Mobile, Jordan Love could find his value hit the top half of the first round. Love is athletic with a good release but will need some developmental work after a season that saw a lot of turnover around him. He's the only top QB options that might potentially be available at 23rd overall.
Steven Montez, QB, Colorado: Montez has NFL size (6'5", 230) and good pocket presence with the ability to deliver the ball on short and intermediate routes. He'll need to develop his processing speed and deep ball accuracy. More of a developmental prospect than Love, Montez could find himself in the Patriots draft range on Day 2.
Javon Kinlaw, DL, South Carolina: Possibly the best prospect in Mobile this week, Kinlaw is a dominant upfield defender who also has the size to two-gap as the Patriots often ask of their defensive lineman. At 6'6" and 310 pounds, Kinlaw could be a movable chess piece for a defensive front that needs reinforcements. He won't last long on Day 1 and a good performance this week could push him even higher.
Raekwon Davis, DL, Alabama: Davis is an inch taller than Kinlaw and could be a more realistic option for the Patriots later in the draft due to inconsistency and less versatility. Still, he has an impressive get off and would be a mountainous and powerful addition along the line and could handle a number of roles. Bill Belichick's connection to Nick Saban could be a factor as well.
Terrell Lewis, OLB, Alabama: With Kyle Van Noy and Jamie Collins set for free agency, the Patriots could have a big need for an outside linebacker and Lewis has all the dimensions the Patriots look for. Long-armed and explosive, Lewis can get after the quarterback and did it in the best conference in college football.
Zack Baun, OLB, Wisconsin: A lower-round option at outside linebacker, Baun is athletic but lighter than the Patriots usually like, although they could transition to that direction to add more speed to the edge of their defense. What Baun lacks in size he makes up for quickness, smarts and versatility.
Charlie Taumoepeau, TE, Portland St: A mid-to-low round option at tight end, Taumoepeau played all over Portland State's offense and led all tight ends in the country in yards-per-catch in 2018 at 20.7. Simply put, he can block and catch. The Patriots love versatility on offense and could've used more of it in 2019, which could make him a useful tool to incorporate if he can make the jump to the NFL level. The week in Mobile should give us a good idea how he stacks up.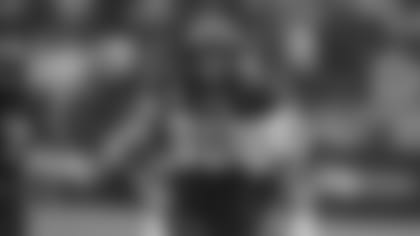 Brycen Hopkins, TE, Purdue: Hopkins won't step in as a blocking "Y" tight end at the NFL level but has ideal route running for the "F" spot and not only has the physical talent to get open, he has the smarts as well. He played all over the formation at Purdue, and given the state of the Patriots tight ends right now, Hopkins would instantly be a factor on offense even if he's not Gronk.
Jared Pinkney, TE, Vanderbilt: What many other draftable tight ends lack in thickness and trench potential, Pinkney has, along with deceptive burst and catching ability. He has all the tools to be an NFL "Y" tight end as his size and strength are apparent on film. He'll need refining but could be a Day 2 steal.
Josiah Deguara, TE, Cincinnati: Undersized but versatile and smart, Deguara is a mid-round option with good versatility and competitive juice at the tight end position. He'll need some time to develop his strength for his game to translate to the pros but he has the pieces to be a solid player.
Van Jefferson, WR, Florida: The son of former Patriot Shawn Jefferson, Van projects into the slot and has top-line route running skills. Good height but a thin frame could be a deterrent to NFL success, but he understands the position at an advanced level and that is invaluable for the Patriots offense that demands receiver grasp concepts, especially post-snap.
Jaquan Jennings, WR, Tennessee: A mid-round possession receiver, Jennings has the kind of competitive fire that could give the Patriots receiver corps a boost. With good size at 6'3", 205 pounds, Jennings' speed testing will be critical at the combine, but first he gets to showcase his skills at the Senior Bowl.
Ben Bredeson, OG, Michigan: With the potential departure of free agent Joe Thuney, the Patriots could find themselves in the market for a mauler at guard and Bredeson fits the mold. Tough and strong, he wouldn't cost an early-round pick but could potentially step in as a starter at left guard.
Prince Tega Wanogho, OT, Auburn: A potential Day 2 pick, Tega Wanogho is a giant who has all the physical traits and athleticism to be a starting tackle but will need some time to develop into the NFL game. He's tough and powerful with a basketball background and that's a great place to start from. His ceiling is as high as they come but being relatively new to football could make him a value steal.
Rodrigo Blankenship, K, Georgia: With Stephen Gostkowski coming off a season-ending hip injury and about to turn 36 with a cap hit north of $5 million, the Patriots could be in the market to find their next kicker and Blankenship will be one to watch. He made all 200 of the extra points he attempted in his four-year career and won the 2019 Lou Groza Award as the best kicker in the country.