The quotes featured here are from the six-part podcast: 2001: A Super Bowl Sound Odyssey, featuring retrospective interviews with over 20 players, coaches, management and media members, mixed with the iconic sounds that defined the Patriots' first Super Bowl season.
After two very different-looking playoffs wins over the Raiders and Steelers, the Patriots headed to New Orleans to face the St. Louis Rams in Super Bowl 36.
New England had already faced the Rams earlier in the season, it was the last time they had lost before reeling off eight-straight wins to earn a playoff bye and then secure the AFC Championship en route to the big game. New England had gained some confidence in the loss, and it helped spark their run to the Super Bowl, where they were expected to be unceremoniously defeated by the Rams.
"I felt confident going into the game because the game plan that Bill [Belichick] and Ernie [Adams] developed, I felt confident and it made all the sense in the world," said Patriots director of player personnel Scott Pioli. "What we were going to try to do in that game made all the sense in the world, and then the players executed.
"Those players on that team deserve so much more credit. Bill and Charlie and the entire staff, Brad Seely, the special teams, they were always so prepared for anything and everything, but a team can be prepared and then players have to execute. And we had a lot of really, really good players that executed that game plan and other game plans during the course of the year, really very well."
After the attacks of September 11 resulted in a league-wide bye week early in the season, there was only a one-week turnaround from the conference championship games, without the usual buffer week in between. With a truncated schedule, the Patriots veterans who had lost a Super Bowl just five years earlier made sure to take advantage of every moment.
"I'm doing dorm check two days before when we're at the Super Bowl and I knock on [Tedy Bruschi's] door to make sure Tedy's in and he has no bed in the room. It's like a broom closet that he's living in," said linebackers coach Rob Ryan. "He's traded his room to a kid that never dressed for the games just because he appreciated all his hard work and he was so tight in his back, he's like, 'Ah, I don't need a good room anyway, I'm just gonna lay on the floor.'"
"But literally he had no TV in his room. He was just laying on the floor in the smallest room I'd ever seen in my life. And this guy turned it out in the Super Bowl, you know. We were playing one linebacker defense and Tedy's making all those plays one-on-one against [Marshall] Faulk. He handled the running game by himself, he was incredible. But that's the type of commitment these players had for each other and for the team."
Fueled by their experience from the first matchup, Bruschi and the Patriots knew they had to turn the game against the high-powered Rams into a street fight, with a focus on running back Marshall Faulk on every down.
"I said, so it's pretty good offense what are you going to do?" recalled ESPN's Chris Berman of a pre-Super Bowl interview with coach Belichick. "He went, 'Boomer, we will not let Marshall Faulk beat us,' implying he's great, which of course, he was a Hall of Famer. 'Whatever else happens will happen, but we'll do everything in our power, not to let Marshall Faulk beat us."
"We had to play one of our most physical games to try to wear them down and give them something that they weren't used to and that we weren't going to back down," said Pepper Johnson.
"We just wanted to be physical upfront with them," said offensive lineman Damien Woody. "And the most important thing is to not turn the ball over because they were still explosive and when we had those opportunities, we had to take and capitalize…. And to me, that was, that was the whole key."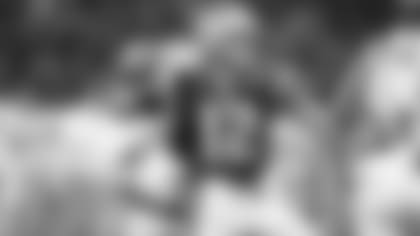 New England sent an early message by choosing to be announced as a team, as they had been since an oversight in the opening game of the season against the Bengals.
"I think it was so new for all of us," said linebacker Mike Vrabel. "I think going out as a team and just the whole not having a week off in between the Super Bowl and, you know, just going out there and getting a lead and competing and executing the game plan and coming back and giving ourselves a chance to win a game like we did at the end."
The Patriots lead came thanks to a big play by Vrabel and cornerback Ty Law, with Vrabel applying pressure that forced a throw into coverage from Kurt Warner that was intercepted and taken back for a touchdown by Law, to give New England a 7-3 lead.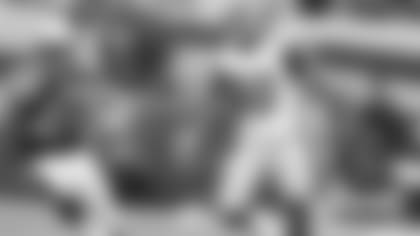 "Make a play like that, an impact play, in the Super Bowl to where that changed everything you know, that particular play," said Law of his interception. "We always had a chance, we always had hope within ourselves but now that really cemented like we about to win this thing, you know what I mean?
"Mike Vrabel, he made Kurt throw an errant throw and it was coming and I'm like, 'Man, you gotta be kidding me.' I'm sitting there really thinking in that split second if I drop this…I'm gonna catch this like I'm catching a baby out of the air."
Another St. Louis turnover would lead to a second Patriots touchdown, extending the lead to 14-3 at halftime and New England would continue to stymie the Rams offense into the third quarter, taking on another field goal.
"I don't remember what it was, but we were up by like at least 10 points at one point, and you're winning the game and you're thinking to yourself, you're looking at the scoreboard, like, "Wait a second, are we gonna win a Super Bowl here?" said Jermaine Wiggins. "I couldn't even comprehend or understand what that meant to be like a Super Bowl champ."
The Patriots held their 17-3 lead into the fourth quarter but the Rams' offense suddenly found their stride, scoring after a 12-play drive, then needing just three plays two drives later to score again and tie the game up at 17.
With 1:21 left in the game, Tom Brady took the field and put together a drive that would add to his growing legend. Despite being his first year as a starter, Brady showed the kind of confidence and poise that rubbed off on his teammates.
"When your quarterback is projecting the type of energy that permeates throughout the huddle, it just makes the confidence grow even further," said Woody. "And that was that's how Tom was acting."
"You know, that last drive, it was all those high percentage throws to chunk down the field and get down the field," said Pioli. "And it just seemed, the players never stopped to think. They were like, 'Okay, we know what to do in this situation. We know what to do in this circumstance.' And they did it."
It took just eight plays for Brady to move the team into field goal range, with J.R. Redmond tallying 24 yards on three catches, Troy Brown catching one for 23 yards and Jermaine Wiggins catching the final pass to get Vintatieri six yards closer to paydirt.
"I remember being in the press box and I was standing there and they had in the coach's boxes, these really, really steep staircases that led down to the seats where the coaches would sit up against the glass to observe the field," recalled Pioli. "So there wasn't enough room and I was standing behind Ernie Adams and I was on the steep part of the steps and right behind me was Berj Najarian.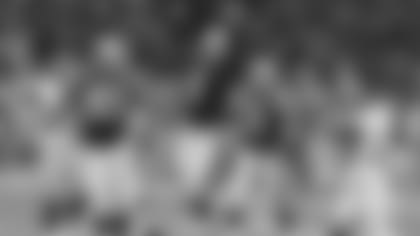 "And when the ball was kicked, I remember we all had to lean forward because it was such a cramped space, but we had to lean forward in order to see it and look to our right. And when the ball went through the uprights, I kind of stumbled. And at the same time I stumbled, Berj hit me on the back, which pushed me down the stairs. And I tumbled down the stairs and slammed into the back of Ernie Adams, who was looking out the glass… It was just one of those moments. I can still visualize that moment of leaning, falling, tumbling down the stairs and falling into the back of Ernie. It was a great, man."
Vinatieri's 48-yarder was true, giving the Patriots their first Super Bowl championship in fitting fashion. Little did anyone realize it was the start of something that was more special and would last longer than anyone expected.
"I was standing with Steve Young behind the goalpost when Adam Vinatieri kicked his 48 yarder," said ESPN's Chris Berman. "It landed about three yards from us. We looked at the ball bounce. We knew it was good before the ref put their hands up. We looked at each other and we went, 'Oh my God.'
"You know, history will say that other than the Jets with Namath, and maybe the Chiefs the next year, those are the three biggest underdogs to win a Super Bowl. So, they lit a candle that became the Olympic torch, that 2001 team, and for 20 years, it stayed lit."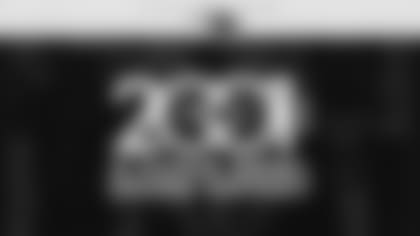 2001: A Super Bowl Sound Odyssey
An aural history of the 2001 Super Bowl champion New England Patriots. The six-part podcast features interviews with over 20 players, coaches, media members and others who were there to witness this historic season, mixed with the iconic sounds that detailed every dramatic twist and turn of an unforgettable season. Every memorable moment from the 2001 Patriots season is revisited with new-found perspective 20 years later. It's a fresh and thorough look back at the team that started a football dynasty.