This article originally appeared in the July 18 issue of Patriots Footall Weekly. To subscribe, click here.
Consistency and cohesion are said to be staples of any quality offensive line. If that's the case, Dante Scarnecchia should be happy with his group in 2017.
To steal an infamous NFL phrase of the recent past, it's more probable than not that the Patriots will roll into the new season with the same offensive line that played virtually all of last year. Healthy and in possession of some additional experience, Scarnecchia's group will search for a bit more consistency but certainly has the ability to keep Tom Brady protected and productive.
Veteran Nate Solder remains a fixture at left tackle as he enters his seventh season with the team and sixth as its starter in the all-important role of protecting Brady's blindside. Despite his vast experience, Solder doesn't come without questions, however. 
The 2011 first-round pick is entering the final year of his deal, and the Patriots drafted a pair of tackles - Troy's Tony Garcia in the third round and the mammoth Conor McDermott out of UCLA in the sixth - likely waiting to see if a replacement can be developed.
Solder has been a professional presence in Foxborough since he arrived and odds are that he and the team will manage to find common ground to keep him around. But free agency is never a sure thing and the rookies will get plenty of work throughout the summer just in case.
It's a completely different story on the other side as Marcus Cannon emerged as the team's best lineman a year ago after several inconsistent seasons prior to that. Cannon replaced veteran Sebastian Vollmer at right tackle and locked down the position right from the start, providing solid pass protection and sturdy run blocking as well.
Cannon, who arrived as a fifth-round pick in Solder's draft class, already earned himself a contract extension and figures to remain in place as a rock at right tackle.
Between them is a trio of young players: left guard Joe Thuney, center David Andrews and right guard Shaq Mason. Mason is the most physically gifted of the three with uncommon athleticism that Bill Belichick has praised on a number of occasions in the past. Mason can occasionally be victimized in pass protection though, mostly due to his limited experience in that area coming from a wishbone attack at Georgia Tech.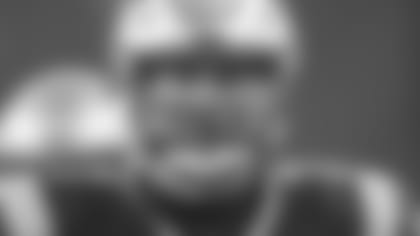 Still, his physical gifts are obvious and he figures to get better with each passing year. The same could be said of Thuney, who started from Day 1 as a rookie and held down the fort on the left side every game. He seemed to wear down a bit as the season progressed, which is typical of rookies, but overall he showcased solid all-around play most of the season.
Andrews earned a contract extension of his own after serving as the starter for most of his first two seasons. He was in the lineup every game in 2016 and while his limited size (6-3, 295) causes some problems at times he's generally pretty consistent and earned praise from Brady for his ability to make line calls and keep the group on the same page.
Barring injury or an unforeseen circumstance, that group should open the season after starting together 14 times plus all three games in the postseason during the Patriots run to Super Bowl LI.
Behind them lie some question marks. Veterans Cameron Fleming and LaAdrian Waddle served as backup tackles a year ago. Fleming started once each for Solder and Cannon but was otherwise limited to extra tight end duty. Waddle saw less action than that, serving as one of the inactives in 14 of the 16 games. Depending on how quickly the rookies develop, both could be looking for work soon.
Fleming was already released once by the Patriots before, prior to the 2015 season, before returning on the practice squad and earning his way back onto the roster. Waddle's inactivity a year ago likely puts him more in jeopardy of losing his job this time around.
Harvard's Max Rich, Purdue's Jason King and Vanderbilt's Andrew Jelks will fight to get noticed during camp. Jelks suffered through several injuries with the Commodores and did not take part in any of the spring camps so if he sticks around it will likely be on some sort of injury list.
The depth inside could be factor as well. Jamil Douglas spent most of 2016 on the Patriots practice squad and could serve as a backup guard. Ted Karras, a 2016 sixth-round pick, started the opener a year ago in place of the injured Mason but was relegated to special teams and backup duty the rest of the way.
Karras spent a lot of time at center this spring and could be Andrews' top backup.
James Ferentz appeared in seven games with the Broncos last season and has some experience on the inside as well. The undersized former Iowa standout will push Douglas and Karras for a roster spot while another former Hawkeye, Cole Croston, rounds out the depth chart.
Scarnecchia has always preached the importance of sticking with a set lineup, and as he enters his second season since coming out of retirement he has his pieces in place.
Key Additions: 
T Tony Garcia (3rd round/Troy), T Conor McDermott (6th round/UCLA)
Losses: 
Key Player: 
Nate Solder - The left tackle is often the key and Solder's performance protecting Tom Brady's blindside will be an important aspect of the offense.
Biggest Question: 
The starting line returns intact but is there enough depth, especially inside, to overcome any potential injuries?
Bottom Line:
Dante Scarnecchia improved things but there are still some consistency problems with this group. Progress from the three interior guys would be a welcomed development.
Predicted Starters:
Position Coach:
Offensive Line
| NO. | PLAYER (POS., YEAR) | GP/GS |
| --- | --- | --- |
| 60 | **David Andrews (C, 3rd year)** | **16/16** |
| 61 | **Marcus Cannon (T, 7th year)** | **15/15** |
| 70 | Cole Croston (OL, rookie) |   |
| 65 | Jamil Douglas (OL, 2nd year) | On practice squad |
| 59 | James Ferentz (OL, 2nd year) | 7/0* |
| 71 | Cameron Fleming (T, 4th year) | 16/5 |
| 63 | Tony Garcia (T, rookie) |   |
| 76 | Andrew Jelks (OL, rookie) |   |
| 75 | Ted Karras (OL, 2nd year) | 16/1 |
| 74 | Jason King (OL, rookie) |   |
| 69 | **Shaq Mason (G, 3rd year)** | **16/15** |
| 67 | Conor McDermott (T, rookie) |   |
| 72 | Max Rich (OL, rookie) |   |
| 77 | **Nate Solder (T, 7th year)** | **15/15** |
| 62 | **Joe Thuney (G, 2nd year)** | **16/16** |
| 68 | LaAdrian Waddle (T, 5th year) | 2/0 |
Stats for 2016 - bold indicates projected starter
*-with Denver