This article originally appeared in the July 18 issue of Patriots Footall Weekly. To subscribe, click here.
When it comes to the kicking game, the Patriots have been spoiled for the past two decades with two of football's best booters: Adam Vinatieri and Stephen Gostkowski. Whenever those two trotted out onto the field, it was virtually guaranteed that points would be put on the scoreboard.
So, when Gostkowski went awry on five field goal attempts and a handful of extra points last season, what should have been regarded as a slight fissure in his performance seemed to be treated by critics like the Grand Canyon.
"It wasn't my best [season]," the 33-year-old Gostkowski acknowledged to ESPN a month after Super Bowl LI. "It was a trying year physically and mentally, but definitely the most rewarding season I think I've had. I would trade anything to be part of a team that wins the Super Bowl.
"I don't make excuses. In my position, people can act like the world is falling apart if you miss a couple kicks. I personally don't see it that way. I was just part of a team where we won the Super Bowl. There have been years where I've been an All-Pro and you haven't [won the championship], so you trade the good for the bad."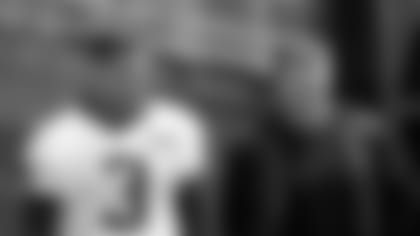 As Gostkowski hinted in his remarks, there may have been a health aspect contributing to his uncharacteristic 2016 campaign and he was looking forward to regenerating both his body and mind during this past offseason.
"We're programmed to just keep going and going and going, and sometimes you have to take a step back, take a break, be refreshed. My game is so mental that [it's important] just to get refreshed and get rebooted and refocused.
"To me, if you're going to survive in my position, you have to have a short memory," he added. "Whatever criticism I have or haven't gotten is right and just, but my days don't go along by what people say or think about me. No one puts more pressure on me than I put on myself. I'll just keep working on trying to find that balance between whatever it takes to be the best."
As tough on himself as Gostkowski was, his teammate, rookie Cyrus Jones, took his own struggles even more personally. Expected by many observers to be an immediate contributor as a kick and punt returner, Jones had trouble with ball security beginning in training camp and extending well into the season. It got so bad that Jones was deactivated for several games, including the playoffs and Super Bowl.
The 23-year-old told his hometown Baltimore Sun that he "didn't feel a part of" the Super Bowl champs.
"Honestly, it was hell for me," he explained. "That's the only way I can describe it. I didn't feel I deserved to be part of anything that was happening with the team. I felt embarrassed that these people probably thought they wasted a pick on me."
Despite their erratic efforts, both Gostkowski and Jones appear to have retained the confidence of their coaching staff entering 2017. Media reports indicated that the Patriots were considering signing a young kicker to compete with Gostkowski, but that never materialized. He remained the lone placekicker on the roster during spring practices, while Jones was fed numerous punt and kick return repetitions. His performance wasn't flawless, but appeared improved over last year.
Nevertheless, there will be several players, including Jones, auditioning for the lead return job this summer.
The lack of a consistent return specialist could be directly tied to New England's anemic output on punt and kickoff returns in 2016, when the Patriots dwelt near the bottom of the NFL at 25th and 27th, respectively. From a coverage perspective, however, the reigning champs ranked second and thirrd in those respective categories, thanks in large part to the steady leadership of co-captain Matthew Slater (a Pro Bowl selection for the sixth straight season), the development of Nate Ebner (the leader by a large margin in special teams tackles last year) and the emergence of rookie Jonathan Jones.
Meanwhile, punter Ryan Allen quietly enjoyed one of his more productive seasons. Although his gross average of 44.7 yards was only 21st best in the league (nearly 5 yards behind the NFL leader), he was seventh-best in terms of net yardage. Allen, entering his fifth season in Foxborough, appears comfortable in his role and secure in his job, as does long snapper Joe Cardona, who'll embark on his third Patriots campaign while continuing to juggle his local Navy reserve duties.
Key Additions:
Losses:
Key Player:
Stephen Gostkowski - Looking to restore his reputation as one of the NFL's best kickers.
Biggest Question:
Like last season, can the Patriots finally find a reliable return specialist?
Bottom Line:
New England's special teamers are talented overall, but need more consistent production in certain areas.
Predicted Starters:
Position Coaches:
**Ray Ventrone** (Assistant), 3rd coaching season with Patriots / 12th NFL season (player & coach)
Special Teams
| NO | PLAYER (POS/YR) | FGM-FGA | PCT | LG | PATM-PATA | PCT | PTS |
| --- | --- | --- | --- | --- | --- | --- | --- |
| 3 | **Stephen Gostkowski (K, 12th year)** | **27-32** | **84.4** | **53** | **46-49** | **94.0** | **127** |
| NO | PLAYER (POS/YR) | NO | AVG | NET | LG | TB | IN20 |
| --- | --- | --- | --- | --- | --- | --- | --- |
| 6 | **Ryan Allen (P, 5th year)** | **72** | **44.7** | **41.4** | **57** | **5** | **23** |
| NO | PLAYER (POS/YR) | RET | AVG | LG | TD | FC |
| --- | --- | --- | --- | --- | --- | --- |
| 80 | Danny Amendola (PR, 9th year) | 18 | 6.7 | 30 | 0 | 7 |
| 11 | Julian Edelman (PR, 9th year) | 15 | 9.0 | 23 | 0 | 7 |
| 41 | **Cyrus Jones (PR, 2nd year)** | **11** | **4.2** | **13** | **0** | **3** |
| 41 | **Cyrus Jones (KR, 2nd year)** | **8** | **22.5** | **43** | **0** | **0** |
| 80 | Danny Amendola (KR, 9th year) | 5 | 25.8 | 73 | 0 | 0 |
| 11 | Julian Edelman (KR, 9th year) | 3 | 14.7 | 19 | 0 | 0 |
| NO | PLAYER (POS/YR) | SPT | UT | A | FF | FR |
| --- | --- | --- | --- | --- | --- | --- |
| 43 | Nate Ebner (6th year) | 19 | 13 | 6 | 1 | 0 |
| 36 | Brandon King (3rd year) | 9 | 6 | 3 | 0 | 0 |
| 31 | Jonathan Jones (2nd year) | 8 | 5 | 3 | 1 | 1 |
| 18 | Matthew Slater (10th year) | 6 | 4 | 2 | 0 | 0 |
Stats for 2016 - bold indicates projected starter