Have you caught your breath yet?
I'm not just talking about Sunday's chaotic, eventual blowout win by the Patriots in Buffalo, but also the fact that – can you believe it? – we're already at the quarter mark of the 2012 NFL calendar!
Where is the time going?!
Storm clouds were swirling around Ralph Wilson Stadium all afternoon, but they never materialized. Instead, the Patriots rained down the points on Buffalo in the second half, while the defense came up huge at crucial points, causing six turnovers and sacking Bills QB Ryan Fitzpatrick thrice.
But before we dissect any consequential plays, let's take a quick time out to analyze some of New England's offensive statistics, specifically no-huddle and shotgun formations through the first four games.
Against the Bills, offensive coordinator Josh McDaniels called 76 plays: 40 runs, 36 passes. He also put quarterback Tom Brady in 31 shotgun sets, from which they threw a majority of the time, as you might expect. They also went no-huddle on just 16 plays, about half of which came during one second-quarter drive. Compare that to 17 no-huddle and 14 shotgun snaps in the Week 1 win over Tennessee.
This Buffalo game was also the second time this season that the Patriots called for more ground plays than passes. In the opener against the Titans, the Patriots ran the ball 35 times and threw 31. In the loss to the Cardinals, they Patriots ran just 28 times, throwing 46; shotgun formations ballooned to 47, but surprisingly, the no-huddles stayed fairly static (19). In Baltimore, the Patriots threw 41 times and ran 34; 40 times they went no-huddle, and used 39 shotguns.
It's also interesting to note how much more the Patriots went with two-tight-end/two-wide-receiver looks in Buffalo compared to the previous two weeks (both losses). That's the formation that gave them so much success in the Week 1 win, so, it's not surprise they were successful with it in Week 4.
This is not to say the Patriots can't still win games on the arm of Tom Brady, but the fact is, when the team runs well in 2012, they win, and when the output on the ground is anemic, they lose (albeit by a grand total of three combined points).
Now, let's revisit some big plays from Sunday in Orchard Park.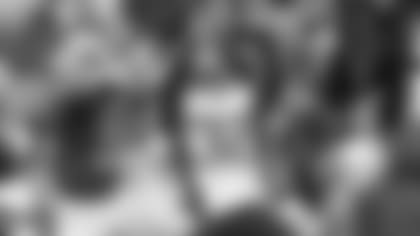 As impressive as the production was on offense – two 100-yard rushers and a duo of 100-yard receivers (only the second time that's ever been accomplished in the NFL) – let's remember and give credit to the defense, which kept the Patriots in this ball game before the offensive deluge in the second half.
The first of New England's four interceptions off Fitzpatrick saw the Patriots send just three rushers at him. While Rob Ninkovich and Chandler Jones pushed upfield together, Vince Wilfork stayed close to the line of scrimmage. The three of them formed points that looked like the shape of a giant V. When Fitzpatrick threw a pass over the middle, Wilfork (aka Big V, coincidentally) was in the right spot to jump like a volleyball player and get a paw on the ball, which deflected backward directly to where linebacker Jerod Mayo had dropped into pass coverage. It was simply a right-place-right-time kind of play.
Meanwhile, Devin McCourty flashed signs of the Pro Bowl form he displayed as a rookie. On his first pick, early in the second quarter, the Bills were on their own 4-yard line facing 2nd and 8. McCourty was manned up on receiver T.J. Graham, who ran a simple fly route. McCourty allowed Graham to get a full step on him downfield, but McCourty's eyes were always on the ball. Fitzy's pass may have been a tad underthrown, but McCourty's recovery speed allowed him to catch up quickly to Graham and out-rebound him for the ball. It was an impressive display of technique and talent combined.
New England's first fumble recovery – a momentum changer at the end of the first half – was caused by linebacker Brandon Spikes (even though he didn't get credit for it in the official game book). With Fitzpatrick in the gun and running back C.J. Spiller to his left, Spikes read the play perfectly. At the snap, Fitzy handed to Spiller, who headed straight up the middle. Spikes, lined up in the middle/right of the formation, shot down the line and met Spiller head-on. The force of the impact jarred the ball loose and Wilfork cleaned up by reaching in to steal it.
Spike's next forced fumble (for which he actually received credit) came early in the 4th quarter. He took nearly an identical route to the ball carrier – Fred Jackson this time – and buried his shoulder into Jackson's arm. The ball instantly popped out and rookie safety Tavon Wilson made a heads-up play to pounce on it.
McCourty came down with INT number two exactly two minutes after Spikes' forced fumble. Covering receiver Stevie Johnson, McCourty stayed tight with him after the receiver ran a stop-and-go route. He had a half-step on McCourty, so, if Fitzpatrick had delivered a better deep ball, McCourty might not have had the opportunity he did to make an acrobatic adjustment, leaping in front of Johnson to make the interception.
The final turnover involved rookie Wilson again. Right after Brandon Lloyd made a spectacular diving touchdown catch for New England, the Bills took over on their 20 after a Stephen Gostkowski touchback. From the gun, Fitzy had no backs, trips-right. With the pocket rapidly closing in on him, the QB lofted a pass to his left in what looked like a classic case of miscommunication between passer and receiver. Wilson, playing deep like an outfielder, was waiting for it and easily collected the gift falling from the sky.
Another good effort on his part to be aware of his surroundings while in coverage.
New England's D wasn't perfect, of course. Many of our followers on Twitter wanted to know what went wrong on the touchdowns surrendered. Well, here you go:
On that big TD to start the 2nd half, it was another case of cornerback Kyle Arrington perhaps not getting a good enough bump at the line of scrimmage on wide receiver Donald Jones. That allowed Jones to slip into the middle of the field and slide between safety Patrick Chung and defensive end Rob Ninkovich, who'd dropped into coverage. Safety Steve Gregory then got turned around badly by taking a bad angle to Jones, which gave the receiver the necessary space to sprint to the pylon.
Chandler's first TD, coming off a New England turnover. Hard to fault safety Patrick Chung, who was right where he needed to be.
On 2nd-and-3 from the Patriots 20, the Bills went trips-left, with Chandler in the slot closest to the o-line. At the snap, Spikes didn't get a good bump on Chandler, then let him slip behind him as Spikes appeared to get confused about his responsibility on the play. A split-second too late, he realized it was to cover Chandler, who'd by then found a gaping hole in the middle of the field.
MISCELLANEOUS OBSERVATIONS
Brady had perhaps one of his most impressive games recently, in terms of anticipating and avoiding the rush. His touchdown toss to Danny Woodhead was one example, along with his touchdown scramble on the very next possession. Several times, though, Brady stepped up or side-stepped oncoming Bills to fire passes downfield. He did so with confidence, what's more, and not in what looked like a tentative or nervous way, as he had at times already this season.
Donald Thomas, filling in for injured Logan Mankins at left guard, looked much better than he did two weeks ago, when he was subbing at right guard for Dan Connolly.
It was interesting to see how rookie defensive end Chandler Jones was employed against the Bills. Not only did defensive coordinator Matt Patricia send Jones from both standing and three-point stances, he also rotated him from his customary right side to the left end at times. His ability to shed blocks, both against the run and the pass, continues to impress. He seems to use a combination of instincts and technique very well, depending on the situation. His rapid growth is allowing the coaches to be more creative with him, and that's very encouraging.
It's clear that Ras-I Dowling is being marginalized. After four games, it's not just a coincidence or game-plan-related. The second-year man has gone from starting at right corner at the beginning of training camp to barely seeing the field at all. He's been replaced by Kyle Arrington at right corner and Sterling Moore as the nickel/dime corner (Arrington, by the way, continues to slide inside to the slot in sub packages; Moore takes over at right corner).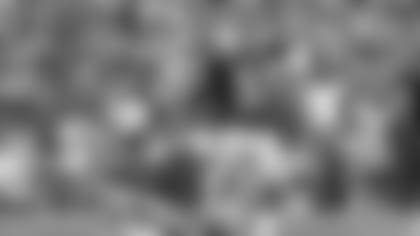 Get off his case, all right? We're getting far too many Twitter and Ask PFW calls for the Patriots to shop for a new placekicker.
Entering the Bills game, Gostkowski was a near-perfect 9-for-10, his lone miss coming at the end of the Arizona game (after he'd hit two from plus-50 and four total). The first was from the right hash, 49 yards out. Long snapper Danny Aiken's snap was a little off, but holder Zoltan Mesko deftly made up for it. From that distance, the angle from the hold to the middle of the crossbar is a lot less sharp than from closer range, meaning Gostkowski has very little room for error in lining up his approach. He then simply kicked with too much instep and didn't follow through on his leg swing, which pushed the ball ever so slightly to the right.
Had he been in the middle of the field, the kick would have been good, but from the right hash, the miscalculation was enough to ruin the kick.
Gostkowski's second miss, from 42 yards out, may have been in part a result of overcompensating for what went wrong the first time. He was on the left hash this time, and both the snap and hold were perfect hold. The angle was a bit more favorable, but he swung too much this time and barely missed making contact with the upright, that's how close the ball was to having a chance.
Bottom line here: Gostkowski remains one of the best in the game at the kicker position. His three misses this year have been between 40 and 50 yards, and the two in Buffalo were extremely close calls.
I'm not worried about Gostkowski. He'll be fine.
For more reaction to last night's game and an update from today's Patriots locker room, please visit the PFW blog. NFL.com's Game Rewind product is used for After Further Review.