]()Even during a short week, the Patriots were determined to spread the Thanksgiving spirit at their 17th Annual Thanksgiving-in-a-Basket event at Morgan Memorial Goodwill on Nov. 23. In one of their favorite events of the year, Patriots Chairman and CEO Robert Kraft and his wife Myra brought together 21 Patriots players and alumni for an evening of fun, food and giving.
"This is a pretty special holiday," Kraft said. "Especially in this economic climate, people are hurting. To have 220 families that we're able to give a full basket is great."
In cooperation with Goodwill and Shaw's Supermarkets, the New England Patriots Charitable Foundation distributed baskets filled with turkeys and all the fixings for Thanksgiving meals to 220 families in need. Patriots players Zoltan Mesko, Kevin Faulk, Leigh Bodden, Steve Maneri, Ross Ventrone, Carson Butler, Jonathan Crompton and Brandon McGowan along with Patriots alumni Vernon Crawford, Ilia Jaroschuk, Rick Cash, Tim Fox, Jon Williams, Harold Shaw, Pete Brock, David Givens, Ed Ellis, Paul Francisco, Matt Chatham and Andre Tippett joined with Pat Patriot and Patriots cheerleaders to greet and welcome families and later carried their Thanksgiving baskets out to their cars.
"The baskets mean a lot to the families, but to see the light in the kids' eyes when they've met a Patriots player is amazing," Goodwill President and CEO Joanne Hilferty said. "Over the years, players have told me they benefited from this program, so it means a lot to them to give back."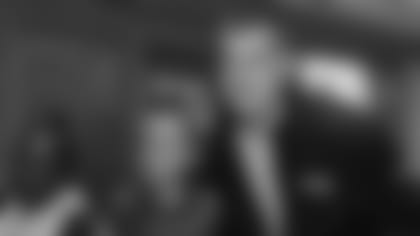 ]()It was a true team effort as the New England Patriots Charitable Foundation joined Goodwill, Shaw's Supermarkets, Willow Tree Farms and Sterilite to provide the baskets. Families that received Thanksgiving baskets participate in the Goodwill programs and face significant challenges in their lives. They have come to Goodwill to gain the skills and confidence they need to build better lives to achieve independence and dignity through work.
"We are glad to be here tonight and share in serving these families," said Tippett, the team's Community Affairs Executive Director "We all have a lot to be thankful for this season, and this is a great opportunity for the organization and the New England Patriots Charitable Foundation to play a part in helping families have a good holiday."
As the evening drew to a close and most families had already received their baskets, players waited to ensure that each and every family received their basket and personally delivered it to their car. With big Thanksgiving hugs, dinners and autographs in hand, the families and New England Patriots were thankful to officially kick off the holiday season.