Coach Bill Belichick is known for his all-business-all-the-time focus, but on Nov. 2, he was all smiles and laughs.
Coach Belichick and Linda Holliday hosted the fourth annual Hall of Fame Huddle in Boston for the Bill Belichick Foundation, and while the night raises money for grants, scholarships and equipment provided through the foundation, it's also a chance for Coach Belichick to let loose and have fun. With special guest Chris Berman joining him on the red carpet, the two were joking around and having a good time before the event even began.
"It is fun. It's great to see the familiar faces come out, and the people that we've had here have been awesome," Coach Belichick said. "I'm looking forward to tonight to exchange some barbs at Chris. He's always a great guy to be around."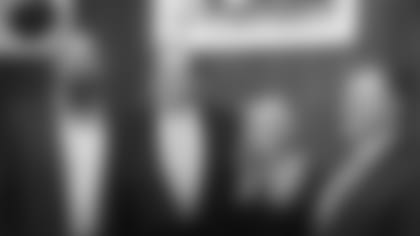 "Given the chance, Coach can be funny. You think that's a punchline, but given the chance," Chris said. "He doesn't open the funny door that often, but when he does, it can be pretty humorous."
The event includes a panel discussion, looking at film and a live auction, and all of the proceeds benefit the Bill Belichick Foundation's mission to provide mentorship, coaching and financial aid to student athletes, focusing on football and lacrosse. The event raised more than $200,000.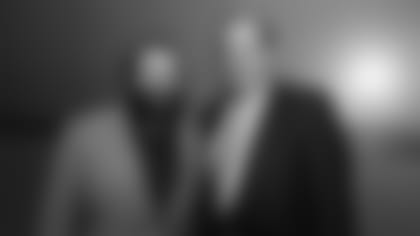 "Football gave my dad a chance. It provided a great opportunity for him, and that's provided an opportunity for me and my children," Coach Belichick said. "I want to be able to give back to student athletes who work hard and to organizations that need funding to promote programs to give the youth an opportunity to participate in sports that they wouldn't otherwise wouldn't be able to be involved in."
While the influence of his late father Steve is strong in the foundation's fabric, it was the decision to go against his father's advice that led Coach Belichick to where he is. All three of his children -- Amanda, Stephen and Brian -- ended up coaching as well.
"Three generations of coaches. [My father] told all of us it's probably not a good idea to get into coaching," Coach Belichick said. "We all ended up here. [We're] kind of hard headed."
In addition to Chris, Matt Patricia, Jerod Mayo, Matt Light and Scott Zolak also attended the Hall of Fame Huddle. For more information about the Bill Belichick Foundation, visit its website.