Perhaps the AFC should have gone with a Team Staal-Team Lidstrom approach.
The NHL's All-Star game, played Sunday afternoon, was a high-scoring affair, but at least it was competitive, thanks to the captains picking their own players. The same could not be said for the NFL's AFC-NFC Pro Bowl, which took place last night – mid-afternoon in Hawai'i.
Before leaving for the tropical island paradise, AFC coach Bill Belichickof the Patriots implied that he'd rather be going to Dallas for [
]()the Super Bowl. That sentiment seemed to carry over to his all-star squad, which played like it wanted to be somewhere else, too.
In addition to Belichick and his coaching staff, the AFC was well-stocked with Patriots players: Logan Mankinsstarted at right guard (instead of his normal spot on the left), while nose tackle Vince Wilfork, cornerback Devin McCourty, and safety Brandon Meriweatherstarted on defense. Wide receiver Wes Welker, linebacker Jerod Mayo, and left tackle Matt Lightcame on later as reserves. Tom Bradywas voted to start at QB, but his January 20 foot surgery precluded him from playing in the game.
They could have used No. 12, because before you could say "King Kamehameha," the AFC found itself down 42-0. Already down by half that score, thanks to two interceptions by San Diego's Philip Riversand another by Indianapolis' Peyton Manning, Welker unceremoniously contributed to the NFC's next score.
He took a quick outlet pass from Manning and continued upfield on the left sideline, where he was met by cornerback Washington cornerback DeAngelo Hall(the game's MVP), who wrestled Welker to the ground, then wrestled the ball out of his hands. Hall took the fumble 34 yards for a touchdown.
"He made a good play on it," Welker acknowledged of the somewhat questionable turnover. "I thought I was getting held up trying to get down and waiting for a whistle… He made a good play.
"We didn't play well overall, especially early on," Welker added. "We let the game get away from us. That's how these [all-star] games go."
Welker ended up with five catches, tied with Indy's Reggie Waynefor the most on the AFC, but just 34 yards and no scores. When the AFC finally got on the board at the end of the second quarter, Light was involved, helping lead the way on Kansas City running back Jamaal Charles'7-yard scamper.
On the other side of the ball, McCourty did what he's done all year – collect an interception.
He nearly came up with one on the game's first play from scrimmage. Philadelphia's Michael Vicktossed a deep pass down the middle to Detroit wide receiver Calvin Johnson. McCourty displayed the same tight coverage and closing speed he used during his rookie season with New England to knock the ball away at the last moment.
He would come down with his first all-star INT on the first play of the second quarter, when Atlanta QB Matt Ryantried to lob a deep ball to Dallas wide receiver Miles Austin. McCourty was one-on-one with Austin and out-jumped his opponent for the football.
"To come out here and get my first interception, it was a dream come true," McCourty told reporters. "It didn't feel real. I was running [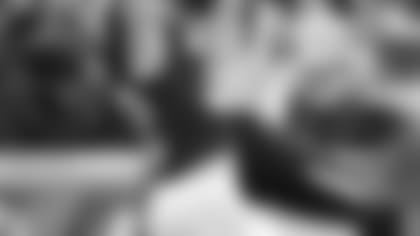 ]()deep, just trying to go up and get it before Miles."
McCourty wasn't so fortunate later in the quarter, while guarding Arizona wide receiver Larry Fitzgerald. Ryan found Fitzgerald on the other end of a 25-yard touchdown pass to put the NFC up 35-0.
For the day, though, McCourty was solid. He was credited with four solo tackles (three on defense, one on special teams) and two passes defensed, to go along with his pick. Mayo, who was named an All-Pro prior to the game, finished second on the AFC side, tallying seven tackles (four solo). Meriweather posted three (two solo), while Wilfork had just one.
Ironically, Wilfork's stat was equaled by his Patriots teammates on the o-line. Light and Mankins each chipped in by recording tackles following interceptions. Light took down Washington linebacker London Fletcher, who made the first pick of the game off Rivers, and Mankins brought down Hall on the AFC's next offensive series, when Hall intercepted Rivers the second time.
"I don't do that very often," Mankins deadpanned. "I just hoped he'd run into me."
"I've got a lot of them," countered the light-hearted Light, joking on the sideline about his tackling prowess. "I have cat-like reflexes and the speed of a mongoose. Puts you in a good position when you have that kind of ability."
That laissez-faire approach is what many have come to expect from the NFL's annual Pro Bowl contest. But it's not how Belichick and his Patriots players will tackle the looming offseason, which is fraught with uncertainty.
As the league and the players union continue trying to find a mutually beneficial end to their new collective bargaining agreement negotiations, preferably before the March 4 deadline to avoid a lockout of the players, Belichick and his coaches are looking ahead to what they know will come next.
"We're rolling because we have the draft coming up, the Indianapolis [Scouting] Combine, stuff like that," said Belichick.
In the postgame locker room, Belichick was spotted having a private conversation with Mankins. When asked later what was discussed between the two, Mankins told the *Boston Herald *it was "a nice talk… We always have nice talks."
Tomorrow on patriots.com, an all-new Ask PFW. On Wednesday, our Position Snapshot series continues with a look at Linebacker.