Rob Gronkowski was honored by Boston Children's Hospital on Tuesday night, receiving its 2016 Champions Award, which is given to someone in the community who goes above and beyond for the hospital, its patients and their families. Though Gronk was not able to attend fundraiser, his Patriots teammates showed up in full force to accept the award on his behalf, and they did not let him down. 
Martellus Bennett accepted the award on Gronk's behalf and was joined by Devin McCourty, who was the 2015 recipient, Nate Solder, Sebastian Vollmer, Rob Ninkovich and Geneo Grissom. Champions for Children's is Boston's largest fundraiser and celebrates the hard work of the hospital's staff and volunteers, the strength of the kids and their families and the advocates throughout the city and beyond. 
"When I was traded to the Patriots, I knew I would be backing up Rob on the field, but I did not know I would be backing him up in everyday life," Marty said.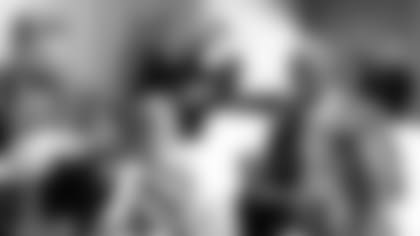 All jokes aside, he painted a picture of the Gronk that not everyone gets to see.
"If you know me, you know that I'm a big dreamer, and being in a room with Rob, you know that he's a big dreamer. The crazy thing about dreams is that they do come true. Dreams do come true," Marty said. "Tonight it's very exciting to see a dream come true for my teammate, Gronk. And as a teammate or a friend, you know that Gronk rarely thinks about Gronk."
True to form, in Gronk's written remarks, he thanked his teammates, Robert and Jonathan Kraft, the staff and administrators at Boston Children's Hospital, and most of all, the patients and their families.
"Your fight, your determination drives me to be better every day," he wrote. "You bring us all such joy and help us keep our own lives in perspective."
Gronk's involvement with Boston Children's Hospital stretches back to his rookie year, when he was eager to give back and spend time with the kids there. Whether he is rocking XXXL onesies or being pushed around in a wheelchair by a teammate after a season-ending injury (dressed as an elf, to boot), Gronk wrote that he is always happy to spread joy during his visits. 
"I love being with kids, probably because I am a big kid, and if being a kid means having the courage and spirit to keep going, well then, I guess I want to be a kid forever," he wrote. 
Devin received the honor of the Champions Award in 2015, and he said he was proud of how he his teammate has continually given himself to the community and grown through that.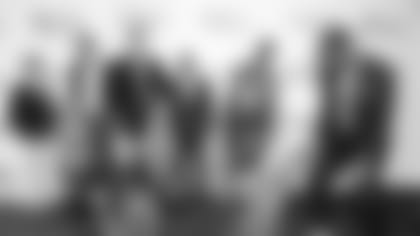 "We have a ton of guys that do a lot in the community, that like to give back, and Gronk's done a great job since he's been here," Devin said. "It's been pretty cool to see him transform from the party guy to the community guy that he's always been and maybe because he's a little more mature now, but seeing him win the Ron Burton Award earlier this year and honored tonight, he definitely deserves it." 
"A lot of guys, not just Patriots player, do a lot for the community and help children and people that need it. [Gronk] is a great example of that," he said. "Whatever you ask of him, he'll do it with a smile on his face. He really just wants to help. It's been a blessing to know him and a blessing for him to do it."
Before the dinner and ceremony began, the Patriots spent time drawing and playing with some of the patients. Later in the evening, those same patients would ask their burning questions to the panel of Patriots, like how much can Gronk eat?
"Well, this is what we call hyperbole. I'm going to tell you that right now," Marty said. "Right now, you're getting English lessons from Uncle Smarty. Gronk could eat a giraffe and a half."
Gronk may have missed out on accepting the honor himself and joining the laughs, but it's safe to say that his teammates did him justice.
For more photos from Champions for Children's, check out the gallery below. 
Rob Gronkowski was honored at the Boston Children's Hospital Champions for Children event on Nov. 29. When Gronk was unable to attend, he sent Marty to accept the award in his place.