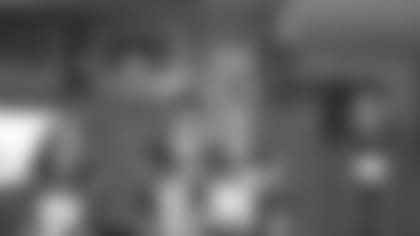 ]()FOXBOROUGH - Get Tom Brady and Randy Moss together on the football field and it's any football fan's dream come true.
But for four youngsters who got to meet and chat with the NFL All-Pros at Gillette Stadium on Tuesday, it was the true fulfillment of a wish come true.
Charlotte Hutnak, DJ Murphy, Matteo Petosa and David Sierra had the chance to hang out with their favorite Patriots in a visit made possible by the New England Patriots Charitable Foundation with the Make-A-Wish Foundation and Angels Above of Massachusetts General Hospital for Children.
After the players finished off their morning reps at passing camp, they took time to sign autographs and take pictures with the children and their families.
"The whole time I just couldn't believe it was Tom Brady." said Hutnak, 16, of South Attleboro, at a loss for words in describing her time with the Patriots starting quarterback.
]()Hutnak, 16, of South Attleboro, took home an autographed wristband that Brady had worn earlier in the day among a treasure trove of other items.
While the signed pennants will adorn their walls and they will proudly wear their new Patriots garb, the real lasting impression comes simply from the time spent with their football heroes. The visit also gave a boost of support to the families who have been forced to deal with the affects of debilitating illness.
"This means the world to her and to us," Hutnak's mother, Anne, added.
Ever since its inception in 1980, the Make-A-Wish Foundation has enriched the lives of children with life-threatening medical conditions through its work. The Foundation's mission reflects the life-changing impact that a Make-A-Wish experience has on all of its participants.
Likewise, Angels Above has created a similar mission in service to the patients of Massachusetts General Hospital for Children and DJ Murphy is one of its beneficiaries.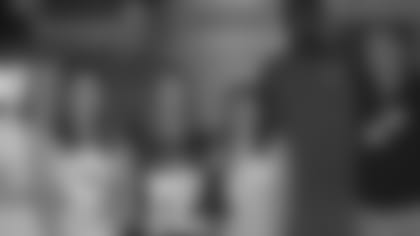 ]()Growing up in Medford, 19-year-old DJ grew up idolizing the Patriots and quickly became attached to Moss, who's now his favorite player. Even as DJ was hospitalized in his struggle with bone cancer, he never let his support for the team waiver. Staff and fellow patients came to know DJ by his penchant for wearing Patriots attire in favor of the usual hospital dress.
When given the chance to meet his football idol, he also found that he had something in common with the Patriots Pro Bowl receiver.
"He likes to play Madden a lot," DJ said about his conversation with Moss. "I always play as the Patriots, of course, and he does, too."
They weren't the only ones with common ties as Brady chatted with Sierra, 17, about their mutual home state of California.
As the visit came to an end, it was clear that bonds had been made that will last a lifetime.
"I'm just so thankful to the entire Patriots organization for this opportunity," said Carlo Petosa, father of 12-year-old Matteo. "They have no idea how much this means."