Cam Newton's arrival in New England changed the course of the Patriots 2020 offseason. Instead of turning the reigns over to either 2019 fourth-round pick Jarrett Stidham or veteran Brian Hoyer, the Pats added a former MVP, who should be the favorite to be the team's first post-Brady starter.
Aside from winning the 2015 NFL MVP, as well as making a Super Bowl appearance that same season, Newton has had two memorable wins over the Patriots during his nine-year career.
Those two wins over his new team illustrate how good Newton can be when he's at his best. Combined, Newton threw six touchdowns to one interceptions against the Pats, and led his team to victories with late fourth-quarter scoring drives.
Let's take a look back to see how Newton beat the Patriots twice and what we can glean about his Patriots potential from those performances.
Patriots fans will remember this game for Rob Gronkowski getting bear hugged in the end zone as time expired, with no flag and an interception sealing a four-point Carolina win.
From the Panthers perspective, this was their sixth-straight win in what would be an eight-game win streak. It was Newton's third-best performance of the season with a 125.4 quarterback rating, while he also picked up his third-highest rushing yardage total of the season on seven carries for 62 yards.
His longest rush of the game came on a third-and-six, when Newton picked up 24 yards on a scramble. An even more dynamic rush came on a third-and-seven in the third quarter, as Newton evaded multiple Patriots rushers and broke free, picking up 14 yards. Both showed how dangerous Newton can be when the play breaks down. He can make critical plays with his legs.
Newton would run for two more third-down conversions in the fourth quarter during the Panthers 13-play game-winning drive. The first, a 15-yard scramble on third-and-six, again came late in the down with no one open. The second, however, was a designed run right up the middle for three yards on a third-and-two, a recurring theme in both of these wins over the Pats.
Newton is one of the few quarterbacks that can run with power into the teeth of the defense and, while the Panthers didn't overuse designed runs for their quarterback, they picked their spots like this critical situation to keep the drive alive. These kind of plays are backbreakers for the defense and great examples of how Newton will give defensive coordinators plenty to consider while also giving Josh McDaniels a lot to play with.
But make no mistake, Newton won this game with his arm and his ability to push the ball downfield. His three touchdown passes measured nine, 15 and 25 yards respectively. The first, to future Patriot Brandon LaFell, came on a quick in-cut that showed good timing from the quarterback.
The second was a pinpoint 15-yard throw to tight end Greg Olsen on an out pattern, one of the toughest throws for a quarterback to make. The third, a 25-yard game-winning touchdown pass to Ted Ginn, came on a comeback route along the sidelines. Ginn made the magic happen by avoiding Kyle Arrington's tackle, then using his explosive speed to make it to the end zone untouched.
This final touchdown illustrated Newton's ability to take what the defense gave him in a clutch moment. With no over-the-top help, Arrington was a sitting duck for the comeback route. Newton's on-time throw gave Ginn the space necessary to pick his way through the Patriots defense.
This was an impressive game from Cam Newton. The Panthers had just six full drives in the game and scored on four of them, with each lasting nine, 12, 13 and 13 plays -- all extended drives that showed good consistent execution from Newton and the Panthers. The two failed drives were both quick three-and-outs.
Newton's balance with his arm and legs, as well as his ability to make throws both in tight windows and downfield show what a capable quarterback he was as he entered his prime.
Four years and an MVP later, Newton would again turn in one of his best performances of his season in a 33-30 Week 4 win over the Pats. It would be Newton's second-most throwing yards (304) and second-best quarterback rating of the regular season, and while he'd record just 44 yards on eight carries, they came in big spots and kept drives going.
Newton would commit his first interception against the Pats in this one, an ill-advised back foot throw into double coverage that was easily tracked and picked by Malcolm Butler. Newton had Devin Funchess wide open underneath after Butler bailed on his coverage. It wasn't the only time he forced a ball into coverage, but it was the only time he paid for it in two contests against New England.
The Panthers first touchdown of the game would come on a 28-yard screen pass to Fozzy Whittaker that fooled the entire Patriots defense. Whittaker was untouched in a testament more to the playcall and Patriots mistakes than Newton's execution. Still, it's a play the Patriots will run plenty of with their diverse backfield.
Newton was excellent on a final touchdown-scoring drive just before the half, with a notable 43-yard completion coming off another busted Patriots coverage. Running a bunch set from an empty formation, Newton found Kelvin Benjamin as he broke loose, showing good anticipation.
The Patriots would blow another coverage two plays later and the Panthers would take the lead, as Devin Funchess was again cut loose out of a bunch formation and ended up wide open in the end zone. This was a prime exhibit of the stumbling start the 2017 Patriots defense had, but Newton and the Panthers deserve credit for exposing them.
Later, with the Panthers facing a third-and-two, they again kept the ball in Newton's hands with a designed run up the middle. The Patriots couldn't wrap him up and he squirted out for eight yards and a first down. Newton truly makes third-and-short a near-impossible situation for defenses.
A few plays later the Panthers would use a designed run again for Cam, this time on third-and-seven and he'd pick up 13 yards.
In these two games against the Patriots, Newton had seven third-down rushes and picked up a first down on six of them. Passing, he was 7-for-11 with seven first downs and two touchdowns.
Newton's next touchdown was the first that wasn't a blatant blown coverage by the Patriots, rather a dart up the seam to Funchess off a subtle play action from 16 yards out. Newton's ability to target the seams of the defense, especially to tight ends and big receivers, consistently shows up. This could bode well for second-year player N'Keal Harry and the two rookie tight ends, Devin Asiasi and Dalton Keene.
For the Panthers final touchdown, Newton would use a read option, keeping the ball himself and carrying it up the middle for a seven-yard score that extended the Panthers lead to 30-16. But the Patriots would answer with two consecutive scores, giving the ball back to Carolina with 3:04 left and the game tied at 30.
Newton avoided disaster when a Stephon Gilmore illegal use of hands penalty offset a third-down sack and kept the Panthers drive going. Newton would pick up seven yards on another designed run up the middle, then convert a third-and-three on a whip route to Funchess, a route that he'll see Julian Edelman running plenty of.
From there the Panthers used one run from Jonathan Stewart and two designed runs for Newton to pick up the final six yards that set up Graham Gano's 48-yard field goal as time expired. It was a strong finish on the home field of the reigning Super Bowl champs for Newton, who'd lead the Panthers to an 11-5 record that season.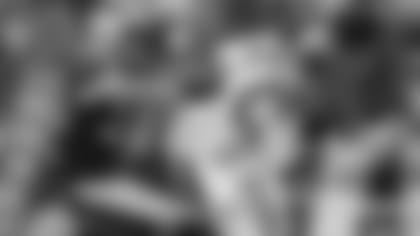 Cam is clutch – These were two of the best games of Newton's career and his game-winning drives showcased his versatility and ability to make plays under pressure. The fact that they came against the vaunted Patriots has to count a little bit extra, not many quarterbacks have so effectively performed against Bill Belichick's defenses.
Cam's a running threat – Newton's work on third down with his legs stands out as the Panthers often relied on him in short yardage situations. He's also a threat when plays break down and should force defensive coordinators to consider pulling players from coverage to make sure he doesn't escape. And even then, he has the size and speed to break free and pick up big yards.
Cam can throw – Newton was effective on a large range of passing plays, but had his inconsistent moments either mechanically or with his decision making. Still, all variety of passes – screens, short and downfield – were key in knocking the Pats off twice.
Cam can read defenses – The Patriots defense played terribly against the Panthers in 2017, in many ways foreshadowing the performance in the Super Bowl that would end their season. Newton was able to take advantage of numerous blown coverages and take easy plays. Taking what's given is a hallmark of the Patriots offense and his consistency in this regard could set his ceiling within the new attack.
While Newton has fought injuries for the past two seasons and comes with some concerns, there's no question he can still pose a problem for NFL defenses in multiple ways. He'll give Josh McDaniels plenty to work with when tailoring his playbook to Newton's skillset and that should make for an exciting 2020 season. If he can regain his form from just a couple years ago, the Patriots could once again be poised for a deep playoff run.