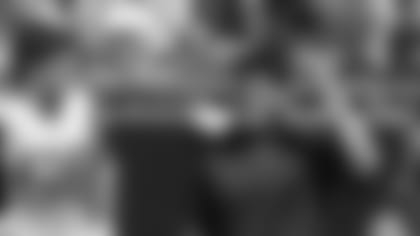 ]()FOXBOROUGH, Mass. (Oct. 15, 2005) -- New England linebacker Tedy Bruschi is working toward a return to the Patriots -- this season, not next -- thanks to a faster-than-expected recovery from the stroke that sent him to the emergency room just days after playing in his first Pro Bowl.
Several obstacles remain: Bruschi has received favorable reports from doctors but not final medical clearance, and others involved in the decision -- including the team's lawyers and Bruschi's family -- have not signed off on it.
Bruschi said this summer he had no intention of coming back for the 2005 season. But the speed of his rehabilitation has made it possible for him to accelerate his schedule.
"Anybody we can get back to this football team at this point would help us, regardless of who it is," linebacker Mike Vrabel said. "Whoever we can have back, we'll take back."
Bruschi is eligible to return from the physically unable to perform list after the sixth week of the season, which starts on Oct. 17. Bruschi was not available for comment on Oct. 14. Patriots coach Bill Belichick said he would leave any comment to Bruschi.
"If Tedy has something to say, I'm sure he's perfectly capable of saying that himself," Belichick said. "I have nothing to add to that situation whatsoever. Zero."
Bruschi has declined repeated interview requests from The Associated Press.
Bruschi, who has a wife and three sons, originally planned to take a year off to recover from the stroke. But his health had improved enough that he began traveling to specialists and has received favorable reports from them.
The 32-year-old Bruschi suffered a mild stroke at his home in February, less than two days after his first career Pro Bowl and 10 days after the Patriots won their third Super Bowl in four years. He was rushed to the hospital after complaining of numbness in his left arm and leg.
Bruschi told The Boston Globe that doctors believe the stroke was the result of a blood clot that traveled through a small hole in his heart. The hole was surgically repaired in March, he said.
Bruschi told the Globe in an interview published in early September that he had no intention of playing this season.
"I'm telling you right now, that's not going to happen," he was quoted as saying. "I need to do what's best for my family and myself. There's a difference between living normally and being fine, and getting ready for a professional football season. I need the year to get myself ready.
"I considered playing this season. We talked about it a lot. But this is something that you don't rush. It's not a sprained ankle."
The Patriots opted not to put Bruschi on the injured reserve list, which would have eliminated the possibility of a return in 2005. Instead, he went on the physically unable to perform list, which meant he had to sit out at least the first six games.
The Patriots (3-2) play their sixth game in Denver.
Bruschi has been working out regularly at the team's facility and has been attending defensive meetings since before training camp started in July. Since the regular season began, he has been in the locker room, upbeat and smiling. He has also been a regular on the sideline at home games.
"If he decides to come back, that's great," linebacker Rosevelt Colvin said. "Any team could use a good player, and I think Tedy's a good player. If he doesn't, then obviously he's going to choose to rest and continue to get better."
Bruschi has averaged more than 100 tackles over the past four seasons. Last year he was named AFC Defensive Player of the Week three times.
Since winning their second straight Super Bowl in February, the Patriots have lost defensive coordinator Romeo Crennel; cornerback Ty Law; linebackers Roman Phifer and Ted Johnson, and safety Rodney Harrison. Three-time Pro Bowl defensive end Richard Seymour missed last week's game with a knee injury, and cornerbacks Tyrone Poole and Randall Gay have missed significant time with ankle injuries.