Patriots linebacker Derrick Burgess.


It took a while, but veteran Derrick Burgesswas finally back on the field with the rest of his teammates on Sunday. He took part in the team's walk-through in the morning and was in full pads for the afternoon workout. Following the second session, he addresssed the media and filled everyone in on his delay in getting to camp.
"Basically it was just a personal situation going on," Burgess said. "I had to take some time to take care of it. They just told me to takemy time and get my stuff together. It was basically some personal matters off the field I had to take care of. My family business was my main interest at the time."
The 32-year-old Burgess, who enters his 10th NFL season, had not reported to training camp and had reportedly told friends he was considering calling it a career. But he said his desire to play was never in question and reiterated that his personal issue was the reason for his absence. With that apparently resolved, he was back in his blue No. 53 jersey and eager to get started.
"It felt good. A little rusty, but it felt good to run into someone," Burgess said with a smile. "I'm in shape. I live in Mississippi so it's hot. That's enough [to stay in shape]. I'm fully committed."
"It's good to have Derrick here and ready to go," said Bill Belichickduring an Aug. 13 conference call. He also said Burgess passed his physical and conditioning test that morning.
Obviously Burgess' addition is huge given the lack of depth at outside linebacker. Marques Murrell, who spent his previous three seasons working almost exclusively on special teams with the Jets, started against the Saints in the preseason opener. He joined Tully Banta-Cain, the lone known quantity among the group, with Rob Ninkovich, Pierre Woodsand rookie Jermaine Cunninghamrounding out the depth chart.
"He has a good understanding of his opponents, pass-rush technique and how to defeat blockers, and how specifically to defeat individual blockers based on their strengths and weaknesses and how he matches up against them," Belichick said.
Burgess' presence coincided with the end of Ty Warren's season. The veteran defensive end's hip injury will require surgery and landed him on injured reserve.
Belichick indicated that there was some hope that Warren could play through the injury but the eighth-year defensive end opted for a different course.
"Obviously, it doesn't feel good not being able to go out and play football," Warren told the Boston Herald. "But at the same time, this is a procedure I need to get done [and not] making it worse. Personally, I can't afford to be laboring around for another year. I've been doing that for a year and a half now. I need to get it done to be able to play as long as the Lord will allow me to play."
According to various reports, the injury is a torn labrum. It is not considered career-threatening, but Warren indicated he planned to undergo the procedure Aug. 16 in Vail, Colo., before returning for his rehab work.
"It's a tough break for Ty, but we have to move on," Belichick said Aug. 13 via conference call. "He's missed quite a bit of time the last couple of years. We've had to deal with that anyway. It's unfortunate, but unfortunately that's part of the game. We'll just move ahead."
Warren has missed seven games in his previous seven seasons including three in each of the past two campaigns. The Patriots are just 2-5 in those games. Warren started 92 of 105 games since the Patriots selected him in the first round in 2003, recording 496 tackles, 20.5 sacks and four forced fumbles. Losing his presence up front is key as he and Vince Wilfork have been paired for the past six years, and his absence will force some changes.
Veteran free agent newcomer Gerard Warrenwill likely get the first chance to fill the void, which he did in the preseason opener against New Orleans Saints. Another veteran free agent addition, Damione Lewis, was the top backup.
Neither Gerard Warren nor Lewis has much experience playing in 3-4 sets and none in a system like Belichick's. But Belichick feels each is making progress and specifically mentioned Warren's work when discussing the situation.
"I think he's made the transition pretty well," Belichick said. "I think he will have a good ability to contribute for us this year based on what I've seen so far."
Belichick also said that he expects Lewis to be a contributor as he continues making his transition.
]()After a season in which rib and finger injuries were a lingering issue for Tom Brady, there was a weekend report that the quarterback had his fingers taped together after Thursday's action against New Orleans. Brady had his index and middle fingers on his throwing hand taped together again for Sunday morning's walk-through in Foxborough, but did not for his full participation in the full-pads afternoon workout.
A reporter tried to tip-toe into Belichick's favorite topic – injures – by joking during the morning press conference that he didn't have to file a league-mandated injury report until the Wednesday before the season opener against the Bengals.
"We've got a little ways. I'm looking forward to that one," Belichick said with a big smile. "It's kind of like Christmas. I just count the days down until that injury report comes and then we can do our first one."
More to the point, Belichick was then asked if there was concern about Brady's fingers.
"I don't think it's life-threatening, no," Belichick said.
But, were there an injury report, would it be game threatening?
"I can't wait for that first injury report to come out," Belichick said with another smile. "That's the highlight of my week – one of them."
Anyone who's watched training camp practices at Gillette Stadium this summer knows that third-year cornerback Terrence Wheatleyhas made his share of plays. The former second-round pick built on that success in Thursday night's preseason opener making a pair of plays on the goal line to help keep the Saints at bay.
On the first Wheatley jumped a slant intended for Adrian Arrington and forced the incompletion. Two snaps later the corner, who's been around the ball all summer, came up to take Chase Daniel down for a 4-yard loss on a third-and-goal boot play.
Clearly, after an injury shortened rookie season and disappointing 2009 campaign in which he was a game day inactive 11 times, Wheatley is opening some eyes early on in a very key third season. He's said he feels more comfortable this time and round, and his coach agrees with the assessment.
"I think he's playing with good confidence. He's made plays consistently on the practice field and in the work against New Orleans," Belichick said. "That has been on a regular basis, not just one here and one there. He's showed up. The play he made on the goal line against New Orleans was a really good play. He actually had a play that wasn't the same, but had some similarities to that last year, that he didn't react nearly as quickly on or as well. But that's just one small example.
"Overall, he's playing with good confidence and has been a productive player for us through camp. I definitely think he's way ahead of where he was last year at this time. I'm not saying he's where he needs to be, but he's had a good camp and he's done well. Again, he's playing with a lot of confidence."
There's been some talk lately of the deadline for teams to send official letters to holdout players who've not shown up for training camp, with the teams making the players aware of their ability to put them on a roster exempt list. That deadline comes today, but, according to Belichick isn't really of note for New England.
"I don't think it affects any of our players, so I'm not sure of the exact date on that," Belichick said.
"He's not under contract," Belichick said simply of the Pro Bowl guard who's not signed his restricted free agent tender.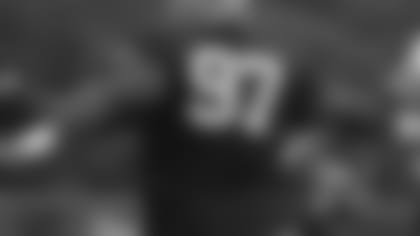 Ron Brace was on the field at various points during the morning walk-through and then took part fully in the afternoon session. The second-year lineman has been removed from the non-football injury list and is happy to get things going on his second season.
"It feels really good. Words can't describe it," Brace said of his return. "Just happy to be out trying to catch up to these guys and working to get ready for Atlanta. I've been working really hard in my playbook but everybody's in that rhythm and now I have to try to get back in that rhythm."
Torry Holt was surprisingly placed on injured reserve with a knee injury. The veteran of 11 seasons had missed practice time with the injury last week after a relatively quiet start to his first training camp in New England. Rookie free agent defensive back Ross Ventronewas waived.
On the flipside, rookie free agent wide receiver Buddy Farnhamwas re-signed while the teamed also added rookie free agent guard Brian Simmons. The 6-4, 318-pound Oklahoma product donned the No. 65 white practice jersey.
Who's hot: Brandon Spikes – Fresh off his starting action in the preseason opener, the second-round rookie made his presence felt yet again on the practice field Sunday afternoon. Spikes got plenty of praise from his teammates for an apparent forced fumble in team action and then made a nice tackle on Sammy Morrisin the backfield a few plays later. The physical rookie is making his mark early.
Who's not: Jonathan Wilhite –At this time a year ago Wilhite was winning starting job at cornerback, a job he held for eight games last season. Sunday, the third-year corner was getting reps during the "opportunity" portions of both sessions, even getting called back onto the field from the locker room for those reps following the morning workout.
Play of the Day: Brian Hoyerstole the show in a red zone team drill with his best throw of the summer. The backup rolled left and found Taylor Pricecrossing the back of the end zone, the rookie receiver making a nice toe dragging catch as he fell to the ground for the touchdown in the back left corner.
Eleven players did not take part in the afternoon practice – Mathew Slater, Leigh Bodden, Bret Lockett, Terrence Johnson, Dane Fletcher, Gary Guyton, George Bussey, Logan Mankins, Nick Kaczur, Damione Lewisand Jermaine Cunningham. … Both Darnell Jenkinsand Tully Banta-Cainseemed to get nicked up during the workout, with Banta-Cain skipping out on late-practice conditioning work while with the training staff. … Monday will be the final chance for fans to check out the Patriots in training camp action with practice scheduled for 10 a.m. before the team heads to Atlanta for joint work with the Falcons.