INDIANAPOLIS - It's not often that kickers leave college early. Then again it's not often than kickers are projected to go early in the draft, perhaps even in the first round.
Florida State's Roberto Aguayo is the best prospect at his position since fellow Seminole Sebastian Janikowski went to the Raiders in the first round in 2000.
"I felt it was the right time. I graduated, I got my degree. I won a national championship. I won the Lou Groza Award. I had a great four years at Florida State and sitting down with Coach[Jimbo] Fisher and my family and talking it over, it was the right time to go," said Aguayo, who most experts have tabbed to go in the second or third round.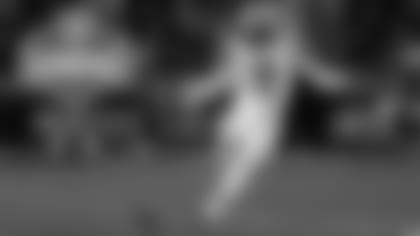 So does he think the time is right for another kicker to be selected in the first round?
"Maybe it is. You never know," he said. "There's been a couple of guys drafted in the first round recently, Janikowski. It's been done. You never know, it could be done again. I'm just controlling what I can control and that's being the best I can be and at the end of the day it's up to the teams to choose."
The new PAT rules instituted last year have placed a higher premium on kickers. Teams were victimized all across the league by missed extra points, and having a steady presence at the position is something many teams are searching for.
But one thing Aguayo believes will be easier coming from the college game to the pros is field goals. Kicking from the tighter hash marks is something he's looking forward to.
"To me field goals, it's easier. The hashes are closer," Aguayo said. "Growing up I always thought, wow, NFL is much easier than high school, let alone college. Kickoffs are out the back. There's not that much placement, not that much hang time putting it on the goal line, trying to cover. Kickoffs are usually kicking it out and trying to force things to start on the 20-yard line."
While the Patriots won't likely be interested with Stephen Gostkowski one of the best in the game, there should be plenty of teams lining up for Aguayo's services.