After receiving their first day off of training camp, the Patriots went back to work Monday morning once again wearing shorts, T-shirts and shells in anticipation of donning full pads for the first time on Tuesday. Bill Belichick described the process before the workout, explaining how things would soon be changing as the competition level ratchets up.
We're heading into kind of the next phase here as practices change a little bit, both in length and intensity and so forth, so it's a good opportunity for us this week to really work on our fundamentals and get used to playing in more real football-type conditions, so looking forward to that," Belichick said. "A lot of work to do here. We just continue to build every day add a little something new. We need to add. Be ready to go here by hopefully the end of the week and then that'll give us a few days next week to start to prepare for Washington."
Although there was some down-and-distance work during the latter portion of practice, the tempo was noticeably slower for most of the day. While not entirely at a walkthrough pace, the intensity was lower and the competition wasn't as high as it's been on other days.
Still, after five days of practices there are some elements of the team that are becoming apparent, and one is the versatility that should be available among the front seven on defense. There are a lot of moving parts, and how they will all fit together will be a major focus for the coaches as the summer continues.
Thus far, we've seen a lot of combinations and some different looks up front. On Monday, depending on how one characterizes things, the defense used mostly three-man fronts with Lawrence Guy, Davon Godchaux and Akeem Spence inside of linebackers Matt Judon and Josh Uche. All five were on the line of scrimmage so it certainly could be considered a five-man front. Dont'a Hightower and Ja'Whaun Bentley worked as the traditional off-the-ball linebackers in these sets.
During the course of five snaps, Henry Anderson replaced Spence, Carl Davis replaced Godchaux and Deatrich Wise took Anderson's spot. Also, personnel rotated liberally at linebacker with Kyle Van Noy and Raekwon MacMillan subbing in. It should also be noted that Chase Winovich, Terez Hall and Byron Cowart have yet to suit up while Anfernee Jennings is just getting his feet wet after missing the first three days of practice while tending to a personal matter.
That's a lot of options for Belichick and crew to sort through, and the idea of mixing and matching the talent to generate the best combinations of run stoppers and pass rushers is intriguing.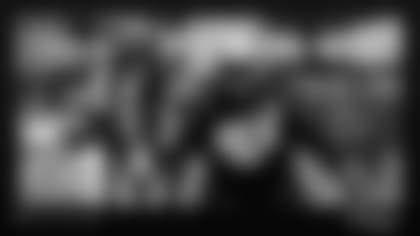 After watching the Patriots struggle mightily to stop the run in recent seasons, having Guy join Godchaux and Anderson, two guys known for being strong against the run is a welcome option. Wise could be pushed inside on passing downs as an interior rusher while rookies Christian Barmore and Ronnie Perkins try to find roles that best suit their abilities.
Overall there seems to be an infusion of talent up front that should lead to improvement in all areas. Belichick was asked specifically about Judon before practice and praised the veteran's intelligence.
"I think Matthew's done a good job coming in, picking things up," he said. "He's a smart player. He's an instinctive player. He's done probably everything that we've asked him to do earlier in his career. Just kind of putting it into the way it fits into our defense or the translating terms and so forth, but I don't think we're doing too much that he hasn't done before. But we're early. I'm glad we have him. Good player. Has a lot of skill. Smart guy. Instinctive, understands things, picks things up pretty easily and quickly so, it's been good."
Here are one man's impressions of Day 5 at Patriots training camp.
*No changes to the attendance as the PUP (Jarrett Stidham, Stephon Gilmore, Dalton Keene, Winovich, Hall and Cowart), NFI (Cameron McGrone and Joshuah Bledsoe) and COVID (Devin Asiasi) lists remained the same. Ted Karras also missed his second straight practice after leaving late on Friday with an apparent left leg/knee injury.
Belichick was asked about Gilmore's health status before practice but didn't offer much insight. "Let's keep taking it day by day. It's really pretty much the same situation with a lot of those players. Just see how each day goes, and if it improves, then we move ahead, and if it doesn't, then we might have to pause until we can kind of get things ready to move forward."
*After four days of action the playing fields looked crisp and new after a fresh paint job that presumably took place on Sunday.
*As we saw at times during the spring, cornerback Dee Virgin spent a lot of time with Matthew Slater and Justin Bethel on special teams early in practice. Virgin, who is entering his third season, worked on gunner and vice techniques with the two veterans.
*Early on there was a lot of time spent on the running game with multiple heavy formations involving fullbacks and multiple tight ends. Damien Harris, Sony Michel and Brandon Bolden received the bulk of the carries during that time.
*With Karras out of the lineup, Marcus Martin took a lot of reps rotating at all three interior offensive line spots. Martin is a sixth-year player out of USC who has 24 career starts with San Francisco under his belt. He is a candidate to earn a roster spot as a reserve up front.
*Jake Bailey worked on some directional punting during the first special teams period and seemed a little frustrated with himself at times. He shanked a couple of short ones out of bounds, but also uncorked some of his trademark bombs.
*While that was taking place on the right field, the quarterbacks worked on the left side with a group of receivers that included Nelson Agholor, Isaiah Zuber, Kendrick Bourne and tight ends Jonnu Smith, Hunter Henry, Troy Fumagalli and David Wells.
*The offense seemed to be working on some would-be short-yardage situations using multiple tight ends and long counts. Teams often use tactics in an effort to pick up a free first down by drawing defenders offside. On a couple of occasions on Monday that strategy backfired as Alex Redmond, Agholor and Jakob Johnson all were guilty of false starts and had to run laps.
*Myles Bryant saw some time alongside Devin McCourty at safety in a 7-on-7 drill. Bentley made a nice interception off a Cam Newton pass over the middle intended for Jakobi Meyers.
*On the opposite field, Mac Jones was nearly picked by McMillan on a similar play. McMillan dropped into coverage and stepped in front of Wells but couldn't corral the pass. McMillan later showed good range in zones during 11-on-11s and had another pass defensed.
*Devin Ross lost the ball during a ball security drill when Adrian Colbert knocked it free.
*The last 11-on-11 period feature some down-and-distance activity with plays coming at different parts of the field. Rather than advancing from down to down the set up had several plays run from first-and-10 at various yard lines. Both Newton and Jones saw a lot of action and each had success mostly working underneath the coverage. Jones did manage to complete a bomb to Zuber, who split double coverage near the goal line for one of the biggest plays thus far in camp. Jones also failed to see Kristian Wilkerson wide open behind the coverage on a play he opted for Agholor on an out route.
*Anderson was shaken up late in practice with an apparent upper body injury. He spent time with Jim Whalen and other member of the training staff and did not take any more reps during the practice.
*The final play on Monday saw Belichick position the ball at the 4-yard line on fourth down – a gotta-have-it play to close the workout. Newton tried to hit Agholor on a slant with Jalen Mills in coverage, but the wideout stopped his route short and the pass fell incomplete. The offense protested briefly, perhaps looking for a flag on Mills, but eventually the entire unit – coaches included – went for a lap around both fields.
*Nick Folk was a perfect 4-for-4 on field goals of 33, 40, 43 and 47 yards to close practice.
*Rather than running sprints the team broke down in positional groups for post-practice stretching.
*McMillan, Christian Barmore, Brandon Bolden, Kendrick Bourne, Jalen Mills, Rhamondre Stevenson, Josh Uche and Isaiah Wynn spoke to the media following practice.
*The Patriots are expected to be in full pads for the first time on Tuesday with practice set to get underway at 9:15 a.m. in Foxborough. Gates open at 8:30 a.m. and the workout is open to the public (no autographs allowed).