Derek Rivers earned his first career sack against the Jets on Dec. 30, 2018. His second came with four minutes to go against the Dolphins this Sunday – nearly two years later.
With years separating his appearances on the stat sheet, it's been a long road to this moment for Rivers. It's required patience, belief, support and, most of all, determination to get to back onto the field.
Rivers, the Patriots first pick in the 2017 draft (83rd overall), has spent much of his career in the league thus far on the sidelines. After tearing his ACL in joint practices with the Texans in 2017, Rivers rehabbed enough to compete during the 2018 season, but he injured his knee once again in a preseason game against the Titan on Aug. 17, 2019. He underwent surgery and spent the entirety of the season on injured reserve.
Three years in the NFL. Just six games played.
In this time, Rivers may not have been able to contribute on the field, but his presence was felt. According to ESPN's Mike Reiss, Rivers reported to Gillette Stadium at the beginning of the offseason while most of his teammates returned home. He also threw himself into volunteering – both with the Patriots Foundation and on his own – getting to know the region and its people on a personal level.
Despite injury after injury, Rivers persisted with a positive mindset, according to Coach Bill Belichick.
"I don't think I've ever really seen him in a down day. He's always got a positive attitude. He works extremely hard," Belichick said. "He always works on the things that will help him and help the team. [He's] kind of the 'first one and last one out' type of guy in the building."
To come up big in the first game of the season after on and off years of recovery and share it with the team, Rivers said it was a blessing.
"To have the type of community and brotherhood that we have here between players, coaches and just this whole team, whenever somebody's going through something, it's just awesome to have that type of support from your brothers and your coaches," Rivers said on Monday. "It's awesome. It's encouraging. It makes you want to go harder."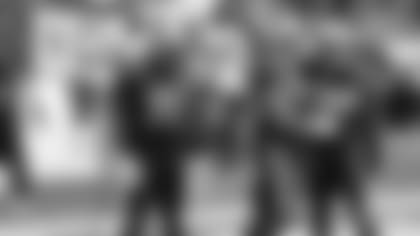 From teammates to coaching staff, those who watched Rivers put in the work over the years shared nothing but pride and excitement. When Chase Winovich was asked about Rivers on Monday, the second-year linebacker broke out a big smile.
"I just want to say first off, I absolutely love Derek," he said. "Football is one of those weird dynamics where like there's no guaranteed money for the most part, so you're pitted against guys in the same room. We're in a competition so it's like from a friendship dynamic it's kind of weird. Derek's personality, I've talked to him about this before, it kind of transcends that. He's a great dude and a great teammate so any time you have a guy like that that's clearly selfless, get a sack and has been working hard, you're fired up for him."
That sentiment extends beyond his teammates, too. Belichick said after seeing firsthand Rivers' journey, the entire team couldn't help but be happy for him.
"He's really showed a lot of mental toughness and really an incredible amount of mental toughness over the last three years to deal with some of the setbacks that he's had," Belichick said. "None of which were really his fault, just bad breaks really …. Him having the opportunity to play [Sunday] and go out there and help the team win was very gratifying, I know, for him, but for all of us, all of his teammates and other people on the team."
The culmination of years of rehabilitation, showing up early, staying late and faith came to a head on Sunday, and for Rivers, just being able to step onto the football field was something special.
"Football is something that God's blessed me to do and to be able to go out there and do it again, it was just a blast," Rivers said on Monday. "It was fun, but it's even more fun to just be out there with my brothers."
As the season progresses, Rivers' teammates have high hopes for what having him on the field and contributing will mean for the team.
"Hopefully he's got a lot more coming. When the tide rises, it raises all the ships," Winovich said. "I'm definitely pulling for Derek."