They may not have corncob pipes nor button noses, but with the help of some creative kids, Patriots players transformed into snowmen on Tuesday night. 
The decorating of human snowmen and trees came as part of the Patriots 23rd annual Children's Holiday Party, where 250 kids in need from the Salvation Army and local community centers were invited to celebrate the season alongside a few players from their favorite team. Devin McCourty, Jabaal Sheard, Barkevious Mingo, Jordan Richards, Jonathan Jones and Geneo Grissom served pizza and ice cream donated by Papa Gino's and Friendly's, met with the kids and played games throughout the night. 
Patriots President Jonathan Kraft spoke to the group before dinner, welcoming the kids, staff and volunteers for an evening of music, gifts, games and holiday cheer.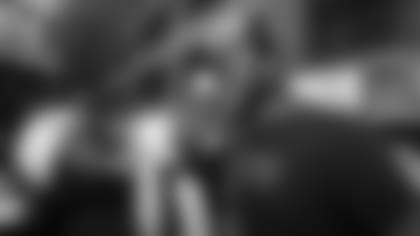 With holiday music setting the scene, the Patriots were good sports as the kids ran around them with toilet paper during the "Build-a-Snowman" game and green streamers for "Build-a-Tree." Jabaal was wrapped up so cleanly there was little wiggle room to get his hands out when the kids decided he needed to have gloves to be a complete snowman. Barkevious was all smiles as a cheerleader lifted one child up to adorn a star on the nearly complete tree. 
Devin is a veteran of the Children's Holiday Party and said even though he and his teammates were exhausted after Monday night's game against the Ravens, he couldn't help but feel the liveliness of the room.
"We do a lot of things to give back, but something like this is all about fun for everybody. Tired walking here, and I got a boost of energy as soon as I walked in here," Devin said after shedding his tree decorations. "The excitement on the kids' faces between eating pizza, ice cream and cookies, you know it's going to be a pretty intense night. I'm having a ball here."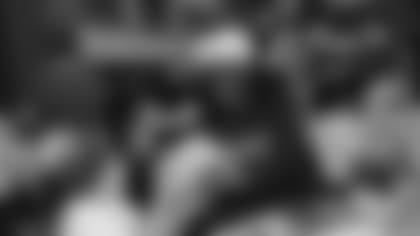 Many of the kids who were invited for a night with the Patriots are in need, struggling with poverty and homelessness, but the evening was a chance for them to laugh, smile and open gifts with the football stars. The New England Patriots Charitable Foundation hosted its annual "Gifts from the Gridiron" event last week, and Devin said this stretch of events is always impactful.
"These two events are probably two of the better events that the Patriots get to put together, and for us as players to get the opportunity to participate and be a part of it is huge," he said. "I know someday when I'm no longer playing I'll miss these days."
For more pictures from the Children's Holiday Party, check out the gallery below.
FULL GALLERY
Patriots players Devin McCourty, Jabaal Sheard, Jonathan Jones, Geneo Grissom, Jordan Richards and Barkevious Mingo helped host the 23rd annual Children's Holiday Party on Tuesday, Dec. 13, at Gillette Stadium. Approximately 250 children in need from the Salvation Army and community centers throughout New England were in attendance for a night of food, games, presents and a surprise visit from Santa Claus.