Oppressive heat and humidity marked the sixth practice of Patriots Training Camp and the steamy conditions weren't the only recurring theme from the first week. The defense owned the day once again, as the offense continued to struggle in finding a consistent rhythm.
The team closed out their first full week of training camp with a two-hour practice that featured plenty of hurry-up work, group pass protection/pass rush drills and one-on-ones for receivers and defensive backs.
Dropped and tipped passes were far too prevalent for the offense, as rookie N'Keal Harry and second-year player Braxton Berrios led the way with uneven performances. While Maurice Harris continued to show consistency catching the ball, even he slipped and fell on a couple reps. It was just one of those days for the new-look receiving corps and the weather didn't help.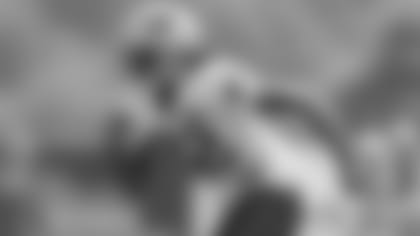 No one felt it more than rookie Martez Ivey, an undrafted rookie just signed Tuesday night and making his NFL training camp debut. Forced to take a penalty lap, Ivey slowly rounded the field and was met at the sideline by a trainer with a wet towel to help cool him down.
Left tackle Dan Skipper, a 6'10" fixture at the position for the last few practices, made no excuses.
 "I'm not a weatherman. Every day is hard, it's the NFL. There's 90 guys out here, it doesn't matter what the conditions are. You gotta treat every day like its 54 degrees, breezy and perfect. Weather doesn't matter. Conditions don't matter. It's about going out playing every day and getting better."
Ben Watson, returning to the team for the first time since the 2009 season after spending time with Cleveland, Baltimore and New Orleans, reminded everyone the heat is an issue for all NFL teams right now.
"It's tough but it's what everybody is dealing with. If it's this hot up here in Boston, you know it's hot everywhere else. It's what training camp is, wherever you are, whatever part of the country you're in, you have different weather challenges day to day and that's just part of the game. I think the bigger picture is that no matter what the conditions are we still have a job to do. The thing is you see how hot it is now, when you get in there and turn on the film sitting in the air conditioning nobody cares how hot it was outside or how cold it was outside, it's did you do your job or didn't do your job."
Watson expected the film from today's session would not be kind, especially to the offense.
Tom Brady, a week into his 20th training camp, showed his frustration at times on the field, but was upbeat about the process after the session while speaking with the media, acknowledging that conditions, hot or cold, are just part of football.
"This is part of the challenge, whether it's like this late July or August, or freezing cold in December, January, February, you just gotta figure out how to deal with it. The elements are a factor, we're not basketball players, we're not hockey players, we deal with the elements. You just gotta figure out how to deal with those elements the best you can."
With the heat expected to break, the team will get a bit of reprieve on Thursday, with practice open to the public and scheduled to start at 9:15am.