Indianapolis, IN - If the Patriots are looking to beef up their defensive front this season they might look to tap a local product, Dorchester native and Brighton High School's own Jerrod Clark, who is here in Indy taking part in the 2023 Scouting Combine.
Predictably, the Patriots of the early-2000's significantly impacted Clark growing up.
"Wilfork, Gronkowski, Edelman, of course, Tom Brady, LeGarrette Blount, Sony Michel, just growing up watching those guys," said Clark recalling his favorite Patriots growing up. "The 2004 Super Bowl was the earliest I could remember and from then on I started paying more attention to football as I got older.
"Definitely seeing them play on Sundays and win championships was what motivated me to play football early on, but early on I just wanted to have fun."
Clark hopes to follow in the path of fellow Boston native and Coastal Carolina alumni Isaiah Likely, who was drafted in the fourth round last year by the Ravens and went on to a successful first season, grabbing 36 catches for 373 yards and three touchdowns.
Clark and Likely first met while matching up in basketball while both were still in high school before reconnecting when they arrived in South Carolina. The duo still keeps in close contact, with Likely providing some advice for Clark as he embarks on his own draft process.
"Just to soak it in and try not to get too overwhelmed and take one thing at a time," said Clark of the advice that Likely provided. "Just focus on what you have in front of you."
Clark also credited his high school coach for helping him to the verge of an NFL career.
"Our head football coach Randolf Abraham, he was also one of the deans at the school, I had to see him all the time, see him in the school building, see him at practice. There was literally no escaping him," recalled Clark. "I got to build a relationship with him on a personal level, not just football just talking about life, talking about what he sees him in a student, but also as a young man. Just having that type of impact where you can have a relationship with your coach and it's not strictly what you could do for them."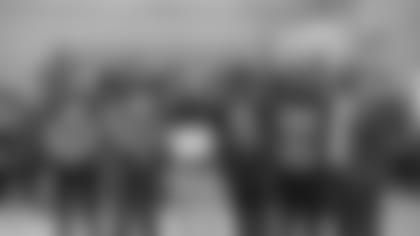 At 6-foot-3, 342 pounds, the stout defender certainly fits the mold upfront that the Patriots like, while his 82-inch wing span should draw attention when the prospects are officially measured here in Indy in the coming days. That kind of size and length enables Clark to occupy the middle of the line, freeing up those around him to make plays. But despite that size, he still has enough quickness off the ball that he should not be limited by scheme.
After a productive week at the Senior Bowl, Clark's stock is trending up.
"I see myself doing whatever the team needs me to do," said Clark of what he thinks teams might ask him to do at the next level. "I don't have a preference for either one. If a team wants me to two-gap I'll two gap 100 times out of 100."
DISCLAIMER: The views and thoughts expressed in this article are those of the writer and don't necessarily reflect those of the organization. Read Full Disclaimer