HOUSTON -Listen up, New England Patriots offense. The quarterback for the only team to beat the Atlanta Falcons by more than one score this season has some scouting report insight to share as Super Bowl LI looms: You best be on your mark and ready to run on Sunday.
"They're really solid defensively and they definitely have speed in their favor,'' Eagles rookie Carson Wentz told me Thursday morning, while making the media rounds here on behalf of Gatorade. "They don't do a ton as far as complexity, but what they do, they do it well, and they do it fast. They're just sound.
"We beat them at home in Week 10, but they turned it around after that game. Ever since we played them, they've been getting better and better, and all those first and second-year guys they play have been improving later in the year. Obviously it shows with how far they've come. I totally expect it to be a close, late-decided game with these two teams. I hope it is, because that's good for football.''
Since Philadelphia handled the visiting Falcons 24-15 in Week 10, Atlanta has gone 7-1, losing only a quirky one-point game at home to Kansas City in Week 13 that was decided by Chiefs safety Eric Berry's interception and scoring return of Atlanta's late two-point conversion try. The Eagles were the last team to truly limit the Falcons top-ranked scoring offense, holding Atlanta to three field goals and 18.6 points fewer than its season scoring average. (Philadelphia also pulled a rather memorable upset win at New England in 2015).
Wentz seemed to be enjoying his first taste of Super Bowl week, making appearances on both the Dan Patrick Show and the NFL Network around our conversation. But he already knows what every visiting quarterback quickly realizes about making this particular kind of promotional trip.
"I want to be playing in this game the next time I'm at the Super Bowl,'' Wentz said. "No question about it. Even watching the playoffs the last couple weeks, it's been kind of frustrating. I'm at home on the couch, but I want to be playing in the playoffs. So it's making me hungrier. I realize where we were this year, and we were right there (at 7-9). Every one of our games we were right there and had a chance. Shoot, maybe four plays go differently this year for us and we're in the playoffs. Maybe not even that many. But I don't ever not want to be playing in January again.''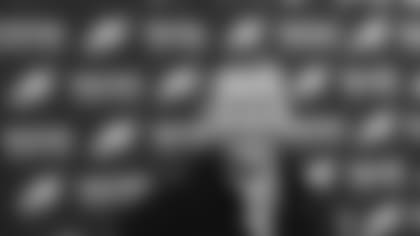 Falcons quarterback Matt Ryan grew up in the Philadelphia area, and Patriots quarterback Tom Brady remains the nemesis who helped New England beat the beloved Eagles in the Super Bowl 12 years ago. Does Ryan get the nod from Wentz as the NFC quarterback in this Super matchup?
"I'm not rooting for anybody honestly,'' he said. "But I think it'll be a really great team, because you've got two quarterbacks who are fun to watch. Tom Brady is one of the best to ever play the game, and doing that at his age and at the level he is, it's pretty impressive. And then Matt Ryan has been doing it a for a long time and it's good to see him finally get his chance in the Super Bowl. They both had unbelievable years and it's hard to argue with those guys being the two best quarterbacks in the NFL this season.''
Wentz had a whirlwind of a rookie season after Philadelphia traded up to No. 2 with Cleveland to draft him out of North Dakota State. He jumped from the third string to starter on the Eagles quarterback depth when Philadelphia surprisingly traded Sam Bradford to Minnesota eight days before the regular season opened, and he then got off to a torrid start as the Eagles began 3-0 and became the story of September in the NFL.
But the good times didn't last. Philly dropped nine of its next 11 games, Wentz struggled to produce thanks to a porous Eagles offensive line and and underwhelming receiving corps, and Wentz and Co. wound up in last place in the stacked NFC East, with Cowboys rookie quarterback Dak Prescott setting the pace for the 2016 passer draft class. Wentz threw 11 interceptions in his final 10 games, totaling 3,782 yards, to go with 16 touchdowns, 14 picks and a 79.3 passer rating.
With an eye on improving some of his mechanics that got sloppier as the season wore on, Wentz will soon head to Southern California to train with passing coach Adam Dedeaux, who along with fellow passing coach Tom House has worked with both Brady and Ryan in the past. Wentz is trying to strengthen his footwork and minimize a slight hitch in his delivery that surfaced in the latter stages of the season.
"I don't think it's anything too specific, it's just refining everything,'' Wentz said. "It's a long season and things mechanically aren't always as perfect as you want them to be. So it's really tightening up a few things, because the way I throw the ball is the way I throw the ball. But there are things you can do to make it more efficient, make it more effective and that's kind of what I'm interested in doing.''
The Eagles are taking every precaution with the franchise quarterback they gave up plenty to acquire, sending strong signals of what they think of Wentz' potential when Philadelphia VP of football operations Howie Roseman made it clear he hopes to consult with his quarterback in regards to offseason moves on offense, and taking the unusual step of blocking the Jets from interviewing Eagles quarterback coach John DeFilippo for their vacant offensive coordinator job.
"With the front office making those decisions, I have zero complaints,'' Wentz said. "It just gives me confidence and trust in the organization and it shows belief in me as well. It shows me they really trust me a lot and I really appreciate that. I'm very fortunate. To an extent, for sure I'd like to be involved (in personnel situations). I believe this organization is a special place and I truly believe we're headed in the right direction.''
Wentz, 24, has spent his offseason so far following the eye-popping exploits of Philadelphia 76ers emerging star Joel Embiid ("It's kind of crazy how he's taking off, and the energy of the city is really raised by his success''), passing out some of the eight puppies his golden retriever, Henley, had in November ("I gave them all to friends and family, except one. His name is Jersey, he's about 10 weeks old and I already miss the little fella''), and helping promote Gatorade's new Gx bottles and platform ("You can personalize everything and even put your favorite team on there'').
He won't attend the Super Bowl, but the visit to Houston has made an impression he hopes to use to his benefit in the future. Namely getting back here, in uniform next time.
"The past few weeks since the season ended I've had a chance to really reflect and catch my breath and realize where I've come from in the last year, and I'm very thankful for the blessings I have,'' Wentz said. "But it is pretty wild. It was a whirlwind of a year, no question. 
"This year we were out of the playoffs, and our fans still packed the stadium. They were still into it. They really care, and they're going to be there. Yes, they can be critical and harsh, but I embrace that. When we're winning there, there's going to be nothing like it.''