During the 2020 season, Kevin Harris was among the most productive running backs in the SEC. He led the conference in yards per game (113.8) and was a second team All-SEC selection while piling up 1,138 yards and 15 touchdowns for South Carolina.
A year later things weren't as smooth. Harris suffered a back injury that required offseason surgery and his junior year didn't go quite as well. His average per carry dropped from 6.2 to 4.3, and he finished with just 660 yards in his final year with the Gamecocks.
But running backs coach Montario Hardesty cautions not to read too much into the drop in production. Hardesty knows the 2020 version of Harris still exists, and he explained why he feels so strongly about it.
"Early in the season he wasn't quite ready physically for the contact," Hardesty explained. "But once he got his legs back under him, coming out of the bye he looked like the exact same guy from sophomore year. He was inviting contact, breaking tackles and his production was right back where it was. That really showed in the bowl game and he busted out. It was the first time all season we were able to get him 20 carries and he went for [182] yards. The last few games coming out of bye week, that's the first time he looked like the Kev I'd seen."
The Patriots certainly hope that's the version of Harris they see as well. Bill Belichick called his name in the sixth round with the 183rd overall selection, knowing the bulk of the ball carrying duties figure to be in good hands with Damien Harris and Rhamondre Stevenson. But Damien Harris is entering the final year of his rookie deal, so if Kevin Harris emerges as something closer to his sophomore form it's possible he can join Stevenson as part of the committee down the road.
At 5-10 and 225 pounds, Harris is a power back with the ability to break tackles inside. While he is not considered to be a speed burner – he ran a 4.62 40 at his Pro Day – Harris did provide some big plays during his career with touchdown runs of 75 and 88 yards to his credit.
"First, he's a complete tailback," Hardesty said. "He's a power back but he's a scheme fit because he can play in multiple schemes and run the ball in multiple ways. We ran duo, we ran counter, we ran stretch, we ran inside zone we ran power ... three of those are the top systems that are run in the NFL. He played on third down, he's really good in pass protection, he has adequate hands out of the backfield as well. He gets stronger and stronger the more he gets the ball. And he's young and has room to grow."
Harris spent just three seasons at South Carolina, so he won't turn 22 until November. He also wasn't a college workhorse and finished with 358 career carries, a number that indicates he has plenty of gas left in the tank – unlike some of his contemporaries who enter the league with much more wear on the tires.
Hardesty also explained how Harris was a willing participant on special teams, which would likely be his best way to earn a roster spot as a rookie. Harris was part of the punt and punt return units last season while also spending time on kickoff and kick return earlier in his career.
"His overall game is improving. He's a natural runner and has instincts. He's always falling forward," Hardesty said. "If he continues to improve his third down duties that will continue to enhance his game. Overall there's a lot of room for growth because he hasn't taken a lot of carries. I always tell my guys if you're not a first-team player you have to be able to contribute on special teams and he can do that."
Assuming Harris' injury woes are behind him, he should get the opportunity to provide some depth in the backfield immediately. If he shows the potential to contribute, perhaps that might change the timetable slightly, much as it did last summer when Stevenson's quick development paved the way for Belichick to send Sony Michel to Los Angeles via a training camp trade.
A repeat with Damien Harris would be highly unlikely, but things can change quickly at a position where injuries and durability can be major factors.
Hardesty, a running back himself who spent two seasons with the Browns after a solid career in the SEC at Tennessee, thinks it won't be long before his pupil makes his mark.
"The Patriots got a great diamond in the rough," he said. "The way he carries himself off the field, being in the league is not going to be a shock for him. He's been planning to be there and he's ready. I tell him all the time that he's a starting NFL running back. I said whoever gets you is getting a steal, and I truly believe that."
Patriots Draft Pick Profile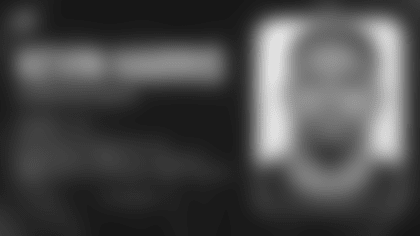 Strengths: Power back with ability to move the pile between the tackles ... Looks to create contact and breaks a lot of tackles ... Excellent ball security with just one career fumble in 393 touches ... Finishes his runs effectively ... Reads blocks and cuts to daylight ... Runs with authority while also possessing the ability to make a man miss ... Potential to be an effective short-yardage back.
Weaknesses: Limited to a between-the-tackles option as a runner ... Limited in the passing game both in terms of catching the ball and running routes ... Offseason back surgery between the 2020 and 2021 seasons ... Does not cut at full speed and too often slows to a near stop when changing directions ... Wasn't given many opportunities in pass protection and struggled when in the role.
Personal: Prepped at Bradwell Institute in Hinesville, Georgia ... Racked up 1,696 all-purpose yards and 24 touchdowns in 2018 ... Finished career with 4,100 yards ... Twitter handle@Kevoharris1 ... Led the SEC in rushing in 2020 earning All-SEC honors ... Majored in mechanical engineering and earned a spot on the SEC first year academic honor roll in 2019 ... Won the Blanchard-Rogers Award in 2020, given to the outstanding college player with South Carolina ties.
Comparable NFL player: Carlos Hyde, Jacksonville (currently a free agent) – Serviceable No. 2 back known more for his power than finesse.
Table inside Article

| YEAR | GP | GS | ATT. | YARDS | AVG. | TD | LONG | REC. | YARDS | AVG. | TD | LONG |
| --- | --- | --- | --- | --- | --- | --- | --- | --- | --- | --- | --- | --- |
| 2019 | 6 | 0 | 21 | 179 | 8.5 | 4 | 75 | 3 | 26 | 8.7 | 0 | 11 |
| 2020 | 10 | 10 | 185 | 1,138 | 6.2 | 15 | 88 | 21 | 159 | 7.6 | 1 | 17 |
| 2021 | 12 | 6 | 152 | 660 | 4.3 | 4 | 39 | 11 | 89 | 8.1 | 0 | 30 |
| TOTALS | 28 | 16 | 358 | 1,798 | 5.0 | 23 | 88 | 35 | 274 | 7.8 | 1 | 30 |
Table inside Article

| PLAYER WORKOUT NUMBERS | COMBINE AVG. FOR POS. |
| --- | --- |
| Height: 5-11 | 5-11 |
| Weight: 225 | 213 |
| 40 yards: 4.62* | 4.49 |
| Bench (225): 21 | 21.8 |
| Vertical jump: 38.5 | 33 |
| Long jump: 10-6 | 10-1 |
| Shuttle: 4.26* | NA |
| Cone: 7.39* | NA |
*-Times from Harris' Pro Day as he skipped the running portion of the Combine due to a sore hamstring.
NA-RBs did not participate in drills at Combine
"Had his best game of the year (182 yards rushing, 1 TD) against North Carolina in the Duke's Mayo Bowl, and he has the talent to quickly develop into a No. 2 based on his 2020 tape. Harris is an instinctive inside runner with good burst for his size." – ESPN.com's Steve Muench