Mere moments after the Patriots selected Tyquan Thornton in the 2022 NFL Draft, the wide receiver asserted to New England-area media, "I'm very coachable." So, we asked his most recent position coach at Baylor University how true this statement is.
"He was my smartest guy," maintains Chansi Stuckey, who now coaches Notre Dame's wide receivers. "He picked up our new offense last year and dominated it. We were able to move him around and do some stuff.
"Ty rarely has M.A.s (missed assignments). When I tell him something in the meeting room, he takes it right outside and does it. I try to teach him how to understand the whole play, not just his role in it."
Stuckey, a former Clemson quarterback and NFL wide receiver, spent just one season as Baylor's wide receiver coach in 2021 – a year that he nearly had to spend without Thornton. Following a junior year that was truncated by the pandemic, Thornton considered turning pro early, but Stuckey quickly earned his trust and convinced the young man that it would benefit him in the long run to stay in college till the end.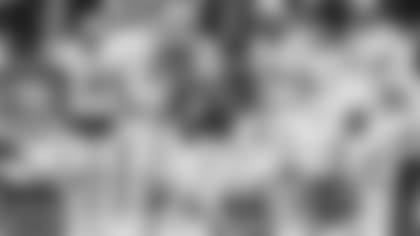 "Getting him to come back … I'd say he's my first five-star recruit," Stuckey laughs. He goes on to explain that he didn't sweettalk Thornton, but took an authentic, tough-love approach to persuade his gifted receiver. Essentially, Stuckey leveled with Thornton, telling him that he wasn't yet ready for the next level, but that with Stuckey's tutelage, he'd eventually get there. The self-proclaimed "coachable" pass catcher heeded his coach's advice and committed himself to becoming the best prospect he could be.
"[Athletes] have heard so many people give them empty promises for so long," Stuckey continues. "If you tell them one thing and your actions back it up, that means something. They hear the recruiting and people telling them what they want to hear, but if you're brutally honest in a loving way, it makes a big difference to them. That's what it was with Ty. It wasn't in a degrading or demeaning way. It's in a loving way. 'I'm telling you so you can be better, because I want you to be successful. I don't want anything out of it. I just want you to do well.'"
This all occurred during the 2021 offseason. Once they got on the practice field, Thornton opened Stuckey's eyes to just how talented he could be.
"I knew he was special because he wasn't just a fast kid. I think he has good lateral quickness. And he accelerates to his full speed so fast. The only other guy I saw do that was C.J. Spiller when we played together [at Clemson]. He'd make a move and he'd be at full speed quickly. And Ty had that.
"Being a fast guy, Ty can really sink his hips," adds Stuckey, "which I thought was really unique. He was a fast guy that could stop. Most guys just run and run. No, he can run and control it, sit his hips down, and get out of a break. That's one of the things I noticed immediately from him."
Thornton's lean physique doesn't allow him to fill out his uniform, Stuckey readily acknowledges, but the coach points out that a number of young NFL receivers – Jalen Waddle, DeVonta Smith, Hollywood Brown, for instance – have put up impressive numbers in the league despite being relatively lighter for their position.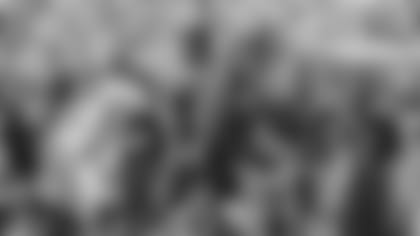 He also cautions those who'll see Thornton in a New England uniform for the first time that the player's well-documented speed might not be so obvious at first. "When you watch him, it's going to be smooth," Stuckey says. "He doesn't look like he's straining, he just gains ground on you like a thoroughbred. He sticks his foot in the ground and separates."
Yet, the coach also admits that a player can only perform fast on the field if he learns his playbook just as quickly. Here, too, Stuckey feels Thornton can reverse the recent trend of drafted Patriots receivers who've struggled to catch on immediately. "I know it's out there that the Patriots keep missing on [wide receivers]," Stuckey concludes, "and I believe Ty's going to change that. I really believe he is.
"No one can really play fast if they don't know what to do. But as long as he can pick it up fast and play fast, then he'll be doing what he's supposed to do. And just continue to develop. He has so much more to give and do. He's very young in his career. If he continues to develop, picking up the nuances, he can develop into something really special."
Patriots Draft Pick Profile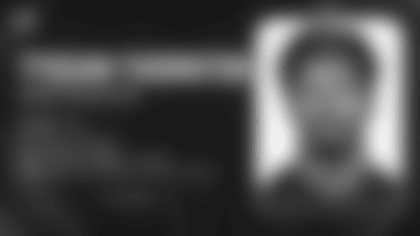 Strengths: World-class speed; sure-handed, even when being hit; impressive footwork at this stage in his career; decent run-blocker.
Weaknesses: Slighter-than-normal frame for his height; yards-after-catch productivity could improve; struggles to break tackles; doesn't contribute much on special teams.
Personal: Was offered a full scholarship to run track at LSU before choosing football and enrolling early at Baylor, where he majored in communications.
Comparable NFL player: DeVonta Smith, Philadelphia Eagles – Similarly tall, thin, and speedy young receiver.
Table inside Article

| YEAT | GP | GS | REC. | YDS. | AVG. | TD | HONORS |
| --- | --- | --- | --- | --- | --- | --- | --- |
| 2018 | 13 | 2 | 20 | 354 | 17.7 | 3 | |
| 2019 | 14 | 11 | 45 | 782 | 17.4 | 5 | Honorable Mention, All-Big 12 |
| 2020 | 6 | 6 | 16 | 158 | 9.9 | 1 | |
| 2021 | 14 | 14 | 62 | 948 | 15.3 | 10 | 2nd Team, All-Big 12 |
Table inside Article

| PLAYER NUMBERS | COMBINE AVG. FOR POS. |
| --- | --- |
| Height: 6-2 | 6-0 |
| Weight: 180 | 195 |
| 40 yards: 4.28 | 4.44 |
| Bench (225): -- | --* |
| Vertical jump: 36.5 | 35.5 |
| Long jump: 10'10 | 10'4" |
| Shuttle: 4.39 | 4.25 |
| Cone: 7.25 | 7.07 |
* Top-rated wide receivers elected not to participate in bench press at 2022 Combine
What they're saying …
"He's obviously a downfield speed guy, but he's gotten a lot better over the course of his career at winning as a route-runner without necessarily using that speed. He can win vertically, but he can also set up in the slant game, dig routes, comebacks. His development there is what made him a really impressive receiver, along with being much better and really effective in the red zone." ~ East-West Shrine Bowl director of operations and player personnel Eric Galko, as told to NESN.com