The NFL announced the preseason schedule on Thursday and at first glance it would appear that the Patriots recent preference for traveling for joint practices may be tough to continue.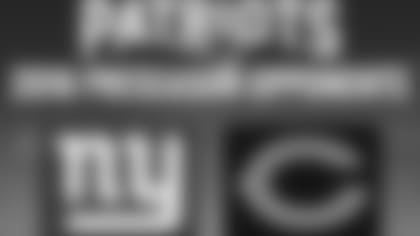 The league revealed just the opponents for each week but the specific dates and times are yet to be determined. For New England the first two games will take place at home at Gillette Stadium while the final two will be on the road. The Patriots open with New Orleans (Aug. 11-15) and follow that with a visit from Chicago (Aug. 18-22). They then hit the road for a repeat trip to NFC-champion Carolina (Aug. 25-28) for the second straight year and the annual exhibition finale (this marks the 12th straight season the teams will close the preseason against one another) will be on the road against the Giants (Sept. 1-2).
With the first trip not taking place until Week 3, it would seem that would be later than the Patriots would prefer to travel for joint work with Cam Newton and the Panthers. Generally by the time the preseason hits that stage teams are wrapping up camp and preparing for the start of the season rather than using the time for joint practices.
It's possible the Patriots would welcome the Saints and/or the Bears to Foxborough during the first two weeks. New England traveled to White Sulphur Springs, W.Va., last summer to practice with the Saints prior to the teams' exhibition meeting in New Orleans. Each side expressed satisfaction with last year's work and it would make sense if Sean Payton and Bill Belichick wanted to continue the arrangement in 2016.
One possibility might be for the Patriots to travel to West Virginia once again since either way both sides would need to travel for the game regardless. Belichick raved about the facilities at the Greenbrier so perhaps such an arrangement could work once again if the Saints would rather not leave their temporary home during camp.
It's also possible that the Bears, the only newcomer to the summer schedule, would make a suitable partner since the teams have gotten together for several trades over the years – most recently last month when the Patriots acquired tight end Martellus Bennett from Chicago – so it certainly appears the clubs enjoy a connection.
It will be interesting to see how Belichick chooses to use his camp time during a preseason slate that features some familiar foes.