When former Patriot Ryan Wendell retired from the game of football, he struggled to run a mile. As an offensive lineman, running for distance was never a necessity of the job. 
Technically, running long distances isn't a necessity now either, but Ryan can't resist a good challenge. 
Though, before recently, the last time he ran a full mile was back in college, Ryan is putting himself up to the ultimate physical and mental battle: the Boston Marathon. Ryan will take off with thousands of runners on Patriots Day, and he'll be doing it to raise money for the Joe Andruzzi Foundation. Between supporting Joe's mission of helping those battling cancer and doubt from Patriots Strength and Conditioning Coach Moses Cabrera, who said there was no way Ryan could finish 26.2, Ryan found the motivation to dive into training. 
But that doesn't mean it's been easy.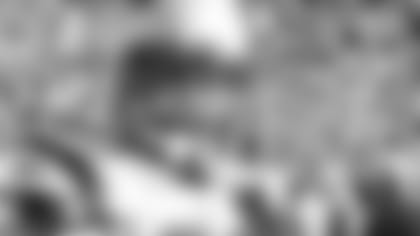 "Oh, it's brutal. It's terrible," he said. "Running, I don't know why people do this for fun. I'm doing this to support Joe's foundation and because Moses, who's a good friend of mine, said I couldn't do it. There's a bit of a pride factor going into it too."
When he first started his training plan, Ryan was 300 pounds and struggling to get into the rhythm of running. Now, he's 40 pounds lighter and, at the time of this interview, preparing for his longest run yet: a 15-miler. 
"It's a completely different kind of pacing than playing pro football. For me, learning the science behind it and how to train and pace, while at the same time losing weight, is what's been crazy," Ryan said. "The first time I had to run three miles, it killed me, but now, that's just a warm up. That's just getting the legs loose. It does feel good when you get to that point where you can accomplish something easier."
Through the short and long runs, no matter how trying training can be, Ryan knows carrying the Joe Andruzzi Foundation name with him will provide even more motivation.
"I got to know [Joe and Jen Andruzzi] a little over the years while I was in New England, and I would try to do a little bit that I could to support the organization but I never really had the time to dive in and really support them as much as I could," Ryan said. "I told Joe that I wanted to run for his marathon team so maybe there is a little bit of added publicity or donors because a former player is doing it. I thought that would be good. I love Joe and Jen, and I love the work that they do and the ability to support the team is awesome."
His former teammates have paid it forward, as well, supporting Ryan as he supports Joe. David Andrews tweeted out a link to Ryan's fundraising page. Stephen Gostkowski, and even Moses Cabrera, made a donation to the cause. And though Joe thinks Ryan "is an idiot" for running the Boston Marathon, he's had nothing but support from his Patriots family.
"The men I played with in New England are so passionate about using their platform to do good work, but the work is so demanding that it is very difficult for the guys to get out and do some stuff," Ryan said. "What they can do is lend their name, like David throwing a tweet out there and throwing some money out there. I am overwhelmed with how generous the guys have that I've reached out to have been. The second that you mention it's for Joe and his charity, the guys don't even question it."
https://twitter.com/dandrews61/status/974331396151037962
With members of the organization cheering him on along the way, Ryan said he's excited for race day and to finally put those 26.2 miles behind him. Though, because of the Patriots practice schedule, he was never able to attend the Boston Marathon as a spectator, he's ready to be a part of one of the city's biggest days.
"I've driven around the course before, you know right before and after the race and seen it on TV," Ryan said. "I'm just excited to get a chance to be back in New England and run through the communities that supported me there as a player with the Patriots and get a chance for them to see me waddle around Boston for a little while."
Ryan isn't the only Patriots presence on race day either. Every year, the Patriots Foundation hosts a team of runners, and on April 5, the team will host a fundraising event that's open to the public at Gillette Stadium. Check out the event page for more information.