NEW ENGLAND PATRIOTS (3-0) at BUFFALO BILLS (3-0)
Sunday, September 29, 2019 at 1 PM ET. New Era Field (71,870)
The New England Patriots will square off against a division opponent for the third straight week when they travel to play the 3-0 Buffalo Bills. Last season, the Patriots earned their 26th series sweep over Buffalo.
The Patriots are the first team in NFL history to not allow a passing or rushing touchdown in each of their first three games of the season. Additionally, the Patriots are the first team in the Super Bowl era to hold opponents scoreless in the first half of five consecutive games, including the postseason.
New England and Buffalo will meet for the first of two matchups in 2019. After this week's game, the Patriots will host Buffalo in a late De-cember game at Gillette Stadium. 
This will be the 119th meeting between the two teams. The Patriots en-ter this week with a streak of five straight victories against Buffalo, includ-ing series sweeps in 2017 and 2018. The Patriots beat Buffalo, 25-6, in a Monday Night game at Buffalo, followed by a 24-12 victory in the second meeting of the season in 2018. It marked the 26th series sweep and the 14th series sweep since Bill Belichick became head coach in 2000. 
New England holds a 74-43-1 edge in the series and have won 33 of the last 38 games between the clubs, dating back to 2000. 
The series between the AFC East rivals began in 1960. The Patriots 74 wins over the Bills are their highest victory total over any opponent, eight higher than their own total over the New York Jets.
After seven straight series sweeps and 15 consecutive Patriots wins from 2003-10, Buffalo ended the streak with a 34-31 victory at Ralph Wil-son Stadium in the first meeting between the teams in 2011. The 15-game win streak is tied for the fourth-longest winning streak over a single op-ponent in NFL history. The Patriots avenged that loss in the 2011 regu-lar-season finale by overcoming a 21-0 first-quarter deficit and scoring 49 unanswered points en route to a 49-21 victory.
The teams have had many memorable matchups over the years, in-cluding a span from 1999 to 2001 where four-of-five contests were de-cided in overtime. 
The Patriots first-ever playoff game was a 26-8 win over the Bills at Buffalo on Dec. 28, 1963.
Record in Foxborough, 32-16
Foxboro Stadium, 17-14
Gillette Stadium, 15-2
Record in Boston, 6-5
War Memorial Stadium, 7-6-1
Ralph Wilson/Rich Stadium/New Era, 29-16
Largest Margin of Victory: 46 points (2007)
Largest Margin of Defeat: 35 points (1970)
Longest Win Streak: 15 games (2003-2010)
Bill Belichick vs. Buffalo: 33-7 (33-5 with NE)
Sean McDermott vs. New England: 0-4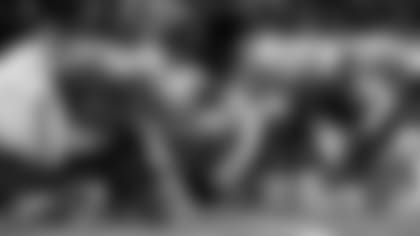 When the Patriots run - Edge: Bills
The Bills have been fairly average defending the run in the early going, allowing 4.4 yards per carry despite surrendering only 88 yards per game on the ground. But given the way the Patriots have run thus far, it's hard to expect much success on the road Sunday. Sony Michel is struggling with just 108 yards on 45 attempts for a paltry average of 2.4 yards per carry in three games. The patchwork offensive line hasn't helped, nor has James Develin's neck injury, but as a team New England has managed only 3.2 yards per carry on 91 attempts. The Bills rotate players up front with Harrison Phillips and Star Lotulelei inside next to rookie defensive tackle Ed Oliver, although that will change with Phillips going down with a torn ACL. Linebackers Matt Milano and Tremaine Edmunds also do a good job of filling holes, and they won't make life easy on Michel and Rex Burkhead on Sunday.
When the Patriots pass - Edge: Patriots
Despite the lack of support from the running game, Tom Brady has been able to effectively spread the ball around and move the ball through the air. And despite its struggles opening holes, the offensive line has done a respectable job of protecting Brady as well. That has added up to fast starts offensively in all three games, particularly Sunday against the Jets when New England scored touchdowns on each of its first three possessions. Brady may find life tougher in Buffalo than normal, however, as the Bills have a stingy secondary and he may be without Julian Edelman. Edelman was having a big game against New York before having to leave with a rib injury in the first half. The offense wasn't the same without him, and his absence would put extra attention on Josh Gordon and Phillip Dorsett. The Bills safety tandem of Micah Hyde and Jordan Poyer is strong, as is Tre'Dvious White, who is one of the best young corners in football. Opponents average just 211.7 yards per game through the air against Buffalo, although like New England the Bills have yet to be truly tested. That will come Sunday against Brady, even if Edelman isn't able to go.
When the Bills run - Edge: Patriots
Buffalo's ground game has improved dramatically with veteran Frank Gore providing a solid presence between the tackles. He's only averaging 3.7 yards per carry but has been effective near the goal line and in short yardage while rookie Devin Singletary (10 carries, 127 yards) has been excellent when healthy. Josh Allen also factors into the Bills ground game, both as a scrambler and on designed quarterback runs. As a team the Bills average 4.8 yards per carry and have five rushing touchdowns for the season. The Patriots have been dominant in every way defensively, though. Opponents average 2.3 yards per carry and have yet to find the end zone. The linebackers continue to confound opponents by the week, particularly Jamie Collins, who has been a standout in each game. The Bills offensive line has improved but like the Patriots it's banged up a bit with guard Jon Feliciano nursing a neck problem. The Patriots should be able to contain this group and continue their solid play.
When the Bills pass - Edge: Patriots
Allen has improved greatly as a passer, completing 64.1 percent of his passes after connecting on barely 52 percent as a rookie last year. He's also added some weapons to his disposal with John Brown (18 catches, 246 yards) and Cole Beasley (17 for 171) signing in the offseason. He's still prone to some killer mistakes, however, and his turnovers have really hurt in the early going. His pick changed the tenor of the game last week at home against Cincinnati and allowed the Bengals to take a lead late in the fourth quarter. To his credit, Allen shook it off and led an impressive late touchdown drive that allowed the Bills to notch their third win, setting up Sunday's battle of unbeatens. The Patriots secondary has an NFL-best six picks already with Devin McCourty leading the way with three. As solid as the coverage has been, perhaps even more impressive is the tackling, which consistently keeps opponents to very little yards after the catch. The Bills want to keep Allen in manageable situations and have him make shorter throws, but the Patriots secondary will force him to beat them from the pocket and convert on third down. Not an easy task against a defense allowing just under 13 percent on third down.
Special Teams - Edge: Bills
Stephen Gostkowski's kicking adventures are becoming an issue. He's now missed on three of his 13 PAT attempts as well as a field goal. Stephen Hauschka's lone miss came on a 62-yard attempt to close the first half against the Bengals on Sunday. Rookie Jake Bailey was excellent against the Jets and has been slightly better than former Patriots training camp punter Corey Bojorquez for Buffalo. Andre Roberts is a dangerous return man on both kicks and punts, although he's working his way back from a quad injury that caused him to miss the first two games. Bill Belichick will likely keep the ball away from Roberts, as he did last year when he was with the Jets. The Bills allowed a 60-yard punt return earlier this season, which skews otherwise solid numbers for their coverage units. Rookie Gunner Olszewski will have to shake off Sunday's miscue that led to the Jets first touchdown as well.
Table inside Article

| 2019 REGULAR SEASON | NEW ENGLAND | BUFFALO |
| --- | --- | --- |
| Record | 3-0 | 3-0 |
| Divisional Standings | 1st (T) | 1st (T) |
| Total Yards Gained | 1225 | 1174 |
| Total Offense (Rank) | 408.3 (5t) | 391.3 (8) |
| Rush Offense | 97.0 (20) | 151.3 (5) |
| Pass Offense | 311.3 (2) | 240.0 (19) |
| Points Per Game | 35.3 (2) | 22.0 (17) |
| Total Yards Allowed | 597 | 899 |
| Total Defense (Rank) | 199.0 (1) | 299.7 (5) |
| Rush Defense | 36.7 (1) | 88.0 (8) |
| Pass Defense | 162.3 (1) | 211.7 (9) |
| Points Allowed/Game | 5.7 (1) | 15.7 (5t) |
| Possession Avg. | 34:46 | 32:30 |
| Sacks Allowed/Yards Lost | 4/23 | 5/30 |
| Sacks Made/Yards | 13/73 | 7/39 |
| Total Touchdowns Scored | 13 | 8 |
| Penalties Against/Yards | 20/179 | 23/175 |
| Punts/Avg. | 13/44.4 | 15/41.9 |
| Turnover Differential | +3 (4t) | +1 (9t) |
The Patriots have recorded 74 wins over the Bills, the most by the Patriots against any one opponent. The Jets are second with 66 wins.
The Buffalo Bills snapped a streak of 13 straight home wins by the Patriots, including 12 straight wins by the Patriots at Gillette Stadium with their 17-9 win in the 2014 regular-season finale on Dec.28, 2014.
Bill Belichick has a 90-30 (.750) all-time regular-season record against the AFC East as head coach of the Patriots.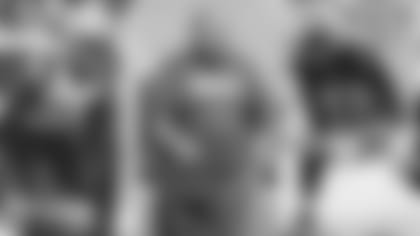 OC Brian Daboll - Defensive Assistant (2000-01), WR Coach (2002-06), TE Coach (2013-16).
Coaching Assistant Ryan Wendell - OL (2009-15)
T Conor McDermott - Drafted (sixth round, overall) in 2017 NFL Draft.
Buffalo P Corey Bojorquez - Signed (UDFA) 2017 preseason.
CB Stephon Gilmore - Drafted by the Bills (first round, 10th overall) 2012 NFL Draft.
OL Marshall Newhouse (2018).
Director of Skill Development Joe Kim was Assistant Strength Coach/Pass Rush Specialist for Bills
BRADY VS. BUFFALO
Tom Brady has led the Patriots to 30 regular-season victories over the Bills, his highest victory total over any opponent. Additionally, Brady has thrown more touchdown passes (69) against Buffalo than any other opponent. He has 65 touchdowns against the Dolphins and 54 against the Jets. Brady also has more 300-yard games (11) against Buffalo than any other NFL team. He has eight 300-yard games against Miami.
STREAKING SUCCESS
The Patriots won 15 straight games against the Buffalo Bills from 2003 through 2010, tied for the fourth-longest winning streak over a single opponent in NFL history.
The Patriots will improve to 4-0 for the ninth time in team history and the fifth time under Bill Belichick. The franchise has previously started 4-0 in 1964, 1974, 1997, 1999, 2004, 2007, 2013 and 2015.
The Patriots will earn their 75th win over the Bills, improving to 75- 43-1 all-time against Buffalo.
The Patriots will record their 26th undefeated month since 2000, the most in the NFL over that span. Indianapolis is second with 16 undefeated months. The Patriots will also improve to 45-22 (.672) in the month of September since 2000, with a chance to tie the Broncos (45) for the most September wins during that time.
The Patriots will extend their NFL record for the most regular-season wins in a decade (2010-present) to 117. The Patriots will also extend their record for the most total wins in a decade to 133 victories, including the playoffs (2010-present).
The Patriots will extend their streak to 19 straight seasons without being swept by a division opponent. Their current streak of 18 such seasons in the longest since the 1970 NFL merger.
The Patriots own an NFL-best record of 88-24 (.786) in regular-season divisional games since 2001 and can improve that mark with a win against the Bills.
Belichick will improve his all-time regular-season record against the AFC East as head coach of the Patriots to 91-30 (.752) and raise his mark against the Bills to 33-5 (.868).
... and score 40 or more points, Belichick will improve to 41-0 since 2000 when leading the Patriots to a 40-point outing.
Belichick will earn his 265th regular-season win, behind Don Shula (328) and George Halas (318). It will also mark his 296th all-time win (regular and postseason), which is third behind Shula (347) and Halas (324).
Brady will earn his 84th career regular-season victory against an AFC East opponent, improving his mark as a starter in division play to 84-20 (.808). By contrast, 27 of the other 31 quarterbacks that started in Week 3 have yet to win 84 regular-season games in their careers.
Brady will earn his 16th win in Buffalo, the fourth-most wins in Buffalo by any quarterback in New Era Field/Ralph Wilson Stadium history.
Brady will claim his 211th regular-season victory, second-most in NFL history.
Brady will earn his 31st regular-season victory against the Bills, improving his record as a starter to 31-3 (.912). His 30 wins over Buffalo are the most ever by a quarterback against a single team in NFL history. He is also the only quarterback in NFL history to have more than 20 wins against three different teams.
Brady will earn his 241st career victory (including postseason, extending his NFL record. Peyton Manning is second with 200 career wins.
Brady will earn his 94th road victory in the regular season, extending his own NFL record. Peyton Manning is second with 85 road wins.
If the Patriots defense prevents the Bills from scoring a touchdown, they will become the first team in the NFL's modern era to start the season with four straight games without allowing a rushing or passing touchdown.
Through three games, the Patriots are averaging 35.3 points per game. They set the franchise mark in 2007 with 589 total points, an average of 36.8 points per game.
Through three games, the Patriots defense has scored four times as many points (12) as they've allowed (3).
If the Patriots score 30 or more points against the Bills, it will mark the third time since 2000 that the team has opened the season with four-straight 30-plus point games. They previously did it in 2007 and 2011. The franchise record for consecutive games with 30 or more points is 13, set from 2010-11.
The Patriots defense has delivered five consecutive first half shutouts, dating back to the 2018 AFC Championship Game vs. Kansas City. The Patriots are the first franchise to hold opponents scoreless in the first half of five consecutive games in the Super Bowl era.
Since the beginning of the 2017 season, the Patriots have limited opponents to eight or fewer fourth-quarter points in 31-of-35 games.
Since 2001, the Patriots are 93-13 (.877) when they don't turn the ball over and 87-2 (.978) with a positive turnover margin.
The Patriots will earn their 103rd win on the road since 2000, improving to 103-51 (.669) during that span. They will also improve to 126-76 (.624) on the road since 1994 when Robert Kraft purchased the team, which is the best regular-season road record in the NFL in that time.
The Patriots defense is allowing opponents to convert on 12.8 percent of third down plays in 2019, the league best. Against the Jets, they did not allow a single third-down conversion, a feat they've accomplished five times since 2000. No team has done it in backto- back weeks since 2000, and only five teams have managed a 0.0 third down percentage twice in the same season: Packers (2005), Eagles (2009), Giants (2010), Dolphins (2011) and Saints (2013).
The Patriots limited the Jets to 98 yards passing in Week 3. They have limited an opponent to less than 100 yards passing six times since 2000, included twice in 2004 against the Bills (81 yards) and Ravens (93 yards). The last time they did so in back-to-back weeks was in 1975.
TELEVISION: This week's game will be broadcast by CBS and can be seen locally on WBZ-TV Channel 4. Ian Eagle will handle play-by-play duties with Dan Fouts as the color analyst. Evan Washburn will work from the sidelines. The game will be produced by Mark Wolff and directed by Bob Fishman.
NATIONAL RADIO: Sunday's game will be broadcast to a national audience on Sports USA. Larry Kahn will call the game with Doug Plank in the booth and Troy West will provide sideline analysis.
LOCAL RADIO: 98.5 The Sports Hub is the flagship station for the Patriots Radio Network. A complete listing of the network's 38 stations can be found here. Play-by-play broadcaster Bob Socci will call the action along with former Patriots quarterback Scott Zolak, who will provide color analysis. The games are produced by Marc Cappello.