WEEK 6 · Sun 10/15 · 4:05 PM EDT
Patriots
New England Patriots
AT
Raiders
Las Vegas Raiders
The New England Patriots will travel to face the Las Vegas Raiders at Allegiant Stadium for the second straight season. Last season, the Patriots played at the Raiders in the preseason after a few days of joint practice sessions and then later in the season. The Raiders beat the Patriots, 30-24, on Dec. 18.
Bill Belichick has won at least one game in 50 different stadiums, including the postseason. The only two current stadiums where he hasn't recorded a win are Allegiant Stadium and U.S. Bank Stadium.
The Patriots and Raiders will meet in the regular season in Las Vegas for the second straight season. Last season, the Patriots traveled to the Raiders and lost, 30-24, on Dec. 18, 2022, in their first regular season visit to Allegiant Stadium. The teams held joint practice sessions in Las Vegas last summer prior to a preseason contest in the Patriots first visit to the stadium.
The Patriots hold an 18-15-1 lead in the regular season against the Raiders. The teams have met three times in the playoffs, producing a memorable, classic encounter on each occasion. In 1976, the Patriots beat the Raiders, 48-17, in the regular season before losing a playoff game in Oakland, 24-21. The Patriots advanced to their first AFC Championship Game in 1985 after beating the Raiders, 27-20, in Los Angeles. In 2001, the Patriots beat Oakland, 16-13, in overtime in the last game ever played in Foxboro Stadium, en route to winning Super Bowl XXXVI.
The series between the two charter members of the American Football League dates back to 1960, the inaugural season for each club.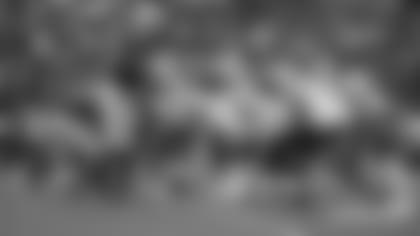 SCOUTING THE MATCHUPS
When the Patriots run - Edge: Patriots
This one is more of a leap of faith than any sort of analytical point of view. The Raiders have struggled to stop the run in the early going, and even though the Patriots running game has been awful at some point the talent of Rhamondre Stevenson and Ezekiel Elliott will shine through. Stevenson in particular has been stuck in neutral in all five games, averaging just 2.8 yards per carry on the season. Elliott (3.8) hasn't been much better, and the tandem has been victimized by some uneven play up front. The state of the offensive line doesn't figure to change dramatically overnight as Cole Strange (knee) sat out his second straight game and Mike Onwenu (ankle) left the Saints game early. Riley Reiff came off injured reserve and filled in at both guard spots, but the performance of the group remains a problem. However, the Raiders front seven hasn't been stout most of the season. Las Vegas allows almost 130 yards per game on the ground despite the presence of talented middle linebacker Divine Diablo. John Jenkins and Bilal Nichols were brought in to solidify the middle of the defensive line but so far that hasn't panned out. The Patriots have talked about the need to start over, and one way to do that effectively would be to make a more concerted effort to run the ball more effectively and that starts with Stevenson getting going in Vegas.
When the Patriots pass - Edge: Raiders
We were willing to show some faith in the offense but after the past three weeks it's hard to fully commit. Mac Jones and the passing game have been completely absent over those three games, scoring a total of 16 points against the Jets, Cowboys and Saints combined. Jones has been affected by the pass rush and has been off target frequently, especially early in games when his passes tend to sail high. The pressure has also led to some turnovers as Jones tossed another pair of picks against New Orleans to give him six on the season. Making matters worse, Demario Douglas and JuJu Smith-Schuster both left the Saints game with possible concussions and their status is uncertain this week. Douglas had been one of the lone bright spots in the passing game. Perhaps Tyquan Thornton can return to the practice field and be activated off injured reserve to add a weapon for Jones, but either way this is a passing game that is searching for answers. The Raiders secondary has been pretty solid despite a lack of star power on the back end. Veteran Marcus Peters has been subpar injuries to starters Jakorian Bennett and Nate Hobbs forced practice squad call-up Tyler Hall into the lineup against the Packers. He and Peters joined Amik Robertson, who came up with the game-clinching pick, and safeties Tre'von Moehrig and Marcus Epps in a secondary that came away with three picks. That group has limited opposing passing attacks to less than 200 yards per game. Given the Patriots struggles of late up front, the presence of Maxx Crosby (5 sacks) coming off the edge should be enough to keep Jones and New England in check.
When the Raiders run - Edge: Patriots
Josh Jacobs led the NFL in rushing a year ago, then decided to hold out after being slapped with the franchise tag. He eventually signed a new deal and returned, but the production he enjoyed in 2022 has been missing in the early going. Jacobs and the Raiders ground attack ranked dead last in the league entering their Monday night game with Green Bay, and despite some signs of improvement it remains 32nd. Like Stevenson, Jacobs' average rests under 3 yards per carry and the Raiders offense has been crippled by the lack of production. The Patriots struggled at times against New Orleans but limited the big plays and held the Saints to 3.2 yards per carry despite allowing 136 rushing yards. Josh McDaniels wants to get Jacobs going and he will make every effort to do so in Vegas on Sunday. Jacobs enjoyed a strong first half (70 yards) in the meeting last year before the Patriots made some adjustments after the break and limited him to 93 yards on 22 carries for the game. Given the struggles Vegas has had in the running game, the Patriots front should be able to keep Jacobs under wraps. Ja'Whaun Bentley has performed well on the inside despite the problems the defense has suffered through in recent weeks. Expect that to continue in Vegas.
When the Raiders pass - Edge: Raiders
Things haven't exactly been great for Jimmy Garoppolo and Raiders aerial attack either. Despite the presence of Davante Adams and Jakobi Meyers, Garoppolo struggled to put points on the board before missing the team's Week 4 loss at Los Angeles against the Chargers. Rookie Aidan O'Connell played that day and struggled with turnovers in a 24-17 loss. Garoppolo returned from his concussion for the Monday night encounter with the Packers and showed some signs of improvement. Adams is as dangerous as any receiver in the league, and Meyers has been outstanding since leaving New England for the desert. Hunter Renfrow has been quiet but seems to be taking on a bigger role lately, while tight ends Austin Hooper and rookie Michael Mayer are capable targets as well. Jacobs also can be effective as a receiver, so the pieces for a quality passing game are in place for the Raiders. The problem thus far has been turnovers, particularly interceptions. The Raiders entered Week 5 ranked dead last in interception percentage and it's been a problem in virtually every game. That said the injuries the Patriots are dealing with in the secondary have impacted the group greatly. Jonathan Jones returned after missing three games with an ankle injury, but rookie sensation Christian Gonzalez (torn labrum) and Marcus Jones (torn labrum) are out of for the season, and Jack Jones (hamstring) has yet to be activated off IR. J.C. Jackson returned last week via trade with the Chargers and filled in, but the group suffered through many breakdowns against a Saints offense that previously was struggling. With the Patriots health issues, it's not a stretch to see the Raiders enjoying success through the air.
Special Teams - Edge: Raiders
The Patriots put a lot of effort into improving their special teams from a year ago but so far that has not materialized. Rookie kicker Chad Ryland missed a field goal against New Orleans, his fourth in eight attempts. Punt returner Jabrill Peppers called for a fair catch on the 6-yard line with no Saints defenders in close proximity. Ty Montgomery chose to return a pair of kickoffs out of the end zone and failed to reach the 25 on either attempt. Joe Cardona had a pair of errant snaps on two early Bryce Baringer punts, leading to a pair of subpar efforts, one resulting in a 26-yarder. All of that took place in the Saints game alone, but those issues have been widespread throughout the young season. Aside from Brenden Schooler's blocked field goal against Miami, there haven't been many positives. Meanwhile, the Raiders boast one of the best kickers in football in Daniel Carlson, who has a big leg and been as consistent as anyone despite a pair of long-range misses Monday night. Punter A.J. Cole has a net average hovering near 50 yards, allowing the Raiders to enjoy strong field position. DeAndre Carter hasn't had many opportunities returning punts and kicks but has turned in big plays on both, taking a kick back 40 yards and a punt 16 yards. Overall the Raiders special teams have been rock solid for McDaniels and given the Patriots struggles in that department that could represent an edge for the home team.
Table inside Article

| 2023 REGULAR SEASON | NEW ENGLAND | LAS VEGAS |
| --- | --- | --- |
| Record | 1-4 | 2-3 |
| Divisional Standings | 4th | 3rd |
| Total Yards Gained | 1,437 | 1,406 |
| Total Offense (Rank) | 287.4 (26) | 281.2 (29) |
| Rush Offense | 83.8 (26) | 71.4 (32) |
| Pass Offense | 203.6 (18T) | 209.8 (17) |
| Points Per Game | 11.0 (32) | 15.8 (29T) |
| Total Touchdowns Scored | 6 | 9 |
| Total Yards Allowed | 1,492 | 1,633 |
| Total Defense (Rank) | 298.4 (8) | 326.6 (14) |
| Rush Defense | 108.0 (16) | 129.4 (23) |
| Pass Defense | 190.4 (6) | 197.2 (11) |
| Points Allowed/Game | 26.2 (25) | 22.8 (20T) |
| Possession Avg. | 27:12 | 28:38 |
| Sacks Allowed/Yards Lost | 10/69 | 15/106 |
| Sacks Made/Yards | 12/88 | 9/49 |
| Penalties Against/Yards | 29/218 | 32/295 |
| Punts/Avg. | 30/43.9 | 18/51.0 |
| Takeaway/Giveaway Ratio | -8 (31) | -7 (29T) |
RB Brandon Bolden (2012-17,19,21)
Off. Asst. Mike Judge (2005-06)
QB Jimmy Garoppolo (2014-16)
QB Brian Hoyer (2009-11,2017-18, 20-22)
T Justin Herron (2020-21)
Sr. Def. Analyst Rob Ryan (2000-03)
FB Jakob Johnson (2019-21)
Mick Lombardi (2011-12,2019-21)
WR Jakobi Meyers (2019-22)
GM Dave Ziegler (2013-21)
OL Coach Carmen Bricillo (2019-21)
HC Josh McDaniels (2001-08, 2012-21)
QB Coach Bo Hardegree (2021)
OL Trent Brown (2019-20)
TE Pharaoh Brown (2017)
Raekwon McMillan (2020)
WHAT TO LOOK FOR THIS WEEK
With a victory this week at Las Vegas, Bill Belichick will join Don Shula and George Halas as the only NFL coaches with 300 regular season wins. Belichick will become the third to coach in 500 total games this week at Las Vegas, joining Don Shula (526) and George Halas (506)
BILL BELICHICK WINS AT 50 STADIUMS
Bill Belichick has won at least one game in 50 different stadiums, including the postseason. The only two current stadiums where he hasn't recorded a win are Allegiant Stadium and U.S. Bank Stadium. Belichick will have a chance to bring that stadium total to 51 this week against the Raiders. Andy Reid is second among NFL coaches, winning games in 43 different stadiums.
24 CONSECUTIVE GAMES WITH A SACK
The Patriots have recorded a sack in each of the past 24 games. The Patriots extended their streak to 24 straight games with a sack with LB Ja'Whaun Bentley's 9-yard sack in the first quarter against New Orleans. The last game the Patriots did not record a sack was on Dec. 26, 2021 vs. Buffalo. The streak is tied with Carolina for third, behind Kansas City (25) and Baltimore (26). The Patriots record for most consecutive games with at least one sack is 36 (1976-78).
PATRIOT TO WATCH: JA'WHAUN BENTLEY
LB Ja'Whaun Bentley had his 11th career 10-plus tackle game after finishing with a team-leading 11 total tackles last week against New Orleans. Bentley had five 10-plus tackle games in 2022. He will look to have back-to-back 10-plus tackle games for the first time since he had three-straight 10-plus tackle games in 2022 with 10 tackles at Arizona on Dec. 12, 10 tackles at Las Vegas on Dec. 18 and 11 tackles vs. Cincinnati on Dec. 24. It would also be his second straight 10-plus tackle game against the Raiders.
CB J.C. Jackson leads the NFL with 26 interceptions since entering the NFL in 2018.
TELEVISION: This week's game will be broadcast by CBS and can be seen locally on WBZ-TV Channel 4. Jim Nantz will handle play-by-play duties with Tony Romo as the color analyst. Tracy Wolfson will report from the sidelines. The game will be produced by Jim Rikhoff and directed by Mike Arnold.
NATIONAL RADIO: This week's game will be broadcast to a national audience by Sports USA. Larry Kahn will call the game with Doug Plank providing analysis.
LOCAL RADIO: 98.5 The Sports Hub is the flagship station for the Patriots Radio Network. A complete listing of the network's 33 stations can be found here. The television broadcast will simulcast the game on the radio during the preseason.
DISCLAIMER: The views and thoughts expressed in this article are those of the writer and don't necessarily reflect those of the organization. Read Full Disclaimer