WEEK 16 · Mon 12/28 · 8:15 PM EST
AT
Patriots
New England Patriots
The New England Patriots host the Buffalo Bills this week on Monday Night Football and will try to avenge a 24-21 loss in the first meeting between the two teams in Buffalo on Nov. 1. The Patriots have gone 19 straight seasons without being swept by a division opponent, the longest streak in the NFL since the 1970 merger. The record was previously held by the Dallas Cowboys (1971-81) and Los Angeles Rams (1970-80), who were not swept by a division opponent for 11 consecutive seasons.
The Patriots will play on a Monday for the third time in 2020. New England played at Kansas City on Monday, Oct. 5, and traveled to face the Jets on Monday, Nov. 9. The Patriots previously played three Monday games in 1980, '97 and '98.
New England and Buffalo will meet for the second time in 2020. The Bills defeated the Patriots, 24-21, in their initial meeting of the season at Buffalo on Nov. 1.
This week's game marks the 122nd meeting between the two teams. New England holds a 76-44-1 edge in the series and have won 35 of the last 41 games between the clubs, dating back to 2000.
The Patriots are 39-21 all-time in home games against Buffalo, including 16-2 at Gillette Stadium.
New England meets Buffalo in a Monday Night game for the fifth time (1995, 2009, '15 and '18) and is 4-0 against Buffalo in Monday Night games.
The series between the AFC East rivals began in 1960. New England's 76 wins over the Bills are their highest victory total over any opponent, eight more than their next-highest win total, against the New York Jets (68).
After seven straight series sweeps and 15 consecutive Patriots wins from 2003-10, Buffalo ended the streak with a 34-31 victory in the first meeting between the teams in 2011. The 15-game win streak is tied for the fourth-longest winning streak over a single opponent in NFL history. The Patriots avenged that loss in the 2011 regular season finale by overcoming a 21-0 first-quarter deficit and scoring 49 unanswered points en route to a 49-21 victory.
The teams have had many memorable matchups over the years, including a span from 1999 to 2001 where four-of-five contests were decided in overtime.
The Patriots first-ever playoff game was a 26-8 win over the Buffalo on the road on Dec. 28, 1963.
Record in Foxborough: 33-16
Foxboro Stadium: 17-14
Gillette Stadium: 16-2
Record in Boston: 6-5
War Memorial Stadium: 7-6-1
Ralph Wilson/Rich Stadium/New Era: 30-17
Largest Margin of Victory: 46 points (2007)
Largest Margin of Defeat: 35 points (1970)
Longest Win Streak: 15 games (2003-10)
Bill Belichick vs. Buffalo: 35-7 (35-6 with NE)
Sean McDermott vs. New England: 1-6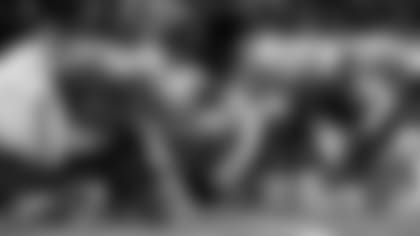 When the Patriots run - Edge: Bills
For large portions of the season the Bills run defense was terrible. But in recent weeks things have been much better up front for Buffalo. Over the last month the Bills have been stingy against the run and that has led to a bit of a resurgence for the entire defense. Still, Buffalo ranks just 20th in the league, allowing 121.4 yards per game on the ground. The Patriots have tried to establish the run in every game this season and for the most part have been successful. Damien Harris and Sony Michel have been productive when given the opportunity, and with Harris out last week with an ankle injury, Michel averaged 7.6 yards per carry against the Dolphins. The problem was Michel only got 10 carries, so the offense wasn't able to take advantage of his hot hand. Look for a more concerted effort to keep things going on the ground Monday night against Buffalo, even with the Bills showing signs of life. Linebacker Matt Milano's return to the lineup has given the Bills a lift, and with teams stacking the box and forcing the Patriots to throw, the running game hasn't been as prevalent as it was earlier in the season.
When the Patriots pass - Edge: Bills
Few teams have struggled to throw the ball more than the Patriots have in 2020. Cam Newton has just five touchdowns all season, and the Patriots offense hasn't scored a touchdown of any kind since Week 13 in Los Angeles against the Chargers. Newton hasn't shown much progress as a passer all year long and perhaps it will be time to see if Jarrett Stidham can get things going. Stidham was at the controls for that last touchdown when he hit Gunner Olszewski in garbage time against the Chargers, and Bill Belichick might be more willing to get his young backup some experience. Either way, the Patriots passing game is missing much more than just a quarterback. Jakobi Meyers has made the most of his opportunity as the primary target and is coming off a strong performance in Miami. Damiere Byrd and N'Keal Harry have made some plays here and there, but the tight ends have been invisible and the overall production has been non-existent. The Bills secondary is healthier than it was in the first meeting with corners Tre'Davious White, Levi Wallace and Taron Johnson along with safeties Jordan Poyer and Micah Hyde. That group has played exceptionally well of late, much better than their 15th ranking against the pass would indicate. Whether it's Newton or Stidham, the Patriots will likely struggle throwing the ball.
When the Bills run - Edge: Bills
Buffalo has not been all that effective running the ball this season. But that was the case heading into the first matchup and Buffalo piled up 190 yards on the ground. Both Devin Singletary and Zack Moss rushed for more than 80 yards and controlled the game against a Patriots front that has struggled to stop the run pretty much all season. New England ranks 27th against the run, allowing 133 yards per game and better than 4.5 yards per carry. Over the last two weeks opponents have topped the 200-yard mark on the ground, including 250 to a Dolphins offense that hasn't been able to run the ball all season and was missing most of its personnel. Buffalo has been effective running the ball closing out games in recent weeks, most impressively in Week 14 against Pittsburgh when the Bills melted the final eight minutes behind Singletary and Moss. In addition, quarterback Josh Allen has been effective as a runner throughout the season. Allen has eight rushing touchdowns, which leads the team. While Buffalo is primarily a passing team, the Bills have enough in the running game to cause problems as well.
When the Bills pass - Edge: Bills
Allen didn't throw the ball often in the first meeting as blustery conditions prohibited either side from airing it out too often. But overall this season the third-year quarterback has come into his own and is enjoying a terrific year. He's completed almost 69 percent of his passes for 4,000 yards with 30 touchdowns and nine interceptions. His size and mobility allow him to manipulate the pocket to buy time for his receivers, and that group has blossomed as a result. At the top of the list is Stephon Diggs, who leads the NFL with 111 catches for 1,314 yards and five touchdowns. Diggs had a strong game in Orchard Park against J.C. Jackson, catching six passes for 92 yards. He figures to see Jackson again as Stephon Gilmore suffered a leg injury in Miami and will likely sit, as he did in the first meeting. In addition to Diggs, Allen uses Cole Beasley (79 catches, 950 yards, 4 TDs) and rookie Gabriel Davis (30 catches, 459 yards, 6 TDs). Speedster John Brown has been injured for much of the season and is on IR with a high ankle sprain. Even in his absence the Bills have plenty of weapons and the Patriots secondary has been wildly inconsistent most of the season.
Special Teams - Edge: Patriots
The one area where the Patriots have performed well most of the season is special teams. In fact it could be argued that kicker Nick Folk and punter Jake Bailey have been the team's most valuable players. Folk has now made 25 consecutive field goals and has represented the entire offense in recent weeks. Bailey has been exceptional at pinning opponents near their goal line and leads the league in net punting average. Buffalo has been getting solid play from its specialists as well with rookie Tyler Bass and punter Corey Bojorquez. Bass has made 27 of 33 field goals and 44 of 46 PATs, and five of his missed field goals came in the first seven weeks. He's made 17 of his last 18 with the miss coming from 61 yards. In the return game, Olszewski has provided a spark on punts in recent weeks while Buffalo has the dangerous Andre Roberts handling both kicks and punts. Matthew Slater continues to lead the coverage units, which have been at the top of their game lately. The Patriots have been outstanding all around on special teams over the past month and that should continue Monday night.
Table inside Article

| 2020 REGULAR SEASON | NEW ENGLAND | BUFFALO |
| --- | --- | --- |
| Record | 6-8 | 11-3 |
| Divisional Standings | 3rd | 1st |
| Total Yards Gained | 4,631 | 5,414 |
| Total Offense (Rank) | 330.8 (24) | 386.7 (6) |
| Rush Offense | 145.4 (6) | 108.2 (21) |
| Pass Offense | 185.4 (30) | 278.5 (2) |
| Points Per Game | 20.6 (27) | 29.1 (5) |
| Total Yards Allowed | 4,836 | 4,985 |
| Total Defense (Rank) | 345.4 (11) | 356.1 (16) |
| Rush Defense | 133.0 (27) | 121.4 (20) |
| Pass Defense | 212.4 (6) | 234.7 (15) |
| Points Allowed/Game | 21.9 (7) | 24.3 (16) |
| Possession Avg. | 29:46 | 31:30 |
| Sacks Allowed/Yards Lost | 31/189 | 26/155 |
| Sacks Made/Yards | 21/138 | 34/189 |
| Total Touchdowns Scored | 31 | 47 |
| Penalties Against/Yards | 52/462 | 96/898 |
| Punts/Avg. | 42/48.7 | 35/50.1 |
| Turnover Differential | +1 (15) | +2 (13T) |
The Patriots have recorded 76 wins over the Bills, the most by the Patriots against any one opponent.
The Buffalo Bills snapped a streak of 13 straight road losses at New England with their 17-9 win in the 2014 regular season finale. It was the Bills first win at Gillette Stadium.
Bill Belichick has a 95-33 (.742) all-time regular season record against the AFC East as head coach of the Patriots.
STREAKING SUCCESS
The Patriots won 15 straight games against the Buffalo Bills from 2003 through 2010, tied for the fourth-longest winning streak over a single opponent in NFL history.
OC Brian Daboll - Defensive Coaching Assistant (2000-01), Wide Receivers Coach (2002-06), Offensive Assistant (2013), Tight Ends Coach (2014-16). Won Super Bowl XXXVI, XXXVIII, XXXIX, XLIX and LI with the Patriots.
Ast. OL Coach Ryan Wendell (OL 2009-15) - Signed with New England as an undrafted free agent in 2008 out of Fresno State. He spent the '08 season on the practice squad, promoted to the 53-man roster in December 2009. Won Super Bowl XLIX with the Patriots.
DB Stephon Gilmore - (2012-16)
New England will improve on the NFL's best record at home since Gillette Stadium opened in 2002. The Patriots are 125-25 (.833) at home in regular season games and 144-29 (.832) including playoffs.
The Patriots will avoid being swept by a division opponent for the 20th consecutive season, extending their NFL record. New England has not dropped both games to a division opponent since 2000, when they were swept by the Jets and Dolphins.
And a player eclipses 100 yards rushing, the team will improve to 54-3 since the 2000 regular season when a player rushes for at least 100 yards.
And the team does not commit a turnover, New England will win its 73rd game since 2008 without committing a turnover. The Patriots enter Week 16 with a 72-10 record in zero turnover games since 2008.
The New England rushing attack enters this week sixth in the NFL, averaging 145.4 rushing yards per game (2,035 total rushing yards), on pace for 2,326 rushing yards for the season. That would rank fourth in team annals behind the 3,165 rushing yards in 1978, 2,948 in 1976 and 2,605 in 1983.
The Patriots are averaging 4.53 yards per rushing attempt (449 rushes for 2,035 yards). If the team holds that pace, it would mark the fifth-highest average in team history.
Jake Bailey is first in the NFL with 46.1 net yards per punt. If that holds, Bailey would set a new Patriots single-season record. Zoltan Mesko currently holds the record after averaging 41.5 net yards per punt in 2011 (minimum 40 punts).
Bailey's gross punting average is 48.7 yards per punt, fourth in the NFL in 2020. If it holds it would be the highest in team history. Zoltan Mesko set the team record by averaging 46.5 yards per punt in 2011.
Bailey's punting has allowed just 46 return yards so far in 2020, second to the 38 yards allowed by New Orleans. The Patriots record for fewest punt return yards allowed in a season is 75 in 2007.
Entering this week's game, Patriots K Nick Folk has successfully converted 25 consecutive field goal attempts, the longest streak of his career. He made 23 consecutive field goals in 2013 for the New York Jets. After missing his first two field goal attempts of the 2020 season, Folk has not missed since, successfully connecting on 25 straight attempts.
Folk enters this week 25-of-27 on field goal attempts in 2020, good for a 92.6 percent conversion rate. Stephen Gostkowski holds the single season club record when he converted 35-of-37 field goals in 2014, good for a 94.6 percent conversion rate. Folk has had two seasons when he has finished with a field-goal conversion rate of at least 90 percent. He was 20-of-22 (90.9%) in 2008 with Dallas and 33-of-36 (91.7%) in 2013 with the Jets.
With 25 made field goals entering Week 16, Folk has a chance to become the fourth Patriots kicker with 30 made field goals in a season. Stephen Gostkowski achieved the feat five times (2008, '13-'15, '17), Adam Vinatieri did it twice (1998, 2004) and Tony Franklin did it in 1986. For his career, Folk has made at least 30 field goals three times - 2010 (30), '13 (33) and '14 (32).
Damien Harris is averaging 5.04 yards per carry (137 rushing attempts for 691 yards) in 2020. Four Patriots have finished with at least a 5.0-yard average (minimum 100 attempts) in a single season. If Harris holds his current pace, he will finish tied with the fourth-highest single-season rushing average in team history.
DB Ron Hall set a Patriots franchise record in 1964 with 13 takeaways in a single season (11 interceptions, 2 fumble recoveries). J.C. Jackson has recorded eight interceptions and recovered two fumbles for 10 takeaways in 2020, becoming the sixth Patriot with at least 10 takeaways in a single season. Jackson has now tied CB Asante Samuel (10 interceptions in 2006) for most takeaways in a single season under Bill Belichick as Patriots head coach.
Jackson's eight interceptions rank second in the NFL this season behind the nine interceptions by Miami's Xavien Howard. The last player to record double-digit interceptions in a season was Antonio Cromartie (10) with the San Diego Chargers in 2007.
Cam Newton has scored 11 rushing touchdowns in 2020, tied for third in the NFL overall. With one more rushing touchdown, he will tie former Patriots QB Steve Grogan for the Patriots team record for most rushing TDs in a season by a QB. Newton set the NFL record for rushing touchdowns by a QB in a single season with 14 in 2011.
Newton is the only QB in NFL history with three double-digit rushing touchdown seasons.
Newton has four multi-rush TD games in 2020, most by a QB in a single season in NFL history.
Steve Grogan set a Patriots QB record in 1978 with 81 rushing attempts for 539 yards. Newton currently has 122 carries for 489 yards and is on pace for 139 rushing attempts for 559 yards.
James White needs two receiving touchdowns to tie Larry Garron (26) for the most in franchise history by a running back.
White's 362 career regular season receptions rank ninth in team history. He needs two more receptions to move past Irving Fryar (363) into eighth place.
Since White became a regular contributor on offense in 2015, he has more receptions (357), receiving yards (3,107) and receiving touchdowns (24) than any other running back in the NFL.
TELEVISION: This week's game will be broadcast by ESPN and can be seen locally on WCVB-TV Channel 5. Steve Levy will handle play-by-play duties with Brian Griese and Louis Riddick as the color analysts. Lisa Salters will work from the sidelines. The game will be produced by Phil Dean and directed by Jimmy Platt.
NATIONAL RADIO: Monday's game will be broadcast to a national audience on Westwood One. Tom McCarthy will call the game with Ron Jaworski providing analysis.
SATELLITE RADIO: SIRIUS: 81 (Buf), 83 (NE) | XM: 226 (Buf), 225 (NE)
LOCAL RADIO: 98.5 The Sports Hub is the flagship station for the Patriots Radio Network. A complete listing of the network's 38 stations can be found here. Play-by-play broadcaster Bob Socci will call the action along with former Patriots quarterback Scott Zolak, who will provide color analysis. The games are produced by Marc Cappello.