Vince Wilfork helps a child in his group select a hat for the winter.


On Dec. 20, just hours after a hard-fought game with the Green Bay Packers, 14 Patriots players brought holiday joy to nearly 50 children in need during Patriots Gifts from the Gridiron, a holiday shopping event at Bass Pro Shops at Patriot Place.
The New England Patriots Charitable Foundation, in cooperation with the Vince Wilfork Foundation, the Gerard Warren Foundation and Bass Pro Shops welcomed youth from Massachusetts and Rhode Island homeless shelter programs for a unique evening of holiday celebrations.
"It means a great deal to be able to give back to these kids.That's what it's all about," said Wilfork. "It's a great day, and I'm happy because the kids are happy."
]()After dinner, armed with shopping carts and a $300 gift card, Patriots players including Wilfork, Warren, Kevin Faulk, Tully Banta-Cain, Rob Gronkowski, Stephen Gostkowski, Ron Brace, Shayne Graham, Zoltan Mesko, Matthew Slater, Mark LeVoir, Matt Katula, Tracy White and Stephen Neal assisted children in shopping for a coat, hat, gloves, a gift for a loved one and toys they picked for themselves.
"It's that time of year when you really get into the spirit of the holidays. To help these kids out and get them things that not only is stuff they can play with but also essentials like gloves and hats for the winter time is a great cause and I'm glad to be part of it," said Banta-Cain.
Following the shopping, children were treated to songs and a photo with players and Santa to remember the day. Players and children then tested their gift wrapping skills as they wrapped the gift they planned to give away and talked to each other about the special people in each of their lives.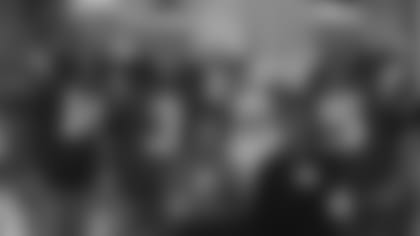 ]()"One of the 17-year-old boys said that this was one of the best days of his life," said Evelyn Rodriguez, from the Friendly House Shelter. "We see kids day in and day out [at our shelter], it really means a lot to have something like this to bring up their morale and see them having so much fun because it's hard living in a shelter. It is something that is really special, to know that someone cares."
"[I enjoy] showing the kids you care, not just being there, but also talking with them while they are getting their gifts, seeing what they are like, the little things," said Faulk. "To lend a hand for the kids and the community, it's the New England Patriots, it's what we do."