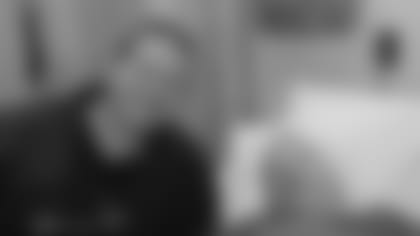 ]()Kicker Shayne Graham spent part of his day off this Tuesday at the Kraft Family Blood Donor Center at the Dana-Farber Cancer Institute in Boston to help kick off a special Patriots Charitable Foundation blood and platelet drive. Graham signed autographs, chatted with donors and patients and helped kickoff the drive, which will take place at the Kraft Family Blood Donor Center at Dana-Farber and the Brigham and Women's Hospital Blood Donor Center, both in the Longwood Medical Area in Boston.
"I've always heard of donating blood and platelets, and seeing that people take so much of their day to do it and seeing that so many people have done it so many times is great," said Graham. "It's heart-warming to see people that care that much, whether they have a direct relation to the benefits of it or not. Some people are helping family members or some are helping complete strangers and when you see that, it makes you feel really good about what people are doing and what they have in their hearts. Especially around the holidays you always want to see people helping other people out. And getting to experience the people who were receiving the benefits of the donations, it was nice to see their positive attitudes. It's good to see what people go through and it helps us appreciate what it is we do and be able to do whatever we can do to help outside of that."
Life-saving blood and platelet donors are especially needed this time of year when busy holiday schedules and inclement weather can lead to a decrease in the number of donations made, so through December 31, successful donors at either of the two clinics will receive a special Patriots-themed gift as well as be entered for a chance to win one of two Patriots autographed footballs.