The Patriots are headed to Minnesota for a primetime Thanksgiving matchup against the Vikings, but before take-off, they ensured hundreds of New England families would be covered for the holiday.
In the last week, Robert Kraft and the Patriots Foundation, Matthew Judon, Jonnu Smith, and Jonathan Jones all visited local non-profits and held individual events to celebrate bringing friends and family together for a feast. Altogether, they fed hundreds of families.
"This is our 29th straight year of coming here to Morgan Memorial Goodwill," Patriots chairman and CEO Robert Kraft said at the 29th Annual Thanksgiving-in-a-Basket, while presenting a $10 thousand donation on behalf of the Patriots Foundation in Boston on Tuesday.
"This is really one of the special events for us to connect with people in the community. We Thank you for giving us this opportunity."
The Thanksgiving-in-a-Basket event provided 200 families with all the fixings for a traditional Thanksgiving meal, complete with the Turkey, fresh vegetables, delicious pie, and more. As families arrived drive-thru style, white laundry baskets filled to the brim with ingredients were loaded into their cars by Kraft, Joshua Kraft, and Andre Tippett. Patriots Cheerleaders, Pat Patriot, and alumni players Matt Chatham, Rick Cash, Paul Francisco, and Randel Vataha also volunteered for the cause.
Cornerback Jonathan Jones and his Next Step Foundation held the Thanksgiving Impact Project event at the Blue Hills Boys & Girls Club on Nov. 15, engaging with families at the Dorchester club over a Thanksgiving menu prepared in partnership with Tough Cookies Meal Prep.
With the Nu Family Foundation, started last year by Jonnu Smith, the Patriots tight end held a similar gathering at the Yawkey Boys & Girls Club of Roxbury, stuffing the gymnasium with more than 250 children and their parents on Nov. 14.
"It was an awesome event. We had families from the inner city come out and bring their children," Smith said. "Prep Gains is a huge supporter, a local meal planning company. Those guys are great, the food was awesome. We just passed out plates, brought families together, and were able to give back and provide a small token of our appreciation for the parents in the city."
It's about more than giving to an underserved community for Smith. Though he grew up in North Philadelphia, being there in Roxbury was a little like home for him.
"See, I grew up in a community like that. That's where I'm from and I understand the labels, the stigmas, and everything that is placed on us -- half are not even true," Smith said.
"When I went back there yesterday, in those little kids I saw myself. In those parents I saw my mother. I was just able to relate so much. There's a lot of negativity in that area, as there was in mine, so just to be able to bring some positive light was a great day for our community. I was once those kids before, and now I get to come back and inspire them and be a light to them. That means so much to me. They're happy when they see me, but I'm happier about the smiles that I can put on their faces. Just to be able to bring them light and have them go home and think about how they could be a Jonnu Smith one day, or a Mac Jones or Hunter Henry -- whoever or whatever it may be."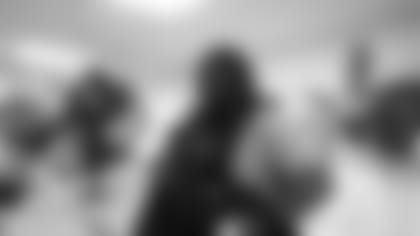 Linebacker Matthew Judon, making time before traveling to Minnesota, provided 40 local families with Thanksgiving turkeys at the Foxboro Stop N Shop on Tuesday. The Hockomock Area YMCA's food distribution program took care of the rest of the holiday staples for them.
The Patriots star's favorite part about Thanksgiving are the memories shared around their meal. Judon wanted to make sure families in need were offered that experience this year.
"I just remember the whole family coming together, sitting around, enjoying each other's company, and just thankful that we all there," Judon said. "Us praying over meals and just laughing and joking. The more I think about it, the more memories I have of me and my family."
Judon didn't give out any instructions on the best way to cook a turkey, because it's more about bringing these families together. And either way, he's going to dress it the same way.
"However it's cooked, I'm going to put hot sauce on it."
The New England Patriots Foundation teamed up with Goodwill to spread some good will in Boston on Tuesday, Nov. 22, 2022, distributing 200 Thanksgiving-themed baskets to individuals from Goodwill's job training and youth programs for a traditional Thanksgiving Day dinner. It was the 29th straight year the Patriots have provided Thanksgiving meals. Robert Kraft also gave a $10,000 check to Goodwill industries.